Digital Tools to Help You Manage Production Printing Needs
When you own or operate a business that engages in or depends on the production of large amounts of printed material, you're always looking for more effective and efficient ways to streamline your process. The right tools can reduce costs and accelerate completion of jobs, enhancing your cash flow.
At Northeastern Office Equipment, we offer our customers a wide range of production print software options, including programs that maximize hands-free workflow, automate print job submission and take advantage of web-to-print (W2P) technologies. We have tools that will help you improve color consistency and work more productively with textile design. Our product portfolio also includes software that will:
Help you reduce costs by allowing print customers to use electronic bill payment
Optimize your ability to manage print devices
Allow you to coordinate healthcare form through centralization and digitizing
Improve your bottom line with use of hosted print management
The Northeastern Difference
At Northeastern Office Equipment, we have met the needs of businesses and business owners in the New York Metropolitan area and across the country for more than 50 years. We offer competitively priced products, but we built our reputation on our commitment to unparalleled service. We understand that every customer has unique needs and goals. As a boutique office supply and equipment company, we have the ability to customize every solution to meet your specific requirements.
We understand how important it is to talk to a live human being when you have challenges to address. We employ a full-time dispatcher, so there's always a real person to take your call. We also have a parts manager on the premises at all times. We stock more than a million dollars in inventory to meet your needs.
Our technicians have an average of 15 years experience and some have been with us for nearly 30 years. We have our own trucks and make our own deliveries, so that we can bring your order directly to you. Our technicians always carry a significant amount of inventory, with the specific goal of solving your problem on the first visit. We can also serve as an extended "back office" for you, handling all the details—making calls, ordering products, etc.—so that you can focus on running your business.
Call us at (631) 845-9500 or use our quote form below to help you identify the appropriate product for your needs.
Same-Day Service | 4 Hour Response Time on Service Calls
We offer comprehensive office equipment solutions to a wide range of customers, from small to large businesses and professionals to schools and state, local and federal governments: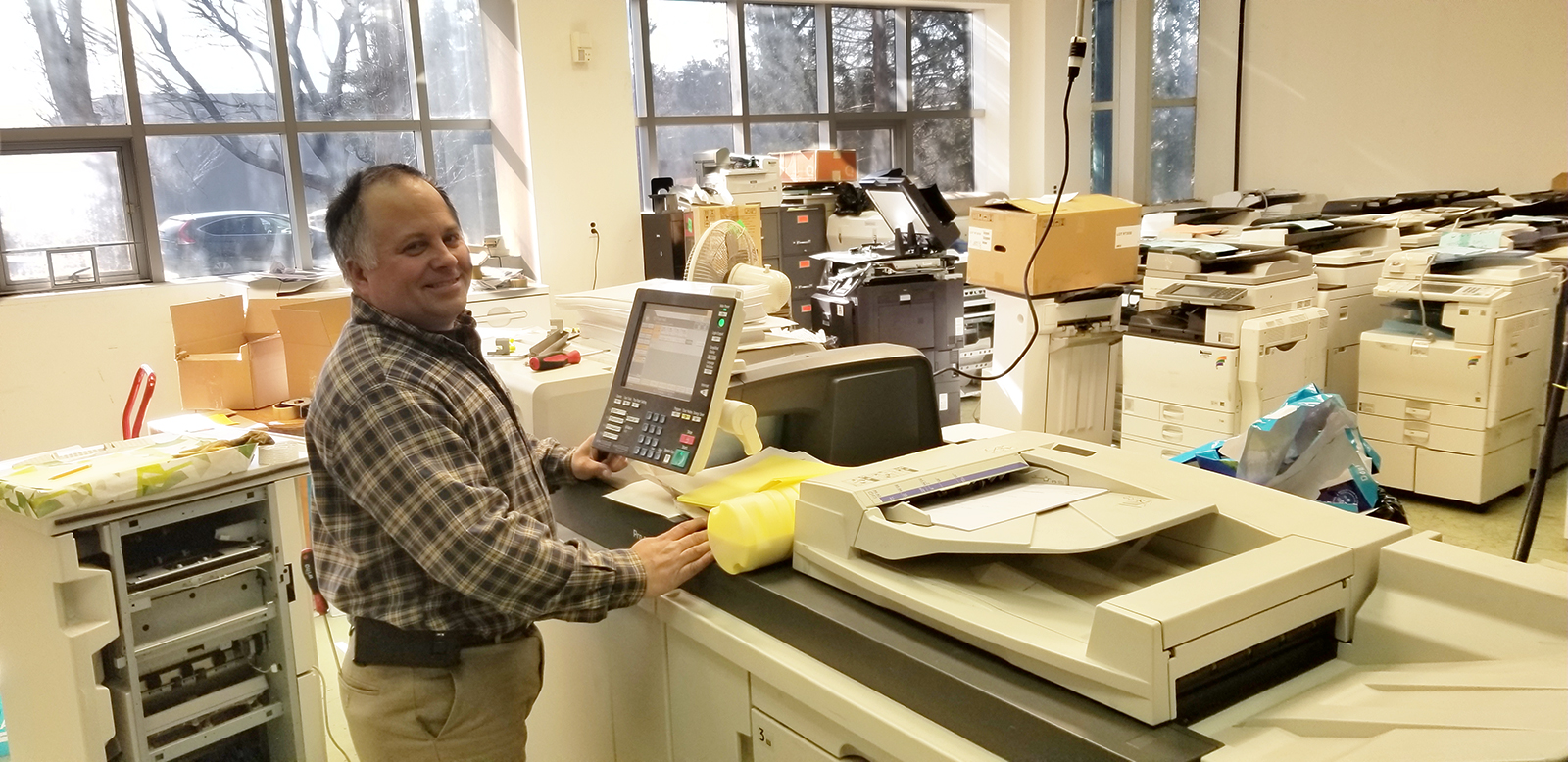 Authorized Dealer― Metro New York