Office Solutions for Colleges and Universities
Digital Tools to Manage Student Records | Managed Print Services | Automation of Admissions Processes | Education Analytics | Campus Mail and Packages | Classroom Technology
Cloud Solutions
America's colleges and universities are highly competitive institutions of learning. To provide students and teachers with the optimal experience and to ensure efficiency of operation, you need the appropriate office equipment and devices, so that you can streamline workflow, organize and manage student records, and recruit the best students.
At Northeastern Office Equipment, we offer an extensive array of products and services geared toward higher learning. To learn how we can help you create a strong, but cost-effective, learning environment on your campus, call our office at 631learn how we can help you create a strong, but cost-effective, learning environment on your campus, call our office at 631-845-9500 for a free initial consultation or use our online dashboard to contact us.  
The Northeastern Difference
At Northeastern Office Equipment, we understand the concerns of college and university administrators. You need competitively priced products, but that won't do you a lot of good if you can't get them properly serviced. Our commitment, for more than half a century, has been to provide our customers with the highest levels of personal attention and service.
We have a full-time dispatcher to take your call. You won't have to navigate an automated phone system and you'll never be put in an online service queue.
There's an experienced parts manager on the premises at all times, so you'll always get the right solution. We keep more than $1 million in inventory at all times, so we'll almost always have what you need.
We have a team of service technicians, who average more than 15 years in the trade. They stock their vehicles with ample parts and products, so your problems can be resolved on the first service call.
You won't have to wait for a third party delivery service to arrive with your order. We have our own delivery trucks to bring your parts or products directly to you.
We'll take the time to learn the unique needs of your school, so that we can customize our solutions
We will serve as an "extended back office," handling all tasks necessary to take care of your office equipment needs, so you can focus on your job
We offer our products and services to colleges and universities in the New York Metropolitan area and throughout the United States.
Call us at (631) 845-9500 or use our quote form below to help you identify the appropriate product for your needs.
Same-Day Service | 4 Hour Response Time on Service Calls
We offer comprehensive office equipment solutions to a wide range of customers, from small to large businesses and professionals to schools and state, local and federal governments: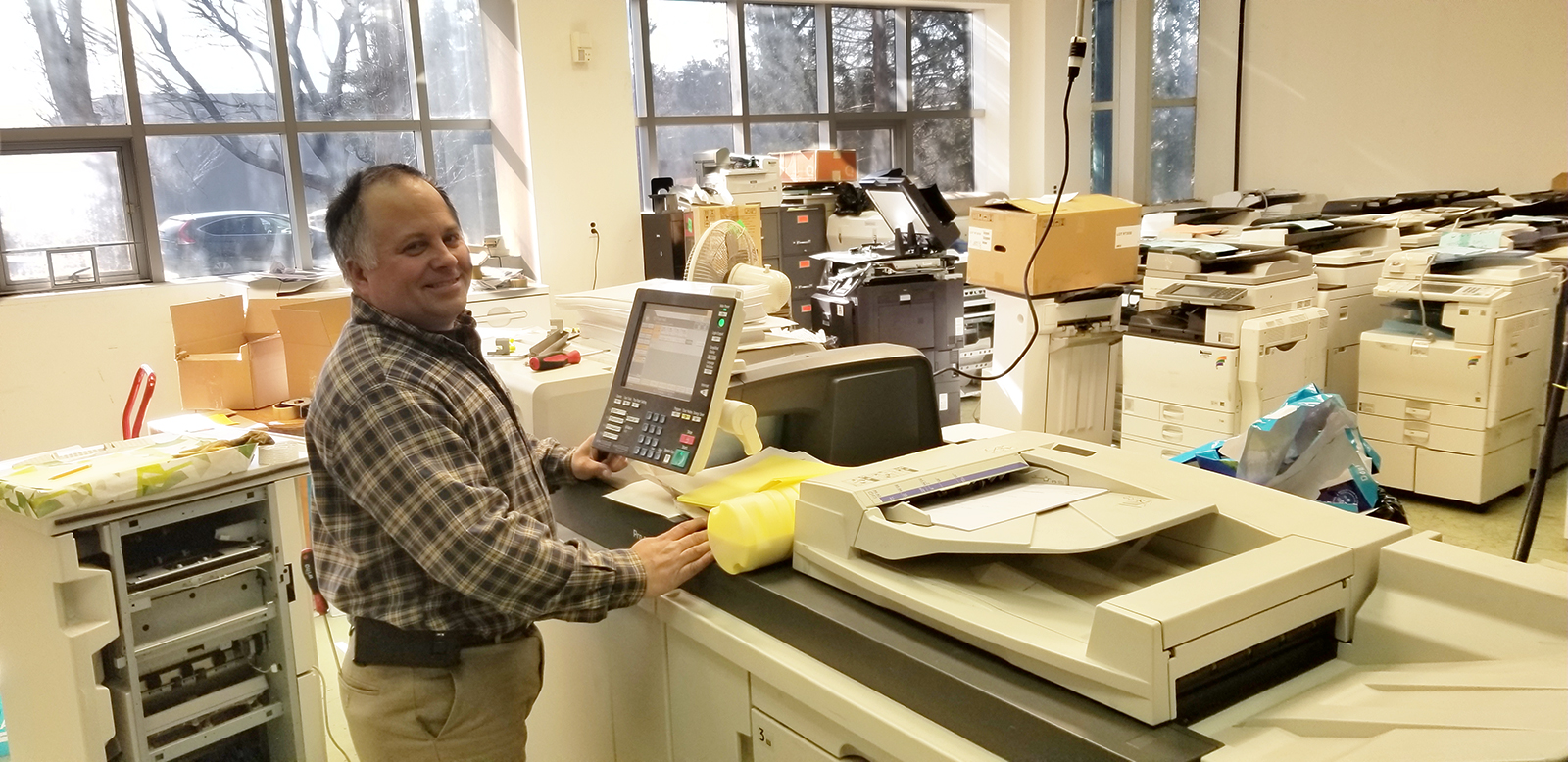 Office Equipment, Products and Services for Colleges and Universities
We have the right solutions to help your institution of higher learning:
Managed campus print services— A wide range of tools to automate and modernize your campus printing operations, from web-to-print to mobile support. We can help you create an effective central reproduction department that maximizes printer security, as well as cost recovery.
Student records management—Digitize and automate student records management, so that you'll facilitate access to academic information. Our tools also improve communications, transparency and academic audits.
Automation of the admissions process—Replace paper-based admissions processes with digital applications, enhancing information flow, while minimizing the potential for error. You'll enjoy improved communications throughout the admissions process, as well as greater speed and transparency.
Better systems for student performance evaluation—Solutions that help your professors create, print and grade student exams. You'll also have access to data to help evaluate trends and patterns and improve the learning environment.
Cloud solutions—Connect to most popular cloud applications, so that your students and teachers can easily store and share information.
Improved campus mail—Modernize your campus mail operations, improving quality and security, reducing labor costs, and allowing you to use space more efficiently.
Cutting edge classroom technology—Interactive technology to lower costs and improve learning through paperless classrooms
Cloud-based workflow strategies—We can help you make the conversion from hardcopy to digital.
We offer a wide range of copier, scanner, printer and fax options, with a wide array of features to meet the specific needs of your academic institution.
We also offer simple software solutions for colleges and universities. See our software overview page for more information.
Call us at (631) 845-9500 or use our quote form below to help you identify the appropriate product for your needs.
Authorized Dealer― Metro New York