Simple Software Solutions
In any business, particularly one involving significant printed products or materials, effectively managing your fleet of printers can have a dramatic impact on the bottom line. Preventing unauthorized access to printers and maximizing accountability for print jobs can save you a lot of money. But how do you do that, without a significant investment in IT? At Northeastern Office Equipment, we offer simple software solutions that keep you in control of your print operations.
The Northeastern Difference
At Northeastern Office Equipment, we bring more than 50 years of experience and professionalism to businesses and business owners in the New York Metropolitan area and throughout the country. We understand the important of your bottom line, so we'll always offer competitively priced products. But we know from experience that it's service that really matters. We are committed to providing levels of personal service and attention you won't find anywhere else.
We employ a full-time dispatcher, so that you'll always get to talk with a live person
We have a parts manager onsite during all hours of operation and stock more than $1 million in inventory
We'll send out highly trained technicians, with an average of 15 years in the trade
Our technicians always carry significant inventory, so there's usually no need to leave the job for a part
You won't have to wait for a third party delivery company to bring your order—we have our own fleet of delivery vehicles and will bring your product directly to you
We understand that every business is unique and has different needs—we will customize your solution to get the outcome you want
We have the capability to serve as an extended "back office," handling necessary details to resolve office equipment and supply needs.
Call us at (631) 845-9500 or use our quote form below to help you identify the appropriate product for your needs.
Managed IT Services to Meet Your Needs
Outsourced IT to Enhance Your Productivity and Cost-Effectiveness
It's the information age and whether you're running a small retail business or a law practice, involved in the operation of an academic institution or working in government, you won't survive without the necessary IT support. It's critical to supporting an increasingly mobile workforce, and to keeping information available and accessible to all necessary users, with an appropriate level of security. It's also critical in customer support.
You can hire and build your own IT staff, but that can quickly become expensive and ineffective. A better solution—the managed IT services offered by Northeastern Office Equipment.
At Northeastern Office Equipment, we have set the standard for office equipment sales and service in the New York Metropolitan area and the rest of the nation for more than half a century. We are proud of our ability to provide highly competitive pricing, but we built our reputation and our business on our commitment to service. We strive to provide a level of personal attention unlike any you'll find from our competitors. To meet and exceed your expectations, we
Use a full-time dispatcher to answer all calls, so that our customers never get lost in an automated phone system
Keep a parts manager on the premises during all business hours, so that customers get timely and accurate information about availability, pricing and solutions
Maintain a million dollar inventory of parts and products
Employ a team of highly skilled and experienced service technicians, who average more than 15 years on the job. Our technicians carry a large inventory of parts and supplies, so that there's rarely a need to return to the warehouse to resolve a problem
Deliver your parts and products directly to you, using our own delivery vehicles
Will serve as an extended back office, making any necessary phone calls and handling all other details to take care of your office equipment needs
Take the time to identify your individualized office equipment needs, so that we can tailor solutions specifically for you
We provide managed IT services to large and small businesses, professionals, schools and school systems and state, local and federal governmental entities.
Call us at (631) 845-9500 or use our quote form below to help you identify the appropriate product for your needs.
Same-Day Service | 4 Hour Response Time on Service Calls
We offer comprehensive office equipment solutions to a wide range of customers, from small to large businesses and professionals to schools and state, local and federal governments: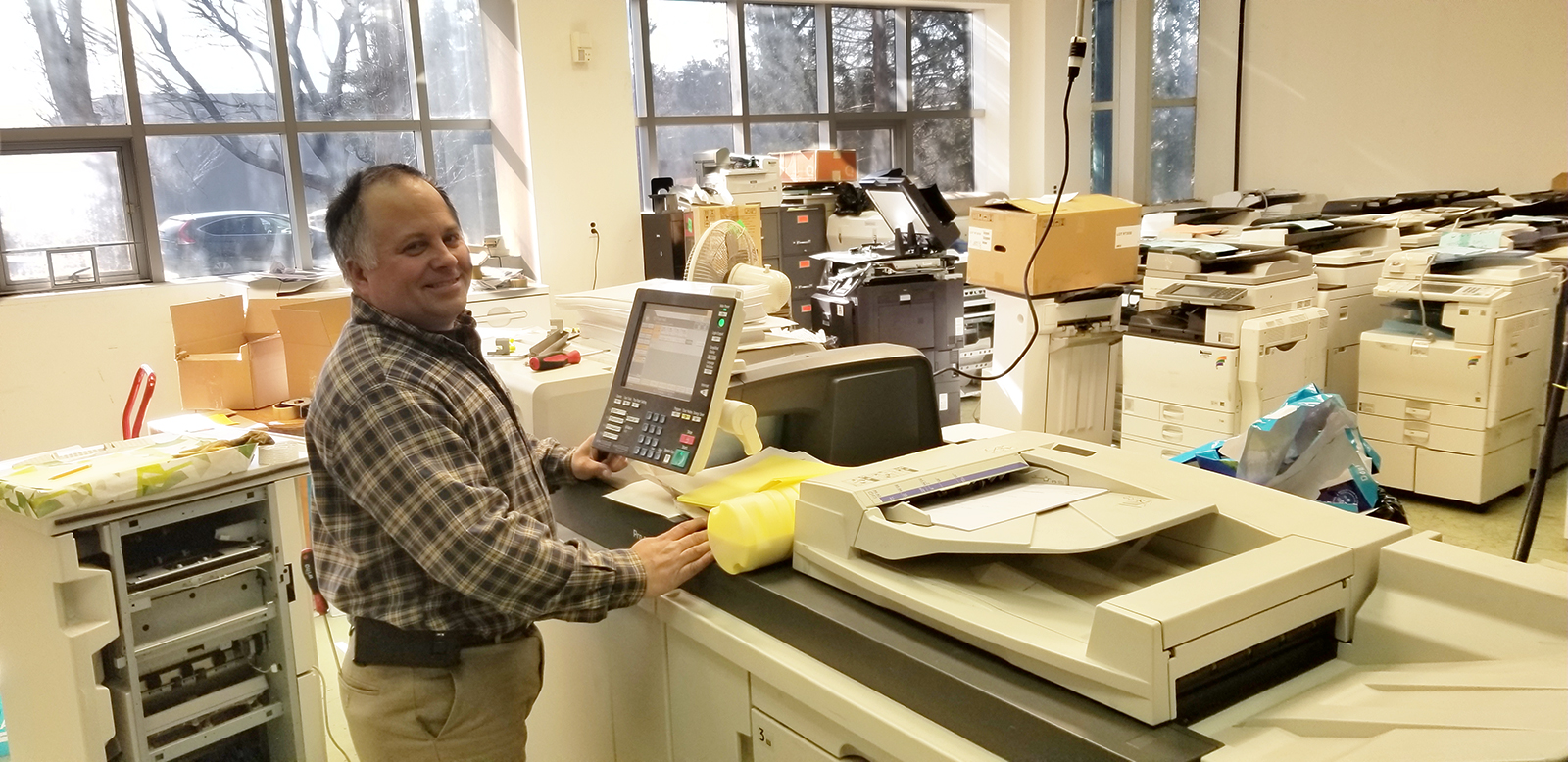 On-Premise or Mobile Printer Security
We offer a number of solutions to help you manage access to printers, either onsite or through mobile applications, so that you can eliminate unauthorized use, reduce waste and operating costs and improve user efficiencies. We sell and service easy-to-use programs that integrate card authentication into printer security management, including U.S. government and Department of Defense smart cards.
Call us at (631) 845-9500 or use our quote form below to help you identify the appropriate product for your needs.

Authorized Dealer― Metro New York