Simple Software Solutions to Maximize Your Productivity
It doesn't matter what business you're in, from retail to manufacturing, from professional services to construction, you need to have an efficient, effective and user-friendly way to manage documents. Unless you want to dedicate ample space to the physical storage of those documents, the best way to do that is digitally. But a lot of the software programs available require significant IT involvement and expense just to get up and running.
At Northeastern Office Equipment, we offer a wide range of easy-to-use software solutions to help you digitize documents for safekeeping, indexing and transmission to other users. To learn about the products we sell and service, call our offices at 631-845-9500 for a free initial consultation or contact us through our easy, online dashboard.
The Northeastern Difference
At Northeastern Office Equipment, we built our business and reputation on a commitment to provide a level of service unmatched in the industry. We understand the importance of competitive pricing to your bottom line, but we believe that service is paramount. For more than half a century, we have met the needs of businesses and entities in the Metropolitan New York area and across the country, working with large and small businesses, schools (elementary, secondary and higher education), professionals, and local, state and federal agencies.
Our commitment to service includes:
A full-time, dedicated dispatcher to take all calls, so that you don't end up in one of those annoying phone trees
A knowledgeable parts manager on the premises during all working hours, as well as a million dollar inventory of parts and products
A professional team of trained technicians who carry an average of 15 years of experience. Our technicians also have extensive inventory with them at all times; minimizing the likelihood your problem won't be solved on the first call.
A fleet of dedicated delivery vehicles, so that your parts and products come directly to you
The ability to identify the unique attributes of your business and develop customized solutions to fit your situation
A willingness to serve as an extended "back office" for you, handling all phone calls and other details to resolve office equipment and supply concerns
Call us at (631) 845-9500 or use our quote form below to help you identify the appropriate product for your needs.
Same-Day Service | 4 Hour Response Time on Service Calls
We offer comprehensive office equipment solutions to a wide range of customers, from small to large businesses and professionals to schools and state, local and federal governments: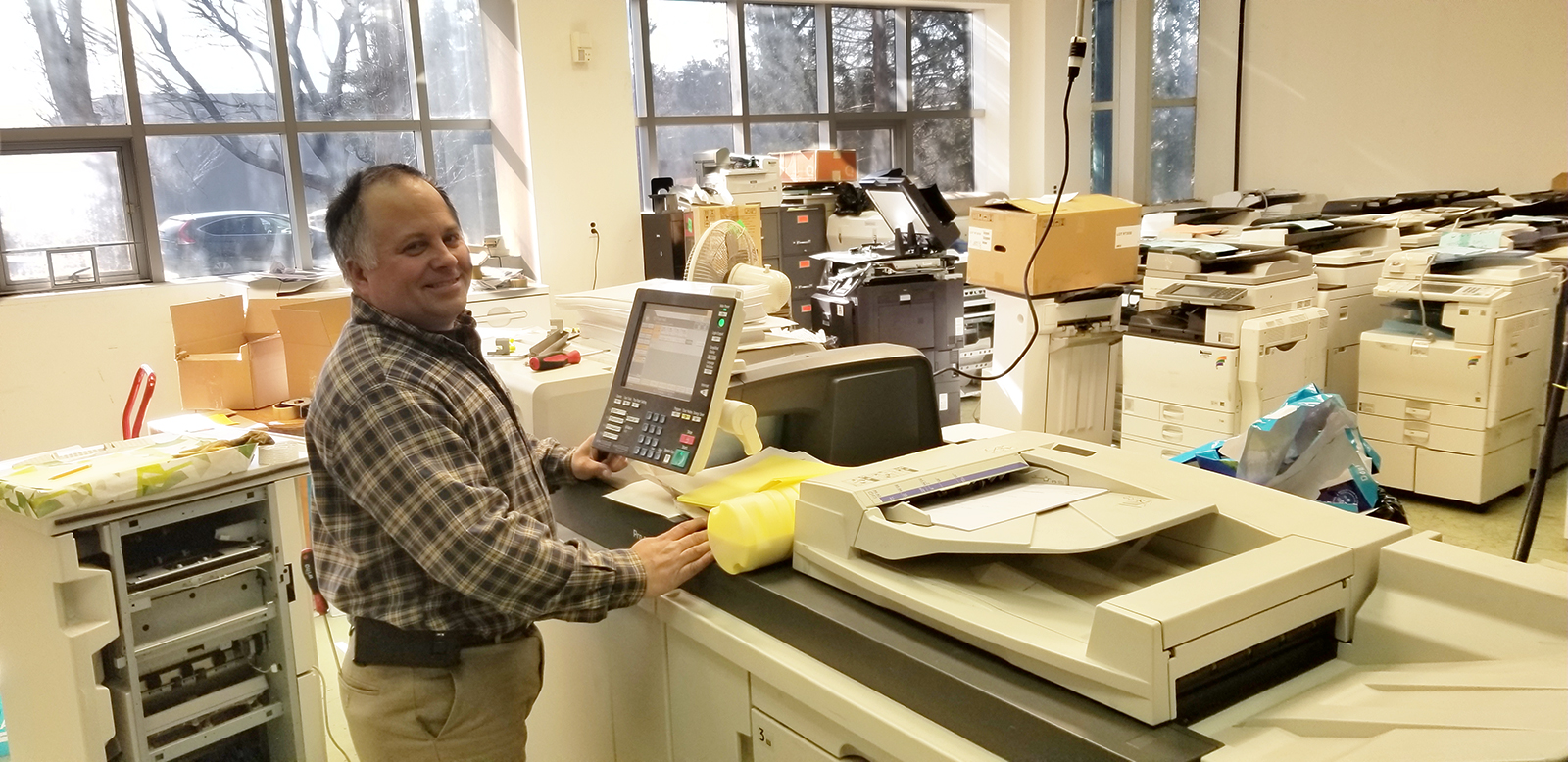 Document Scanning and Indexing | Document Storage | Workflow Management
Our portfolio of products includes user-friendly programs that streamline the capture of data and documents and allow you to take full advantage of the integrated cloud environment. We have tools that offer simple and cost-effective scanning and routing of documents. We offer a number of document storage and management programs, as well as digital tools to enhance workflow management.
Call us at (631) 845-9500 or use our quote form below to help you identify the appropriate product for your needs.

Authorized Dealer― Metro New York