Unified Communication System Advanced Web Based Video Conferencing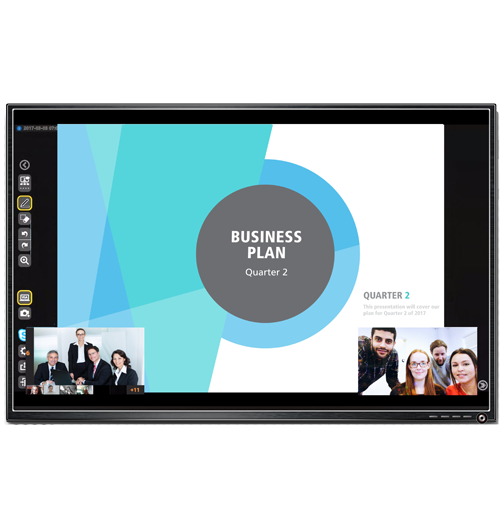 Videoconference from almost any device with our WebRTC solution and let users join with their preferred apps and services.
WebRTC-based videoconferencing

Up to 50 participants
Available stand-alone or with the RICOH P3500M Unified Communications System
|
Brochure
|
Request a Quote
Videoconference from almost any device with our WebRTC solution and let users join with their preferred apps and services.
Start or join a web videoconference with RICOH Unified Communications System (UCS) Advanced Service on any mobile device, PC or Mac® computer, or traditional videoconferencing equipment. Let your participants use the apps and services they prefer with this WebRTC-based solution, which can bridge multiple legacy and cloud-based audio and videoconferencing solutions.
Improve remote collaboration and customer experiences
With anytime, anywhere videoconferencing or audio-conferencing powered by Ricoh, you can instantly transform remote meetings and customer experiences into more genuine interactions. Increase effectiveness, accelerate learning, speed up decisions and solve problems faster with face-to-face collaboration that puts information, apps and support at everyoneÕs fingertips. You can even share presentations while seeing your collaborators or customers in side-by-side live images.
Reduce business travel time and costs
With virtually 99% uptime, UCS Advanced Service can be trusted to help reduce your business travel and eliminate the need for expensive conferencing hardware and endpoints. You can further increase savings by eliminating the need for a dedicated conference room. Now, turn almost any available space into a videoconference area, or use your mobile device to join a virtual meeting room without worrying about whether you're using the right device or service.
Streamline ad hoc collaboration
In a hurry to collaborate with the right team members, or simply to schedule an important follow-up meeting? Use Ricoh's UCS Advanced Service to bridge multiple scheduling apps and automatically post your scheduled meetings in Microsoft Outlook® with the right meeting details and dial-in information. Free your team from the delays and hassle of trying to book and confirm a videoconference through multiple scheduling apps and calendar services that may not talk well to each other.
Simplify videoconferencing management
With centralized management over all of your organization's audio and videoconferences, you can access real-time and historical usage information. For additional security, you can also set guest/host access controls for videoconferences and give remote control only to specified participants during virtual meetings. Migrating your workforce or adding users is simple with drag-and-drop functionality for bulk subscriber uploads.
Accelerate your innovative workstyle
Order the ultra-portable RICOH P3500M Unified Communications System pre-installed with Ricoh's UCS Advanced Service for a proven and painless video conferencing solution to help ensure that your teams can collaborate at today's rapid speed of business. Already using our printers or MFPs? Easily print and scan documents during videoconferences directly to your Ricoh devices via our Mobile Printing and Sharing apps. Also, partner with us to optimize your processes and infrastructure with modern visual communications technology.
Need More Information?
Learn more about the RICOH Unified Communication System Advanced and how it may fit your business.