SP 5300DNTL Black and White Laser Printer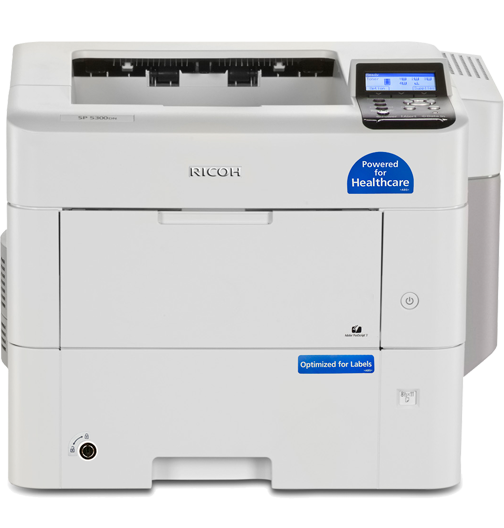 Safeguard regulated healthcare media
Prints up to 52 ppm
1200x1200 dpi max print resolution
Paper capacity up to 2,600 pages
Optimized for healthcare with Teflon-enhanced locking tray, security firmware
|
Brochure
|
Drivers
|
Request a Quote
Safeguard regulated healthcare media
Help to boost productivity and streamline HIPAA compliance in your healthcare office with the LANIER SP 5300DNTL Black and White Laser Printer. A standard built-in, Teflon-enhanced locking paper tray with security firmware helps to protect prescription forms from theft and also ensures reliable media feeding when you print on adhesive-backed labels and wristband media as narrow as 4.25". Add optional locking, Teflon-enhanced, or non-locking trays to expand total paper capacity up to 2,600 sheets.
Advanced locking-tray security firmware
Handle jobs with both regulated and non-regulated media on the SP 5300DNTL. Now, use one device for all of your workloads. If paper runs out of a paper tray while processing a job with non-regulated media, the SP 5300DNTL will not switch to the secure locking tray and expose regulated media to unauthorized users. You can also stop unauthorized printing of regulated media by users requesting jobs via local storage. Enforce user access policies with PIN codes or an optional ID card reader.
Install where it makes the most sense
Use the compact but powerful SP 5300DNTL as your primary printer in PC, Mac and host printing environments — whether you fit it beneath a shelf or in other tight spaces. Print up to 52 pages per minute (ppm) on paper sizes up to 8.5" x 11" with crisp 1200 x 1200 dpi resolution. Use the 100-sheet bypass tray for specialty stocks, and print on thicker stocks up to 59 lb. Bond/120 lb. Index.
Simplify your work life
Use the intuitive 4-line LCD control panel and keypad to execute almost any print job with speed and ease. Restrict access, set print quotas and track users with user authentication. Have users log in to the device via a pass code or billing code. Use the optional local HDD to store and encrypt files, and erase latent images on the hard disk drive with DataOverwriteSecurity System (DOSS).
Reduce maintenance, maintain smooth workflows
Don't waste time or money on printer upkeep. We extended the life of your consumables, so you can minimize cumbersome, time-consuming replenishment tasks. You don't have to worry much about reloading paper, either. Simply add up to four 500-sheet paper sources to increase the total paper capacity to 2,600 sheets.
Work from any device with mobile printing
Find incredible print convenience in the palm of your hand. Use your laptop, smartphone or tablet to send information from the personal device of your choice, or your choice of cloud applications, directly to the SP 5300DNTL for printing. Download the Smart Device Connector app and RICOH App for Google Cloud Print to access information and print from anywhere.
Be environmentally responsible
Reduce your energy consumption to minimize your operating costs. The SP 5300DNTL has an Eco-Night sensor that can turn the printer off automatically when the lights are off and the office is empty to conserve energy. Plus, you can set duplex printing as the default to reduce paper usage by up to half.
Need more information?
Learn more about the Lanier SP 5300DNTL Black and White Laser Printer and how it may fit your business.