SP 3710SF Black and White Laser Multifunction Printer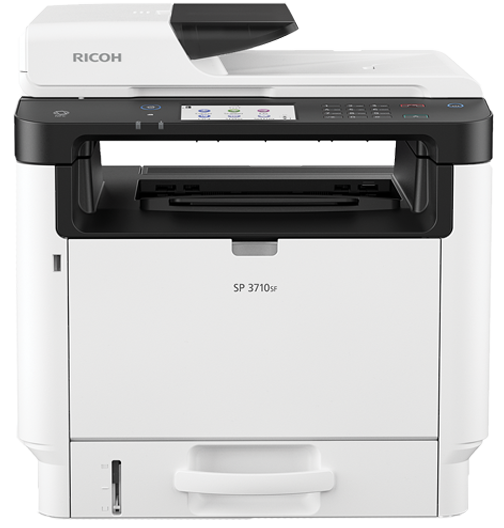 Yield to smarter, more affordable workflows
Print up to 34 ppm, copy, scan, fax
1200 x 1200 dpi max print resolution
Paper capacity up to 550 sheets
Extend uptime, maximize your budget with higher print yields, fewer hassles
|
Brochure
|
Drivers
|
Request a Quote
Yield to smarter, more affordable workflows
Make the best use of your budget to share your best ideas. Use the low-cost, affordable Savin SP 3710SF Black and White Laser Multifunction Printer (MFP) to print, copy, scan and fax with ease from the desktop. Embrace versatility with multiple connectivity options, add convenient remote printing, handle a wide range of media and reduce print costs with a high-yield print cartridge.
Value speed in your workflows
Share messages quickly. Print black-and-white output at up to 34 pages per minute (ppm). Use the 35-Sheet Automatic Reversing Document Feeder to transform originals into one- or two-sided copies or into digital files that can be shared via Scan-to-Email/Folder/FTP and other options instantly. Use paperless faxing to reduce paper and transmission costs.
Turn small workgroups into big contributors
Manage multiple projects simultaneously with a powerful controller and extensive memory. Use the large 4.3" color touchscreen to jump between tasks easily Ñ and find important job details, device settings and more Ñ with fingertip precision. Add watermarks, covers and more for a professional look. Use ID Card Copy to scan two-sided originals onto one side of a sheet of paper.
Worry less when youÕre cordless
Small office convenience comes hassle- and cable-free. Place the compact device on desktops, work stations and shelves with standard USB 2.0 and Ethernet interfaces. Or, opt for USB WiFi¨ 2.4GHz wireless connectivity and avoid cumbersome cords and cables that can clog workways and bog workflows. Use the automatic print driver tool to quickly download print drivers and simplify configurations.
Share messages anywhere
Work where you are, print when you want. Download the RICOH Smart Device Connector app to your iOS¨ or Android¨ smartphone or tablet and capture information from cloud storage applications. Simply touch your Android¨ device to the Near Field Communication (NFC) tag or scan the QR code on the panel for authentication. You can also print via Mopriaª or Google Cloud Printª, or from your iOS¨ device via AirPrint¨.
Maintain fast, affordable workflows
Print up to 7,000 pages with the impressive, high-yield All-in-One print cartridge. Quickly restock paper via the convenient front-access design for long-lasting, maintenance-free output. Even your most novice users can replace the print cartridge in seconds without technical assistance. Use Web Image Monitor or @Remote to monitor the device.
Handle more media formats
Get attention with compelling text and images at up to 1200 x 1200 dpi on a wide range of media, including sizes up to 8.5" x 14", thicker stocks and even envelopes. Load the standard 250-Sheet Paper Tray for everyday printing. Use the 50-Sheet Bypass Tray for unique sizes and stocks. Or, add an optional 250-Sheet Paper Tray to extend print runs.
Get ahead by going green
Reduce paper usage by up to half with default duplex printing. Use Sleep Mode to power down the device when itÕs idle. Plus, the SP 3710DN is ENERGY STAR¨ certified, meets EPEAT¨ Silver criteria* and offers low Typical Electricity Consumption (TEC) value of 1.304 kWH/week.
*EPEAT Silver rating is applicable only in the USA.
Need more information?
Learn more about the Savin SP 3710SF Black and White Laser Multifunction Printer and how it may fit your business.
General Specifications
Configuration:
Desktop
Scanning Elements:
Laser beam
Printing Process:
B&W laser electro-photographic printing
Toner Type:
Dry, mono component
Control Panel:
4.3" color touch panel
Color/B&W:
Black & White
Output Speed Copy/Print:
34 ppm
First Page Out Time:
7.1 seconds
Warm Up Time:
23 seconds or less
Recovery from Sleep Mode:
8.8 seconds
Resolution:
1200 x 1200, 1200 x 600 dpi, 600 x 600 dpi
System Memory:
256 MB RAM
Maximum Copy Quantity:
99 Copies
Duplexing:
Automatic (Standard)
Document Feeder Type:
Automatic Reversing Document Feeder (ARDF)
Document Feeder Original Size:
Original Size: 5.5" x 5.5" to 8.5" x 14" (140 x 140mm to 216 x 356mm)
Document Feeder Paper Weight:
Original Weight: 14 — 28lb Bond (52 — 105g/m2)
Document Feeder Capacity:
35 sheets
Preset Reduction and Enlargement Ratios:
400%, 200%, 155%, 129%, 100%, 93%, 78%, 65%, 50%
Zoom Range:
25% to 400% in 1% increments
Exposure Glass Size:
Up to 8.5" x 11.7"
Maximum Original Size:
Up to 8.5" x 14" (216 x 356 mm)
Supported Paper Sizes:
Standard Paper Tray: 5.5" x 8.5" to 8.5" x 14"; A6 — B5|Custom Sizes: 3.94" x 5.83" to 8.5" x 14" (100 x 148mm to 216 x 356mm)|Bypass Tray: 5.5" x 8.5" to 8.5" x 14"; A6 — B5, Envelopes|Custom Sizes: 3.54" x 5.51" to 8.5" x 14" (90 x 140mm to 216 x 356mm)|Duplexing: 8.5" x 11" to 8.5" x 14"; A4 — B5
Supported Paper Weights:
Standard Tray: 14 — 43lb Bond/ 90lb Index (52 — 162g/m2)|Bypass Tray: 14 — 43lb Bond/ 90lb Index (52 — 162g/m2)|Duplexing: 16 — 28lb Bond/ 58lb Index (60 — 105g/m2)
Supported Paper Types:
Thin, Plain, Thick, Recycled, Colored, Special, Letterhead, Pre-printed, Bond*, Cardstock*, Label*, Envelope**|*Tray 1 and Bypass only|**From Bypass Tray Only
Standard Paper Capacity:
250-Sheet Tray x 1 + 50-Sheet Bypass
Maximum Paper Capacity:
550 sheets
Standard Output Capacity:
50 sheets (face down)
Maximum Output Capacity:
550 sheets
Maximum Monthly Volume:
Up to 5,800 prints
MAximum Duty Cycle:
35,000 prints
Power Source:
120-127V, 60Hz, 7.7A
Typical Electricity Consumption TEC:
1.304 kWh/week
Power Consumption:
960W or less; Sleep Mode: 0.8W
Energy Star:
Certified
EPEAT Status:
Silver
Dimensions (WxDxH):
15.9" x 15.4" x 16.5" (405 x 392x 420mm)
Weight:
40 lbs. (18 kg)
Printer Specifications
Processor Speed:
400Mhz
Interfaces:
Standard: Ethernet 100BASE-TX/10BASE-T, USB2.0 Type B|Optional: Wireless LAN (IEEE 802.11 a/b/g/n/ac)
Network Protocol:
TCP/IP (IPv4, IPv6), IPP
Supported Operating Systems:
Windows 7, 8.1, 10, Windows Server 2008 (SP2 or later), 2008R2, 2012/2012R2, 2016|Mac OS: 10.10 or later|Linux: Ubuntu 16.04LTS, Ubuntu 16.10, openS-- USE 13.1, openS-- USE 3.2, Red Hat Enterprise Linux 6, 7
Device Management Utilities:
Web Image Monitor, Device Manager NX, @Remote (limited support)
Printer Languages:
PCL6, PCL5e, PS3 emulation (Windows support only)
Font Support:
PCL: 55 fonts|PS3: 35 fonts
Printer Resolution:
1200 x 1200, 1200 x 600 dpi, 600 x 600 dpi
Mobile Printing Support:
RICOH SmartDeviceConnector, AirPrint®, Mopria®, Google Cloud Print™
Printer Features:
Collate, Dithering, Duplex, Do Not Print Blank Pages, Front Cover Sheet, Layout (N-Up), Locked Print (PCL Only), Mirror Image (PS3 only), Reduce/Enlarge, Rotate Print (PCL Only), Sample Print (PCL Only), Toner Saving, Watermarks
Security Features:
IPSec, Locked Print, SNMPv2 support, WEP
Scanner Specifications
Scanning Speed B&W/Full Color:
Black & White: 13 ipm (via ARDF, 600 x 300 dpi)|Color: 4 ipm (via ARDF, 600 x 300 dpi)
Scanning Resolution:
Via Platen: up to 600 x 600 dpi|Via ARDF: up to 300 x 600 dpi|TWAIN: up to 19,200 dpi via Platen, up to 600dpi via ARDF|WIA: up to 600 x 600 dpi
File Formats:
TIFF, JPEG, PDF
Scan Modes:
Color, Black & White, Grayscale
Scan to Modes:
Scan-to-Email, Scan-to-Folder, Scan-to-FTP, Scan-to-USB
Fax Specifications
Standard/Optional Fax:
Standard
Fax Type:
ITU-T CCITT G3
Circuit:
PSTN, PBX
Fax Resolution:
200 x 100dpi (Standard), 200 x 200dpi (Fine/Photo)
Compression Method:
MH, MR, MMR
Fax Modem Speed:
33.6K — 2,400 bps w/Auto Fallback
Fax Transmission Speed:
3 seconds/page*|*Approx.3 seconds (200x100 dpi, MMR, ITU-T #1 chart)
SAF Memory:
2 MB (approx. 100 pages)
Max Auto Dials:
8 Quick Dials|100 Speed Dials
Fax Features:
Auto Redial, Auto Reduction, Duplex Print, Error Correction Mode, Fax Forwarding to E-Mail/ Folder, Immediate/Memory Transmission, LAN-Fax