Pro C7200 Graphic Arts Series Color Cutsheet Printer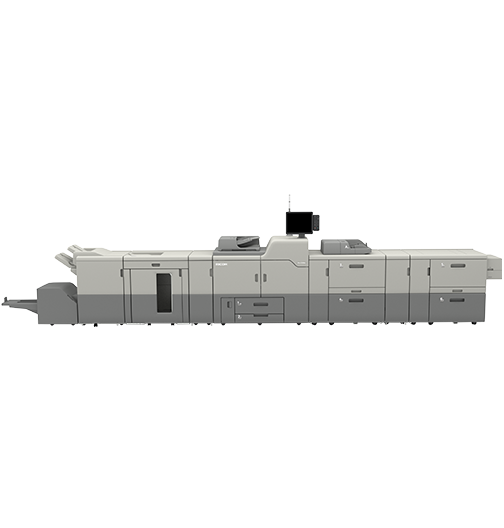 Open doors to new markets with creative, new applications
Print up to 95 ppm, copy, scan
Support up to 13" x 49.6" (with Oversize Tray option) and up to 360 gsm
Produce up to 240,000 pages per month
Expand your print offerings with VDP, diverse media choices and exceptional quality
|
Brochure
|
Request a Quote
Open doors to new markets with creative, new applications
Pursue profitable growth with an affordable, innovative color digital press. The four- and five-stationÊRICOH Pro C7200x/C7200sx/C7210x/C7210sx/C7200e Graphic Arts EditionÊSeriesÊoffers both MFP and printer models that deliver superb image quality, oversize print options and diverse media choices. TheÊ5thÊColor Station lets you go beyond CMYK to produce unique, compelling materials that can command premium prices. Advanced workflows and performance-enhancing capabilities help you fulfill demanding deadlines while keeping operational costs low.
Increase revenue with diverse applications
Capitalize on new opportunities by printing on oversized media up to 13" x 49.6"* and on substrates up to 360 gsm. Personalize communications and campaigns with VDP. Print full-size trifold brochures, book covers, posters, small-lot folders, direct mail and packaging. With the 5th Color Station, you can branch out into coupons, window clings and items like tickets that require security. *Requires the Oversize Tray option (27.5" in duplex mode and up to 49.6" in simplex mode)
Redefine print quality
Satisfy the most demanding buyers — fashion, beauty, art and museums — with vivid 2400 dpi x 4800 dpi print resolution. VSCEL laser beam technology produces superb image definition, along with crisp text, fine lines and photo-like image reproduction. Use the 5th Color Station to print unique items with neon yellow, neon pink, clear, white and invisible red toners.
Get more than industry-leading speed
Speed counts but so do other capabilities that boost performance and enable you to handle workload spikes. Complete short- and long-run jobs easily with configurable large-capacity trays, on-the-fly paper replacement and LED-guided jam removal.
Handle specialty media effortlessly
Select desired media quickly and accurately from the media catalog that's sharable among multiple Pro C7200/Pro C7210 digital presses. Get creative with clear, synthetic, magnetic and metallic substrates, and print on textured media confidently. Work with oversize media effortlessly using the vacuum-feed LCT, the BDT Banner Sheet LCT and the Plockmatic Banner Sheet Stacker.
Finish jobs in-house and in style
Speed job completion, better control scheduling and avoid the costs of outsourcing with an array of inline finishing choices. Give customers the look they want or suggest a fresh approach. Interpose covers, pages and tabs, and finish documents with GBC® punching and other options. Make booklets with the RICOH Perfect Binder and distinctive packaging with the Multi-Folding Unit.
Improve operational efficiency
Choose the RICOH TotalFlow Digital Front End or a Fiery® controller to gain support for color management tools, VDP and hybrid workflows. Integrate print MIS or W2P software to connect business processes. Empower operators to work fast and accurately by customizing the new 17" color control panel.
Safeguard your information
Apply security settings quickly and easily using the Web Image Monitor. No need to interpret instructions in a manual. Our cutsheet color printer allows you to implement user authentication, encryption and secure printing, which attaches pin code protection to jobs sent for printing. IP security protocols can encrypt every packet in the datastream.
Choose a digital press that's efficient and environmentally friendly
Be kind to the environment and sustain productivity with a device that's ENERGY STAR® certified and EPEAT® Silver and Gold rated*. The intuitive user interface allows operators to set up jobs accurately, minimizing waste and reprints. The system design emphasizes recyclability, preservation of air quality and compliance with EPA standards, including the SmartWay® shipping program.ÊÊ *System and controller dependent
Need more information?
Learn more about the RICOH Pro C7200 Graphic Arts Series Color Production Printer and how it may fit your business.