Pro C7110X Color Laser Production Printer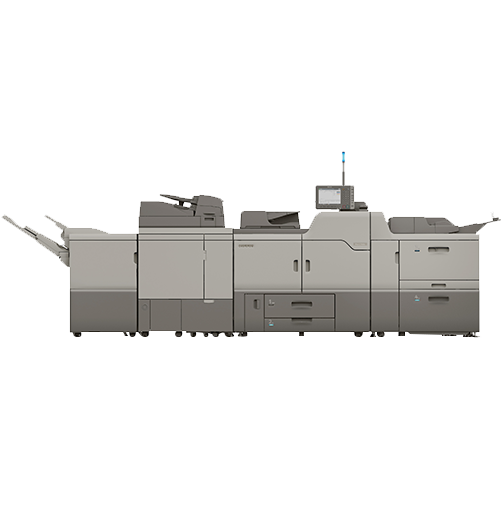 Transform production printing with advanced color
Prints up to 90 ppm, copy, scan
Deliver up to 1200 x 4800 dpi resolution
Transform with five-color printing
Maintain uptime with liquid cooling and TCRU program
|
Brochure
|
Request a Quote
Transform production printing with advanced color
When it comes to your production printing, you can't have too many color capabilities. For your advanced jobs, there's the Savin Pro C7110X Color Production Printer. With its powerful variable data printing system, print speeds of up to 90 pages per minute (ppm) — and a price that works even for small and midsize print providers — you can effectively capture, manage and transform all of your information. Available in four- or five-station printer and multi-function printer (MFP) models, the Pro C7110X can help you offer your clients more — and take your business further.
Turn custom work into everyday work with a fifth station
The Pro C7110X can help set your business apart. With it, compete for jobs that involve clear toner applications to create image enhancements, security stamps and authenticity details. Or, take on jobs that use white toner for dramatic effects on dark media and metallic simulation. You can also dazzle customers with 1,200 x 4,800 near-offset image quality, and easily print oversize pieces for signage, window clings and more.
Print on heavily textured stock
Improve coverage and appearance on textured surfaces. The AC transfer system and elastic fusing belt attract toner to the image transfer belt, transferring more toner to the media and improving image quality. Plus, avoid no-cost reprints with a system that monitors density variation. It adjusts developer bias and charger bias to help make sure there's adequate toner, ensuring consistent color throughout.
Go big and bold
Accept print jobs that you previously turned away, thanks to oversize printing that uses either the bypass tray or the unique vacuum-feed large capacity tray (LCIT). Additionally, the LCIT ensures accurate feeding for a wide variety of media types, including coated, textured, colored and clear media. Print 27" or 49", on weights up to 360gsm.
Simplify media selection
Enter up to 99 parameters per substrate to help operators select the correct media. You can even set up different ICC profiles for the front and back of a sheet. If in doubt, the media identification kit can match any sample to one in the library, and set up the job.
Put the finishing touch on projects
Control quality and turnaround jobs faster with inline, in-house finishing that includes an automatic high-capacity stacker and stapler. Exceed your customers' expectations when you make booklets completely in-line with saddle stitch, square folds, full bleed booklets, and more, on coated or uncoated media up to 300 gsm. The Plockmatic PBM350 and Plockmatic PBM500 make it easy for your operators to save time and work accurately, and the 7-inch color GUI provides step-by-step instructions and helpful hints.
Punch, punch tabs, double punch
Automate your punching workflow with the optional GBC StreamPunch Ultra, and offer ring bind, comb bind, coil bind, wire bind, ProClick, Velo bind options and more, all inline and effortless. The finisher recognizes both standard and European sizes when they're set up in the controller, and the standard and custom dies range from 3-hole to 44-hole.
Replace parts yourself and immediately reduce downtime
Participate in Savin's Trained Customer Replaceable Units (TCRU) program, and your trained operators can quickly and easily replace many parts themselves — instead of waiting for a service tech.
Need more information?
Learn more about the Savin Pro C7110X Color Production Printer and how it may fit your business.