PJ XL4540 Short Throw Projector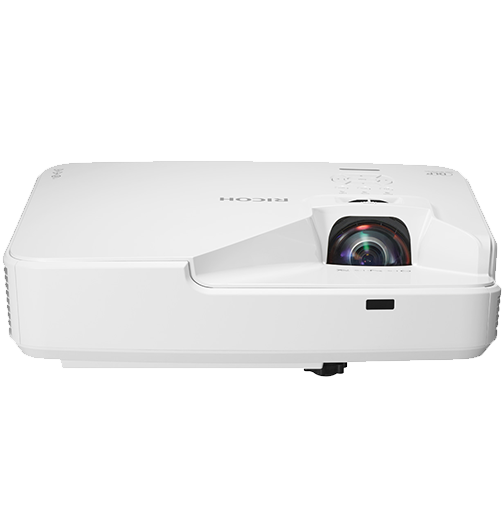 Stay focused on maintenance-free projection
XGA Resolution (1024x768 dpi)
Brightness rating of 3000 lumens
Screen size up to 100"
20,000-hour engine life from laser light source
|
Brochure
|
Request a Quote
Stay focused on maintenance-free projection
Concentrate on your message instead of how youÕll present it. Hour after hour, the projector is ready for action, with no maintenance required. Start presenting with optimal brightness in only three seconds. Project images, charts, videos and more with up to 3,000 lumens, so your audience can see every detail clearly, even in rooms with moderate ambient lighting. It cools down quickly, too — without any distracting noise.
Focus on the important details
Improve clarity while reducing eyestrain for your audience. With 1024 x 768 dpi XGA resolution, a 4:3 aspect ratio and a contrast ratio of up to 13,000:1, your audience can pinpoint even the subtlest differences in colors, text and movements. With more than one billion colors available, your viewers are sure to be impressed. Unlike lamp or LED hybrid projectors, the PJ XL4540 maintains optimal brightness longer for more vivid images that capture and maintain attention.
Find new ways to connect with your audience
Every audience is looking for something different. Give it to them via multiple multimedia input terminals. Share images, charts, lesson plans, training videos and more from laptops, tablets, computers and Blu-Ray players. Use the built-in 10-watt speaker or add your own external speakers to complement your presentation with impressive audio. Add optional Luidia eBeam® software to turn your presentation into an interactive display.
Go to the front of the class
Whether itÕs on the edge of a table or mounted on the ceiling, you can place the PJ XL4540 within 50 inches of the screen to minimize shadows. Feel free to stand near the screen to point out key details on a diagonal screen size up to 100 inches without blocking anybodyÕs view or compromising image quality.
Make an impact inside and outside
With its mercury-free design and semiconductor laser light source technology, the PJ XL4540 is a good choice for the environment. ItÕs also easy to operate. Projected colors are adjusted automatically to complement the color of the screen or wall. Focus can be adjusted with a single touch. And, you can use a remote control to start and stop the projector, freeze your presentation, adjust image settings, present in Eco mode, set the volume and more.
Need more information?
Learn more about the RICOH PJ XL4540 Short Throw Projector and how it may fit your business.