PJ X6180N High End Projector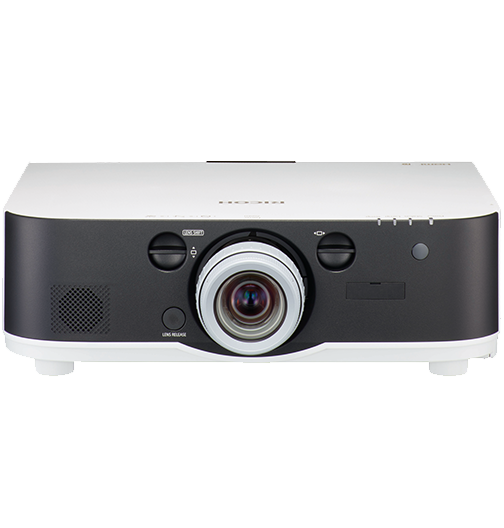 The new vision for big multimedia projection
XGA Resolution (1024x768 dpi)
Brightness rating of 6000 lumens
Screen size up to 500"
Choose from five optional interchangeable lenses
|
Brochure
|
Request a Quote
The new vision for big multimedia projection
Your best ideas deserve to be showcased - preferably via high-end large-room projection. The RICOH PJ X6180N High End Projector is designed for a large audience with incredible brightness, user-friendly controls and multiple connectivity options. Confidently command up to 6000 lumens with 1024x768 XGA native resolution, plus a contrast ratio of 2000:1 for incredible clarity in all lighting conditions with this auditorium projector.
Auto correct as you go
No matter what you choose as a projection surface, count on a flexible display ranging from 30 to 500 inches. Take advantage of Keystone Correction Image Adjustment to balance images automatically to minimize distortion. Plus, with Geometric Correction, you can still deliver exceptional results - even when projecting onto curved or irregular surfaces.
An adaptable projector for any space
Customize the PJ X6180N High End Projector to your needs to optimize performance. With a vertical/horizontal lens shift, you can adjust projected images without moving the device or compromising image quality. In addition, choose from six optional interchangeable lenses that you can swap easily to adapt to new environments. Options include an ultra-short throw lens, and a 2x zoom lens to ensure excellent, accurate projection in any size room.
Enjoy versatile networked projection
Network connection is critical for fixed mount projection systems like the PJ X6180N. Enjoy multiple connectivity options, including Ethernet and a USB port, as well as an optional wireless LAN for convenient and hassle-free installation without cables. Additionally, you can carry presentations with you via memory cards or USB devices, and present big ideas with or without a PC.
Achieve more eco-friendly operation
The PJ X6180N High End Projector is engineered with an Eco Mode feature to reduce environmental impact - without compromising image quality. The user-selectable power modes help you conserve energy during operation, and can also extend your lamp replacement time to up to 4,000 hours. Also, the device operates quietly at about 31 dB, so your message and vision will come across loud and clear.
Make an auditory impact
Need more information?
Learn more about the RICOH PJ X6180N High End Projector and how it may fit your business.