PJ X4241N Short Throw Projector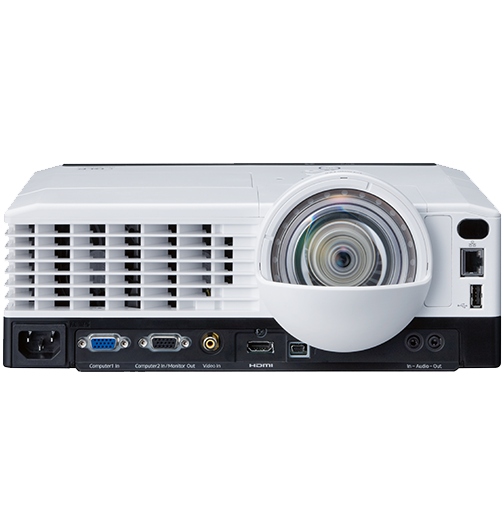 A classroom projector that will keep students engaged
XGA Resolution (1024x768 dpi)
Brightness rating of 3300 lumens
Screen size up to 400"
Wired, 360-degree projection from 23" to 200" from surface
|
Brochure
|
Request a Quote
A classroom projector that will keep students engaged
Grab your students' attention by presenting information in interesting, unusual ways. RICOH PJ X4241N Short Throw Projector displays your content in vibrant, high-definition colors and high-definition clarity. It makes it easy to: play regular or 3D DVDs using HDMI — no additional audio equipment required, project MPEG4 files from a USB drive, and present in 360 degrees, even in small spaces.
Minimize distractions with a desk edge or ceiling-mount projector
Remove distractions and you can improve learning, right? Mount the PJ X4241N on the ceiling so it's out of the way of children of all ages. Or, place it at the front edge of the table as close as two feet from the wall — because it's a short throw projector, you can still get the full picture even in smaller spaces. And because you aren't standing between the light source and the screen, there are no shadows or glare.
Turn your whiteboard into a digital tool
Turn your plain whiteboard into a digital whiteboard with the optional interactive tool kit. You can easily write, draw, save and share what's on the board with the class. Work smarter and save time by not having to transfer information from the board to paper.
Have fun and learn with 360-degree projection
Do something unexpected to spice up a lesson or get the attention of your class — project images or information on the ceiling or floor. Keystone correction automatically fixes any image distortion.
Need More Information?
Learn more about the RICOH PJ X4241N Short Throw Projector and how it may fit your business.