PJ WXC4660 Ultra Short Throw Projector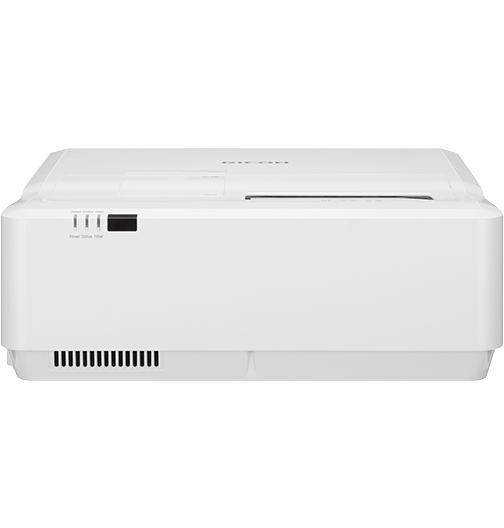 See brilliance up-close
WXGA Resolution (1280x800 dpi)
Brightness rating of 4000 lumens
Screen size up to 130"
Project brilliant images for 20,000 hours with LED technology
|
Brochure
|
Request a Quote
See brilliance up-close
Present with confidence knowing every presentation is displayed in bright, breathtaking color without delays or unnecessary distractions. Because it uses advanced 3LCD technology with an HLD (High Lumen Density) LED light source, the RICOH PJ WXC4660 Ultra Short Throw Projector can project images for 20,000 hours without any image degradation, replacement lamps or other maintenance.
Get closer to lifelike images
Transform any room into a personal showcase. Place the PJ WXC4660 just inches (29 inches maximum) from the projection surface to save space while making your message the center of attention. This lets you showcase your work on the big screen (130 inches diagonally) without your shadow getting in the way. With 360-degree projection, you can orient the projector in any direction, even when ceiling mounted.
Make your point loud and clear
Help your message stand out. Project in brilliant colors and sharp, concise text in widescreen format. The PJ WXC4660 delivers impressive high-definition visuals at up to 4,000 lumens with up to 1280 x 800 WXGA resolution and a 500:1 contrast ratio. You can also adjust the accompanying audio to meet the unique demands of the presentation, space and audience.
Focus on your message
Enhance visuals to advance your agenda. The PJ WXC4660 offers settings to manipulate output colors and adjust to the projection surface color. Images are balanced automatically, even when the projector is placed on uneven surfaces or not lined up properly. You can adjust projected images manually with Lens Shift. Plus, the projector offers Pincushion Correction to correct distortion issues.
Operate with ease
With its LED technology, the projector displays brilliant visuals immediately. It shuts down just as quickly, so there's no ambient noise during cool down. When operating, it runs quietly at only 37.5 dB (Standard Mode) and 33.5 dB (Eco Mode). It also runs at lower temperatures than mercury lamp projectors, so both the projector and your audience stays cool.
Adjust to your audience
When you're on the move, present what you want, where you want with the PJ WXC4660. Manage your presentation via the intuitive remote control, so you're free to move around the room. Use the standard computer, video and USB ports to plug into Macs, PCs and other sources. Use standard HDMI ports to showcase high-definition movies Ñ even in MPEG-4 format for online streaming.
Need more information?
Learn more about the RICOH PJ WXC4660 Ultra Short Throw Projector and how it may fit your business.