PJ WX5461 Standard Projector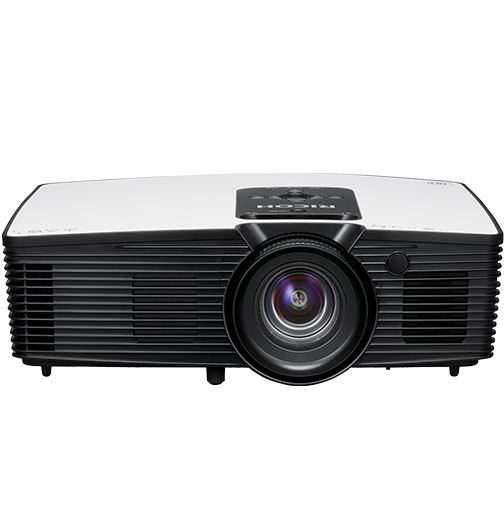 Project high-resolution images for less
WXGA Resolution (1280x800 dpi)
Brightness rating of 4100 lumens
Screen size up to 300"
Contrast ratio of 8000:1
|
Brochure
|
Request a Quote
Project high-resolution images for less
Engage your audience and inspire collaboration with the RICOH PJ WX5461 standard-throw projector. With up to 4,100 lumens, you can impress viewers with bright images and project text thatÕs easy to read from a distance. Display large images up to 300 inches wide, so data is clear Ñ even from the back row.
Invest in a projector with more flexibility
The PJ WX5461 is compact and easy to transport, so you can move quickly when schedules change. ItÕs also lightweight; you can grab your projector and switch to a larger or smaller room within minutes. Use the PJ WX5461 in large conference rooms with up to 50 people, huddle rooms, houses of worship, small classrooms and more.
Keep your audience engaged with a variety of media
Project images stored on your smartphone, tablet or other device by connecting to your projector's additional HDMI port that supports Mobile High-Definition Link (MHL). This also lets you prepare quickly for presentations and training sessions. Plus, with Keystone Correction Image Adjustment (KCIA), you can project even, crisp lines, squares and rectangles on almost any surface.
Make a big impact without the high cost
With the PJ WX5461, you can take a budget-conscious approach to presenting higher-quality presentations and encouraging more active participation during training sessions. WXGA 1280 x 800 dpi resolution output makes colors pop with life and lets you deliver accurate messages that are easy to read and understand.
Get professional results with ease
Don't give audience members a chance to distract themselves when you start your presentation Ñ be ready to present as soon as everyone arrives. With the ability to set up your projector and display images quickly, you can make every second count. Plus, remote control and on-screen prompts make it easy to stay on task.
Lower energy costs with a small carbon footprint
Use less energy by operating in Eco Mode and add up to 1,000 hours of additional lamp life, so you can reduce bulb-replacement costs.
Need more information?
Learn more about the RICOH PJ WX5461 Standard Projector and how it may fit your business.