PJ WX5460 Standard Projector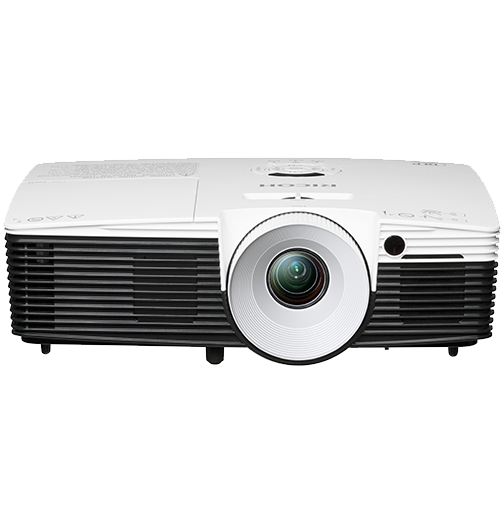 Make a big impact with crisp, clear visual presentations
WXGA Resolution (1280x800 dpi)
Brightness rating of 4000 lumens
Screen size up to 300"
3D ready, HDMI connectivity plus widescreen projection
|
Brochure
|
Request a Quote
Make a big impact with crisp, clear visual presentations
For small or midsize audiences of 20 to 30 people, the information on the screen needs to be clear for everyone. Good thing that the RICOH PJ WX5460 standard projector includes industry-leading brightness that puts everyone in the picture - even when it's an image up to 300 diagonal inches.
Count on high quality, automatically
Don't panic if you're surrounded by green conference room walls or blackboards - you can still engage your audience and share information that's sharp and clear. The PJ WX5460 presentation projector has automatic wall color correction and automatic keystone correction to easily fix any image distortion.
Bring images to life with 3D projection
Sometimes a 3D projector is the perfect way to get your message across, especially when you're discussing your latest product enhancement, engineering model or scientific finding. The projector's ready; just purchase the optional 3D glasses.
Put lamps at the bottom of your list
No need to budget for lamps anytime soon. You have 3,000 hours to work with - or 4,000 hours in eco-mode, because the digital projector automatically adjusts lamp brightness to conserve energy.
A networked projector allows remote status monitoring
Last-minute projector issues can throw you off your game, so prepare well before your presentation. Connect the PJ WX5460 to your network anytime. You can see if there are any issues and confirm the time remaining on the lamp. And if the lamp wasn't turned off after a meeting, you can switch it off remotely.
Need more information?
Learn more about the RICOH PJ WX5460 Standard Projector and how it may fit your business.