PJ WX4152N Ultra Short Throw Projector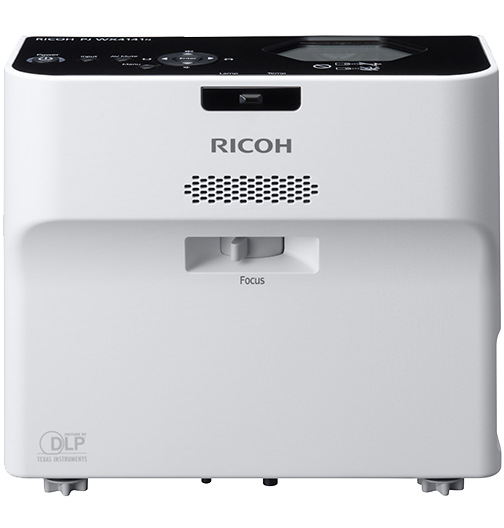 Bring clearer, more compelling presentations closer
WXGA Resolution (1280x800 dpi)
Brightness rating of 3500 lumens
Screen size up to 80"
Place within inches of your surface for fewer distractions in smaller rooms
|
Brochure
|
Request a Quote
Bring clearer, more compelling presentations closer
The RICOH PJ WX4152N Ultra Short Throw Projector can play multimedia from a wide range of audio-visual equipment with 1280 x 800 WXGA wide format resolution and more than one billion colors. Take advantage of contrast ratios up to 13,000:1 and 3,500 lumens to present color-rich images even in the most sunlit rooms. The projector even balances itself and detects keystone distortion automatically, so you can present without worries or distractions.
Widescreen projection from short distances
Keep the PJ WX4152N out of the way, and keep your audience focused on your message. Place the ultra short throw projector inches from a projection surface (as close as 4.6Ò) and display crisp, compelling images, movies, presentations, digital signage and other media between 48Ò and 80Ó diagonally — without compromising quality.
360 degree projection turns ceilings and floors into screens
Share information anywhere. The PJ WX4152N offers 360-degree projection, so you can present on any wall in any room. In fact, you can even project images on the floor and tabletops for use in even the most unique training or promotional spaces.
Get closer to your audience
The portable PJ WX4152N Ultra Short Throw Projector can be set up in classrooms, offices and public spaces with unprecedented ease and convenience. Simply plug in your Macintosh® or Windows® computer and the projector finds an available network for you automatically. Or, choose to work wirelessly. In fact, you can send presentations directly from your smartphone or tablet for amazing presentations at your fingertips.
Collaborative displays get your point across
Connect to your audience in more ways. Display images from up to four different computers onto a single screen to bring important information together. Take advantage of the Ricoh Smart Presenter app and invite iPad® users to view the presentation remotely. Or, you can pair it with Ricoh's Business Projection System to share the same presentation in up to four different locations.
A networked projector with wired or wireless options
Use both wired and wireless network sources simultaneously and share more types of information with your audience. Use the USB port to share images directly from a flash memory drive. Play movies — even those in 3D format — from DVDs and Blu-rays when you connect via the HDMI port.
Control how you present yourself
Use Creston RoomView® and AMX NetLinx® to manage presentations from any browser, or use our Web Image Monitor to control settings. Program the projector to power off automatically at specific times to save on energy costs when presenting for extended periods. Because the projector uses innovative DLP technology, you have up to 3,500 hours of lamp life, which can be extended to 5,000 hours in Eco Mode without degrading image quality.
Need more information?
Learn more about the RICOH PJ WX4152N Ultra Short Throw Projector and how it may fit your business.