PJ WX2440 Entry Level Projector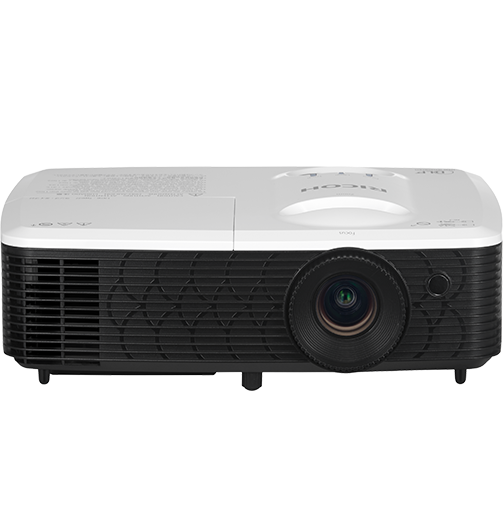 Take a budget-conscious approach to powerful presentations
WXGA Resolution (1280x800 dpi)
Brightness rating of 3100 lumens
Screen size up to 300"
Contrast ratio of 2000:1
|
Brochure
|
Request a Quote
Take a budget-conscious approach to powerful presentations
Perfect for small companies, workgroups and schools that need an affordable way to improve communication, the RICOH PJ WX2440 standard-throw projector offers vibrant color and brilliant clarity without the high cost. Plus, up to 5,000 hours of lamp life help you save on supplies.
Present yourself and your ideas more professionally
To create more dynamic conference room and classroom experiences, the PJ WX2440 comes with WXGA 1280 x 800 resolution and 16 million colors. This lets you enhance presentations and instruction with high-quality DVD videos so you can get audience members more invested. Plus, with projection sizes of up to 300 inches wide diagonally, people in the back rows will still be able to see text and data clearly.
Opt for a projector that's as flexible as you need to be
The PJ WX2440 is compact and lightweight, making moving and setting up the projector easy and convenient. If you're already set up for a presentation and learn that the room is double-booked, you can just unplug your projector and easily carry it to a new destination. Businesses and schools can purchase multiple projectors and choose to mount them in rooms specifically used for meetings or instruction.
Lower your energy usage with an eco-friendly projector
You can also reduce energy consumption with Eco Mode Ñ enabling you to lower bulb replacement costs* by extending your lamp life to up to 6,000 hours. *
*Lamps are consumable products and therefore are not covered by the projectorÕs warranty.
Deliver strong messages and increase audience engagement
You'll want to make sure the audio in your presentations match the WXGA high-resolution images and professional color output of the PJ WX2440. Fortunately, your projector comes with a built-in 2W speaker, audio in/out ports and a monitor port, helping you deliver more impact when presenting. Plus, you can add external speakers for bigger audio to make those more dramatic moments in your presentation even more powerful.
Make setup quick and convenient
With the PJ WX2440, there's no need to establish network connections, so you won't need IT technicians to deal with connection issues. When you're ready to set up for a presentation, you can get up and running easily. Plus, with multiple input terminals, you can plug in various forms of media Ñincluding tablets and DVDs Ñ to quickly and efficiently add more compelling elements to your presentations.
Need more information?
Learn more about the RICOH PJ WX2440 Entry Level Projector and how it may fit your business.