PJ WUC4650 Ultra Short Throw Projector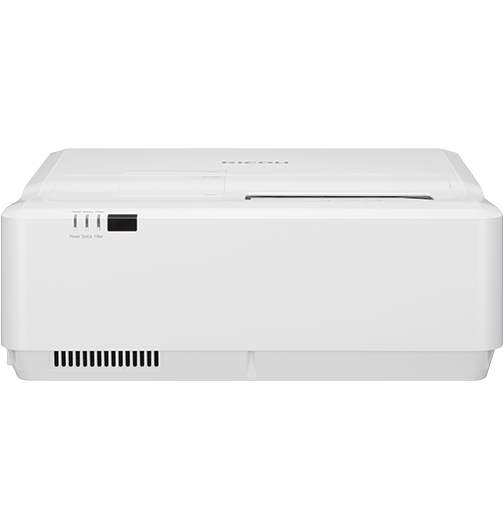 Close in on brilliant presentations
WUXGA Resolution (1920x1200 dpi)
Brightness rating of 3600 lumens
Screen size up to 130"
Get started quickly, present longer, with a powerful LED light source
|
Brochure
|
Request a Quote
Close in on brilliant presentations
Capture Ñ and hold Ñ the attention of your audience. The RICOH PJ WUC4650 ultra-short throw projector employs advanced 3LCD technology with an HLD (high lumen density) LED light source to extend projection life. Project for 20,000 hours without interruptions or delays. There are no lamps to replace, and it displays bright, vivid images in any kind of ambient lighting.
Make more room for your message
Let your presentation be front and center in rooms of every size. Place this ultra-short throw projector only inches from the wall without compromising image quality or size. In fact, you can present at up to 130 inches diagonally without glare or shadows, so your audience can focus on your message with fewer distractions.
Be the brightest in the room
Make your point crystal clear. Project high-definition images at up to 1920 x 1200 WUXGA native resolution with a 450:1 contrast ratio for precise text and subtle shading and colors on images. The projector's 3,600 lumens output ensures images remain bright and bold even in less-than-desirable lighting conditions. Built-in speakers enhance your presentation and videos even more.
Plug and play with ease
Connect to audiences in more ways with the PJ WUC4650. Plug into a convenient HDMI port to connect to Blu-Ray players and other audio-visual equipment and project high-definition movies, including those in MPEG-4 format, to impress audiences.
Maintain focus in any setting
Ensure your audience sees your message clearly. With Keystone Correction Image Adjustment, visuals are automatically balanced with the projection surface. Or, you can adjust images manually with the Lens Shift feature. Use Optical Zoom to magnify visuals without compromising image quality. The projector even manipulates output colors for optimal clarity when presenting on colored surfaces.
Take it easy, save your energy
Get messages out quickly. LED technology requires less energy, so you can share images and save money . The projector doesn't need to warm-up and it shuts down quickly without disrupting sounds. Operating volume won't be a problem during presentations either. It runs quietly at 37.5 dB (Standard Mode) and 33.5 dB (Eco Mode). Use the convenient remote control to manage presentations easily.
Reach any audience
With its easy set up you can bring your presentations directly to audiences with minimal hassles. The PJ WUC4650 comes standard with multiple computer, video, HDMI and USB ports so you can share images, documents and visuals from Macs, PCs and other sources. With its 360-degree projection capability, you can angle the projector in any direction to display on walls, showroom floors and ceilings.
Need more information?
Learn more about the RICOH PJ WUC4650 Ultra Short Throw Projector and how it may fit your business.