PJ S2440 Entry Level Projector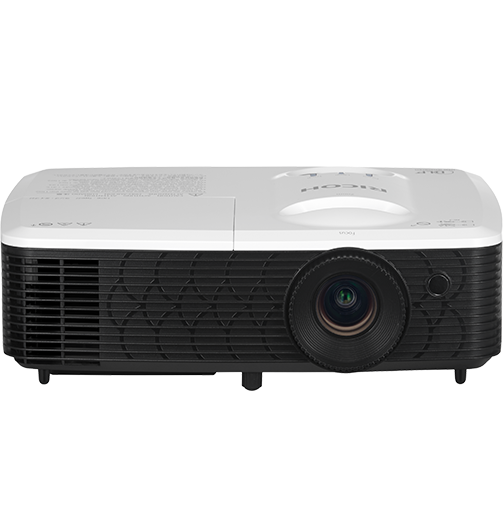 Connect with your audience during every presentation
SVGA Resolution (800x600 dpi)
Brightness rating of 3000 lumens
Screen size up to 300"
Contrast ratio of 2200:1
|
Brochure
|
Request a Quote
Connect with your audience during every presentation
Ready to get better results when giving instruction and increase buy-in when delivering presentations? The RICOH PJ S2440 standard-throw projector lets you engage audiences with colorful images and crisp text. With a budget-friendly price and up to 5,000 hours of lamp life, youÕll enjoy a low total cost of ownership (TCO).
Deliver a clear, impactful message every time
Create presentations that surpass audience expectations and raise comprehension. With projection sizes of up to 300 inches diagonally, the PJ S2440 lets you enter small classrooms and conference rooms with confidence. You get brilliant color, and data is precise and easy to read. Plus, you can help to eliminate shadows by placing the projector just a few feet away from the screen.
Stay as flexible as your fast-paced environment
Whether presenting to a small class, to a workgroup in a medium-size conference room or to a few co-workers, the PJ S2440 can adapt to fit your needs. Its small footprint and light weight makes last-minute room changes easy. Plus, with user-friendly operation and no need for IT support, meeting preparation is quick and convenient.
Reduce energy consumption with Eco Mode
Enjoy a small carbon footprint, and save on bulb replacement costs* by adding up to an additional 1,000 hours of lamp life with Eco Mode.
* Lamps are consumable products and therefore are not covered by the projectorÕs warranty.
Give your best ideas depth and rich sound
Reach more members of your audience by adding texture to presentations and training sessions. The PJ S2440 comes with a built-in 2W speaker, audio in/out ports and a monitor port. You can opt for external speakers to enhance on-screen action, and operate as low as 31 dB with nominal auxiliary noise to minimize distractions.
Make presentation prep quick and easy
Present to a variety of audiences in a number of venues Ñ including small to medium-size classrooms and huddle rooms. Without the need for network connections, you can reduce preparation time and eliminate the headache of troubleshooting connection problems. Plus, you can easily plug in laptops, tablets, Blu-ray players and more to offer your audience a wide variety of media and save time when preparing.
Need more information?
Learn more about the RICOH PJ S2440 Entry Level Projector and how it may fit your business.