PJ KU12000 High End Projector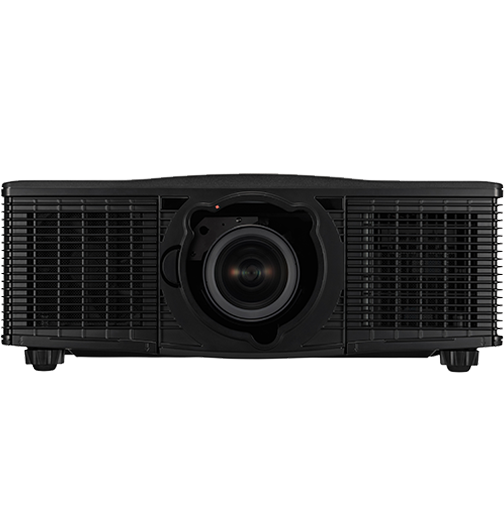 Light up the room with your ideas
WUXGA Resolution (1920x1200 dpi)
Brightness rating of 12000 lumens
Screen size up to 500"
Choose from six interchangeable lenses to customize presentations
|
Brochure
|
Request a Quote
Light up the room with your ideas
Help your audience see everything with the PJ KU12000's dual lamps with 12,000 total lumens. Project images, movies and more with incredible brightness — even when you have excessive ambient lighting. If one lamp burns out, the other remains powerful enough to present without disrupting your message.
A crystal-clear auditorium projector
Project large-scale, true-to-life images with 1920 x 1200 dpi WUXGA resolution in a widescreen 16:10 aspect ratio. With more than 1,073,000,000 colors available and a 5,000:1 contrast ratio, you can display your presentation with incredible color density and richness. Choose the optional higher-grade color wheel to enhance it with even more vivid colors.
Project in any size and on any surface
Whether in a theater or a classroom, you can customize the way your presentation is displayed. With the PJ KU12000's six interchangeable lenses, you can project widescreen images up to 500 inches diagonally, whether you're 35 inches or 255 feet away from the screen. And take advantage of 360-degree projector capability to share those images in any direction, including on floors, angled walls and ceilings.
Keep the focus on your message
Don't let distortions detract from what's most important. Automate image alignment with Keystone Correction and Pincushion Correction image adjustment. Use the tool with multiple projectors to turn two images into one huge presentation.
Present in high-definition with fewer hassles
Show off your presentation, not your IT skills. With HDBaseT connection, you can display densely packed video and audio at up to 4k resolution over existing network cabling and avoid buffering or setup delays. Use the HDMI input to connect to almost any media source, including Blu-Ray players, computers and more. Show multiple images simultaneously with Picture-in-Picture and Picture-by-Picture capabilities.
A high-end projector thatÕs easy to use
The intuitive PJ KU12000 is easy to use, so you can get started quickly and save on IT support costs. Extend your budget even more by taking advantage of the Eco Mode option. Use it adjust brightness levels on darker images, and extend lamp life by up to 2,000 hours.
Need more information?
Learn more about the RICOH PJ KU12000 High End Projector and how it may fit your business.