PJ HD5451 Standard Projector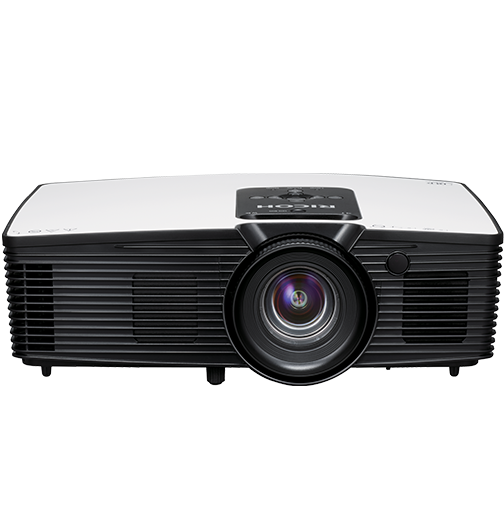 Deliver professional-quality presentations at an affordable price
HD Resolution (1920x1080 dpi)
Brightness rating of 3800 lumens
Screen size up to 300"
Contrast ratio of 8000:1
|
Brochure
|
Request a Quote
Deliver professional-quality presentations at an affordable price
Whether you're trying to get buy-in at a meeting or teaching a group of students, every audience can get distracted. With the RICOH PJ HD5451 standard-throw projector, it's easy to keep viewers focused. High-contrast features make text sharp and easy to read. Plus, large displays of up to 300 inches diagonally make colorful graphics vivid from a distance Ñ even in the back rows of large conference rooms, classrooms and houses of worship.
Adapt to meeting venues quickly and easily
The PJ HD5451 is compact, lightweight and easy to transport, making room changes quick and convenient. When additional people join a meeting at the last minute, grab your projector and head to another room to accommodate the larger audience with ease. Plus, the PJ HD5451 is very versatile, letting you teach a group of students in a small classroom or present to a group of up to 50 people in a large conference room.
Use a variety of media to keep your audience interested
Integrate your projector with other Ricoh business communication systems to help tailor your presentations to meet audience demands Ñ collaborate with interactive whiteboards, videoconferencing tools and more. Plus, Mobile High-Definition Link (MHL) lets you project images and documents stored on your smart phone, tablet or other personal device so you can prepare quickly when time is running short.
Take a budget-conscious approach to professional quality
Showcase the finer details and bring colorful images and video to life with high-definition 1920 x 1080 resolution Ñ the PJ HD5451 gives you outstanding quality at an affordable price. You can project movies and games for more interactive presentations and collaborative training sessions. Professional presentations and instruction will help you increase engagement and get buy-in for your ideas.
Make a strong impression at every meeting
Have you ever looked out at an audience to see people checking emails and sending texts? Once an audience is distracted, it's hard to get them focused. With the PJ HD5451 you never have to lose your audience in the first place. You can start every presentation quickly so you don't have to deal with an impatient audience. Plus, on-screen prompts and a remote control help you stay on task.
Reduce energy consumption with an eco-friendly projector
With Eco Mode, you can reduce the amount of energy your projector uses during presentations, helping to extend your lamp-life to up to 6,000 hours. Add optional PJLink management software to lower energy consumption even more by powering the unit on or off remotely.
Need more information?
Learn more about the RICOH PJ HD5451 Standard Projector and how it may fit your business.