P3500M Web Based Video Conferencing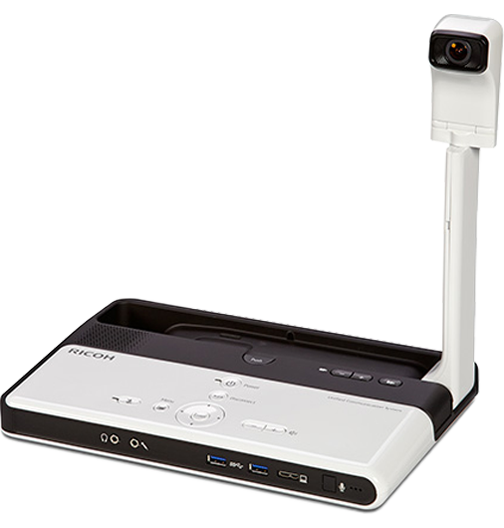 Give your next meeting a new look
Videoconference with audiences in remote locations in moments
Includes an HD camera, microphone and high-quality speakers
Set up the portable, lightweight system anywhere
Collaborate with any user when they connect via any WebRTC system
|
Brochure
|
Request a Quote
Give your next meeting a new look
Expand your audience. Use the UCS P3500M Unified Communication System to share your message virtually with audiences in locations across the globe. The cloud-based endpoint system is WebRTC compatible, so participants can join the meeting using their own browser-based videoconferencing system — without investing in new hardware, utilities or plug-ins.
Online meetings expand your audience, not your budget
Minimize meeting costs. Attendees can simply connect to the conference call via their own Ricoh Advanced Service or an existing WebRTC videoconference service. Because web conferencing is browser-based, participants are free to join the meeting from anywhere — including conference rooms, home offices or even coffee shops.
Portable videoconferencing equipment sets up a meeting on the spot
Stay in touch, even when on the move. Avoid juggling schedules while you wait for videoconferencing room availability in your office. Pack the integrated camera, microphone and speakers into the compact, laptop-sized case and carry the portable UCS P3500M video conferencing equipment with you to turn any location into your own videoconference room.
Keep your audience engaged
See your visuals clearly on any screen with up to 1280 x 800 dpi resolution and an output rate of 30 frames per second, for smoother action with less lag. With the 125-degree camera angle, nearly everybody in the room is visible. Use the zoom option to focus in on individual speakers. The high-quality microphone minimizes distractions by masking most non-stationary noises, including the tapping of pens and keyboards. Take advantage of dynamic media control to adjust images automatically and eliminate interruptions when your bandwidth is low.
Take charge of the meeting immediately
Information is more valuable when itÕs delivered quickly. Simply find an AC power outlet, connect to the internet via wired LAN or wirelessly and plug the UCS P3500M unified communication system into a monitor, TV or projector. No IT support is necessary. Access the address book instantly to check attendees or to invite more guests. Within about a minute, youÕll be ready to share big news with a wider audience.
Deliver more information more ways
Use a wide range of our devices to enhance your next meeting. Pair the UCS P3500M with a Ricoh Interactive Whiteboard to share meeting notes in real time. Or, use a Ricoh Projection System to showcase a presentation for the entire group. Learn more about our Collaborative Room Solutions.
Make the meeting experience memorable
Create your own virtual meeting room from anywhere in moments when you pair the UCS P3500M with the RICOH UCS Advanced Cloud Videoconferencing Service. You can even include iPad® or Android® tablet and smartphone users with the service to enjoy high-quality audio and professional video. ThereÕs no infrastructure investment, no complicated set up, no delays — and no problems sharing your message with more people in more places.
Need more information?
Learn more about the RICOH Unified Communication System P3500M and how it may fit your business.