P3500 Ricoh Cloud Video Conferencing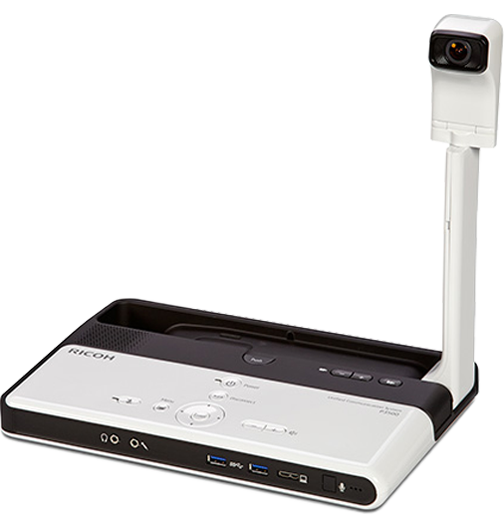 Exchange information virtually anywhere, anytime
Lightweight and portable
Easily accessible for up to 20 remote locations
High-quality audio and HD video for clearer communications
Simple, intuitive interface for convenient operation
|
Brochure
|
Request a Quote
Exchange information virtually anywhere, anytime
Whether you work across time zones or across continents, the RICOH Unified Communication System P3500 makes it easy to share critical information virtually with audiences in remote locations. Incorporate video, audio, text and interactive media into your remote meetings, using one powerful, portable, compact, cloud-based video conferencing system that you can set up in moments.
See your audience
Gather your team for remote collaboration without the challenges, time and costs of an in-person meeting. Your audience can participate via a single workstation or from a large conference room. With a built-in camera and expansive 125-degree wide-angle view, you can see each participant clearly and even zoom in on individual speakers.
Remote collaboration is the new normal
With a minimal investment and a reasonable access fee, you can gather audiences simultaneously via real-time audio or high-quality videoconferencing. Simply connect the UCS P3500 video conferencing system directly to a projector, monitor or TV via VGA or HDMI cable to get started. Your audience can easily participate by plugging into another UCS P3500 system, or with any smartphone, tablet or computer using our Unified Communications Services (UCS) apps — simply navigate key controls to participate.
Leverage your existing assets
Enjoy access to your digital address books to connect with participants faster using efficient one-touch controls. Plus, you can take advantage of UCS apps to stay connected from any personal computer or Android® or Apple® mobile devices, without purchasing special equipment or hardware.
Minimize distractions
The scalable video coding minimizes jitter and interruptions, so you can focus on delivering your message with fewer distractions. Plus, the high-quality microphone cancels out non-stationary noises such as pens tapping against the table, so you can keep your audience focused, too.
Create meetings on the go
It's easy to take the P3500 UCS video conference equipment wherever you go. About the size of a laptop, the video conferencing system includes a small camera, microphone and speakers, all tucked inside a soft-sided case. Simply find an AC power source, a wired or wireless Internet connection and monitor, and you can begin your video conference in about 60 seconds.
Need more information?
Learn more about the RICOH Unified Communication System P3500 and how it may fit your business.