MP W6700SP Wide Format Digital Imaging System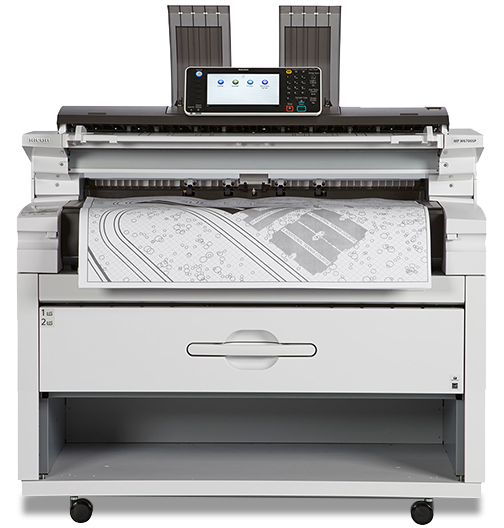 Reliable and precise wide format communications — A more intelligent way to print, scan and share
Print 6.7 A1/D LEF b&w ppm at up to 600 dpi
Scan full-color originals at up to 1200 dpi
A space-saving design maximizes floor space
Make information mobile and review it anywhere, anytime
|
Brochure
|
Request a Quote
Reliable and precise wide format communications — A more intelligent way to print, scan and share
For today's architects, engineers and contractors, the majority of business takes place outside the boardroom or drafting area. To keep jobs flowing and meet high-pressure deadlines on time and on budget, you need the right tools to help you stay productive from anywhere. Make your information mobile with the Savin MP W6700SP, which empowers you to enhance usability, improve collaboration, lower costs and drive efficiency.
Design it your way
Personalize your workflow with settings that are customizable by organization, workgroup, and user, and make job initiation easier. Helpful shortcut icons allow you to execute frequently used and complex jobs at the touch of a button. Now, any user in your organization — regardless of his or her knowledge or experience level — can print in wide format with ease. In addition, the Software Development Kit tool lets you design and implement customized solutions and apps, such as cost-tracking, to measurably improve your efficiency and maximize your ROI.
Scan-to with greater convenience
With our robust built-in color scanner and advanced Scan-to features, you can instantly scan and distribute originals and marked-up copies to everyone who needs them. Choose the function that best meets your needs, including Scan-to email, folder FTP, URL or USB/SD card for maximum mobility.
Make collaboration easy
Don't sweat changes — even last-minute ones. Benefit from the power to print and scan your new or archived maps, blueprints, sepias and schematics and easily capture edits, color mark-ups and notes out in the field. With the Savin MP W6700SP, you can increase the speed and accuracy of your communications — and reduce the time-consuming, costly expense of third-party printing and shipping.
Keep critical files within reach
Save valuable office space with a powerful document server that lets you store your important documents electronically. Preview the most up-to-date versions of plans or documents right at the control panel, and submit work confidently, knowing that your client will see only what you want them to see.
Save space with intuitive design
Embrace a wide format solution that adapts to your unique environment. Leverage the full power of the compact MP W6700SP in virtually any office environment, thanks to a front-access, 2-roll drawer in the system that allows for greater flexibility, along with support for multiple media stocks and types — including plain paper, translucent and vellum — from letter size up to 36 inches.
Go remote
Support today's workstyles and lessen IT's load at the same time. Use Web Image Monitor to view, monitor and change system settings via a web browser. And keep projects moving out in the field by sending and printing jobs remotely using the Web Print Tool.
Look razor sharp
Capture razor sharp digital images with crisp lines, accurate details and clear half-tone representations. With full-color scan resolution of up to 1200 dpi and black-and-white print resolution of up to 600 dpi, including 256-level grayscale half-tones, your blueprints and drawings will come to life — onscreen and off. Plus, Use the PrintCopy Tool to print and edit any file quickly and easily — even if you don't have the software application that was used to create the file. Collect files from disparate applications and merge them into one easy-to-use centralized management system.
Protect sensitive information
Help keep documents safe at every stage of the workflow with Windows Authentication, PDF Encryption and an optional DataOverwriteSecurity System (DOSS). Safeguard the integrity of your ideas in the office and on the go.
Need more information?
Learn more about the Savin MP W6700SP Black and White Wide Format Printer and how it may fit your business.