MP C501 Color Laser Multifunction Printer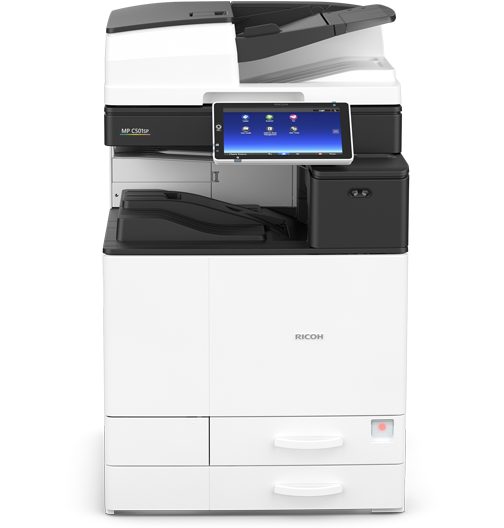 Accommodate every need, every budget
Prints up to 50 ppm, copy, scan, optional fax
1200x1200 dpi max print resolution
Paper capacity up to 2,300 pages
Use the built-in Web Help feature for information on MFP functionality
|
Brochure
|
Drivers
|
Request a Quote
Accommodate every need, every budget
Share any idea with anyone ÑÊon almost any budget. Place the versatile SAVIN MP C501 Color Laser Multifunction Printer (MFP) in your small office to produce color output at speeds up to 50 pages per minute (ppm). Share information electronically via advanced scanning and optional faxing capabilities. And leverage optional smart cloud apps, dynamic interactive support and touchscreen convenience to expedite workflows and minimize workloads.
Get ahead in the cloud
Download easy-to-use smart apps from the cloud as shortcut icons on the Home Screen. Grab data, photos and more from Google Drive™, Dropbox™ and other cloud applications from the multifunction printer's embedded web browser instantly.
Move quickly with mobile printing
Information is everywhere. Access and print it at your convenience by using the Ricoh Smart Device Connector app on your smartphone or tablet. Simply hold your NFC-equipped Android device to the MFP or scan its QR code with your iOS device to connect instantly. Then, print-from, scan-to and much more between the MFP and your mobile device. You can also use Mopria™ as another fast and easy way to mobile print.
Finish with a professional touch
Make good ideas look great on the MP C501 with optional finishing capabilities typically found only on larger, more expensive devices. Print on a wide range of media, including thicker stocks at sizes up to 8.5" x 14", with bright colors, sharp text and clear images via 1200 x 1200 dpi resolution. Use the 500-sheet internal finisher to automate stapling, stacking, hole punching and more to complete the look.
Support a faster way to work
Maintain uptime with anytime smart support. Download an app from the Application Site for immediate access to How-to videos. With RemoteConnect Support, distant technicians can take control of your device for more complex troubleshooting. Administrators can check or change settings and update firmware in moments with other convenient remote support tools.
Experience the digital difference
Use the 220-Sheet Single Pass Document Feeder (SPDF) and get the word out immediately with a wide range of advanced Scan-to options, including Scan-to-Email, FTP, URL and more. Create searchable PDF files with optional OCR scanning. Add an optional fax module for paperless faxing using email inboxes to help reduce transmission costs and paper consumption.
Take a swipe at convenience
Put customized convenience front and center to get your message out faster. Swipe, pinch-and-flick, tap and scroll to access information, automated workflows and more on the 10.1" Wide Super VGA Smart Operation Panel. Add optional software solutions, such as Streamline NX, to perform other routine tasks in fewer steps.
Be confident, stay secure
Safeguard documents and track activity with User Authentication. Users gain access to MFP controls via passcodes or access-cards. Hold jobs in queue with the Locked Print feature until the authorized user releases it for printing. Close unused network ports to restrict further unauthorized access.
Reduce energy and paper use
Manage energy costs responsibly. The MFP is EPEAT¨ Gold rated and ENERGY STAR¨ certified, and offers a low Typical Electricity Consumption of 2.2 kWh/week. Duplex printing comes standard to reduce paper usage and costs. Plus, you can program the device to shut down automatically when the office is empty.
Need more information?
Learn more about the SAVIN MP C501 Color Multifunction Printer and how it may fit your business.
General Specifications
Configuration:
Desktop
Printing Process:
4-Drum Method
Control Panel:
10.1" Smart Operation Panel
Color/B&W:
Color
Output Speed Copy/Print:
50-ppm B&W & FC (LTR)
First Page Out Time:
4.0 seconds (B&W);|5.7 seconds (Color)
Warm Up Time:
24 seconds
Recovery from Sleep Mode:
Unit: 8.8 seconds|Smart Operation Panel: 1.0 second (motion sensor activated)
Resolution:
600 dpi
System Memory:
2 GB RAM/320GB HDD Standard & 4GB RAM Option
Maximum Copy Quantity:
Standard: 500 sheets|Maximum: 625 sheets (with options)
Duplexing:
Automatic (Standard)
Document Feeder Type:
Single Pass Document Feeder (SPDF)
Single Pass Document Feeder SPDF:
Standard
Document Feeder Paper Weight:
Standard Trays: 16 — 80 lb. Bond/166 lb.|Index (60 — 300 g/m2)|Bypass Tray: 14 — 80 lb. Bond/ 166 lb.|Index (52 — 300 g/m2)|Duplex Unit: 14 — 68 lb.|Bond (52 — 256 g/m2)
Document Feeder Capacity:
220 sheets
Preset Reduction and Enlargement Ratios:
25%, 50%, 65%, 73%, 78%, 85%, 93%, 100%, 121%, 129%, 155%, 200%, 400%
Zoom Range:
25% to 400% in 1% increments
Original Siza:
5.5" x 8.5" to 11" x 17"|(140 x 216 mm to 279 x 432 mm)
Maximum Original Size:
Platen: Up to 8.5" x 11.7"/A4 (216 x 297 mm)|SPDF: Up to 11" x 17"/A3 (279 x 431 mm)
Supported Paper Sizes:
1st Paper Tray: 8.5" x 11" (A4)|2nd Paper Tray: 5.5" x 8.5" — 8.5" x 14" (A6 — LG)|Bypass: 5.5" x 8.5" — 8.5" x 14"(A6 — LG); Custom Sizes: Width: 3.5" — 8.5" (90 — 216 mm), Length: 5.8" — 49.6" (148 — 1260 mm)
Supported Paper Weights:
Standard Trays: 16 — 80 lb. Bond/166 lb.|Index (60 — 300 g/m2)|Bypass Tray: 14 — 80 lb.|Bond/ 166 lb.|Index (52 — 300 g/m2)|Duplex Unit: 14 — 68 lb.|Bond (52 — 256 g/m2)
Supported Paper Types:
Plain, Recycled, Special Paper 1-3, Letterhead, Cardstock, Preprinted, Bond, High-Gloss Coated, Coated, Color, Labels*, OHP* & Envelopes**
Standard Paper Capacity:
Standard: 2 x 550 sheets + 100-Sheet Bypass Tray
Maximum Paper Capacity:
Maximum: 2,300 sheets
Standard Output Capacity:
500 sheets
Maximum Output Capacity:
Maximum: 2,300 sheets
Power Source:
120V — 127V, 60Hz, 12A
Typical Electricity Consumption TEC:
2.24 kWh/week
Power Consumption:
1,584W or less; Sleep Mode: 0.78W
Energy Star:
Certified
EPEAT Status:
Gold
Dimensions (WxDxH):
23.1" x 27.0" x 31" (587 x 685 x 788 mm)
Weight:
197 lbs. (89.5 kg) (includes SPDF)
Standard Features:
Auto Color Calibration, Auto Color Selection, Auto Duplex, Auto Off Timer, Auto Paper Selection, Auto Start, Auto Tray Switch, Bates Stamp, Centralized Address Book Management, Color Balance, Adjustment/Program, Color/Image Creation, Combine Copy (2/4/8 into 1), Cover/Chapter/Slip Sheets, Electronic Sort, Energy Saver Timer, ID Card Copy, Image Density (Auto/Manual), Image Rotation, Image Quality Mode (Text, Photo, Text Photo), Import/Export of Preference Settings, Information Screen (Eco-Friendly Indicator), Interrupt Copy, Home UI Customization, Job Preset (up to 8), Job Programs (up to 25), Login/Logout Button, Remote Operation Panel, Rotate Sort, Sample Copy, Series Copy, Shift/Erase/Margin Adjustment, Simple UI Apps, Simplified Display, Single Function Apps, Smart Apps, Tilt Operation Panel, User Codes (up to 1,000), Web Browser
Footnotes:
*Bypass Tray only|**Paper Tray 2 Only|***Typical Electricity Consumption by ENERGY STAR Qualified Imaging Equipment Test Procedure
Printer Specifications
Processor Speed:
Intel Atom Processor Bay Trail 1.75 GHz
Hard Disk Drive:
320GB HDD Standard & 4GB RAM Option
Interfaces:
Mainframe: 1000Base-T/100Base-TX/10Base-T Ethernet, USB Type A (Optional 2 Ports)|Operation Panel: Wireless LAN IEEE 802.11 b/g/n (2.4 GHz only), Bluetooth 4.0, SD Card Slot, USB Host Type A, USB Host Type Mini B, NFC Tag|Option: Wireless LAN IEEE802.11a/b/g/n, USB 2.0 Type B
Network Protocol:
TCP/IP (IPv4, IPv6)
Supported Operating Systems:
Windows 7/8.1/10/Server 2008/Server 2008R2/Server2012/Server2012R2/Server2016; Unix: Sun Solaris 10, HP-UX 11.x/11i v2/11i/v3, SCO OpenServer 5.0.7/6.0, RedHat Linux Enterprise V4/V5/V6, IBM AIX V6.1/V7.1/V7.2; Citrix XenDesktop 7.0/7.1, Citrix XenApp 7.5/7.6/7.7/7.8/7.9/7.11/7.12/7.13/7.14/7.1 5 /7.16/7.17; Mac OS X v.10.10 or later, SAP R/3, SAP S/4, IBM iSeries AS/400-using OS/400 Host Print Transform
Device Management Utilities:
Device Manager NX Series, Web Image Monitor, @Remote
Printer Languages:
Standard: PCL5c, PCL6, PDF Direct emulation, PostScript3 emulation|Optional: Adobe PostScript3, Adobe PDF Direct Print, XPS
Font Support:
Standard: PCL: 45 Roman fonts + 13|International fonts; PostScript3: 80 Roman fonts + 13 International fonts|Optional: Genuine Adobe PostScript3|Emulation: 136 Roman fonts
Printer Resolution:
1200 x 1200 dpi
Other Print Features:
Sample/Locked/Hold/Scheduled/Stored/Store and Print/Black Over Print, CLP Simulation, PDF Direct Print, PictBridge¨, Mail to Print, Classification Code, Bonjour Support, Windows Active Directory Support, DDNS Support, PCL Resident Font Adoption, Tray-Parameter, Change from Web Image Monitor, 1200 dpi Support, Universal Driver, XPS Support, WS Printer, Wireless LAN Interface Option, Media Direct Print (Print from USB/SD), Banner Page Print, Auto Job Promotion, Poster Print, WiFi Protected Setup
Security Features:
Authentication for Windows/LDAP/Basic/User Code/802.1.x Wired, Encryption for Address Book/Authentication Password/SSL Communication/S/MIME/IPSEC Communication/HDD/Transport Layer Security/SSH/Wireless LAN, Network Protocol On/Off, IP Filtering, Mask Type for Copying/Data Security, Unauthorized Copy/Print Prevention, Quota Setting/Account Limit, SMTP over SSL, Compulsory Security Stamp
Scanner Specifications
Scanning Speed B&W/Full Color:
Simplex: 110 ipm; Duplex: 180 ipm (200 dpi/300 dpi)
Scanning Resolution:
B&W and FC scanning at 100 — 600 dpi|Up to 1200 dpi for TWAIN scanning
Scan Area:
11.7" x 14" (297 — 355 mm)
File Formats:
Single/Multi-Page TIFF, Single/Multi-Page PDF, Single/Multi-Page High Compression PDF, Single/Multi-Page PDF/A, Single Page JPEG
Scan to Modes:
Scan-to-Email (with LDAP support)|Scan-to-Folder (SMB/FTP)|Scan-to-URL|Scan-to-Media (USB/SD Card)|Network TWAIN Scanning
DOSS Specifications
Maximum Stored Capacity:
3,000 documents
Maximum Page Capacity:
2,000 pages (per document)
Maximum No. of Folders:
200
Fax Specifications
Standard/Optional Fax:
Optional
Fax Type:
ITU-T CCITT G3
Fax Option Type:
Option Type M39
Circuit:
PSTN, PBX
Fax Resolution:
200 x 100 dpi, 200 x 200 dpi, 400 x 400 dpi (with optional SAF memory)
Compression Method:
MH, MR, MMR, JBIG
Fax Scanning Speed:
Up to 58 spm - Standard and Detail Mode (LTR)
Fax Modem Speed:
33.6K Ð 2,400 bps w/Auto Fallback
Fax Transmission Speed:
G3: Approximately 2 seconds/page (JBIG)
SAF Memory:
Standard: 4 MB (approx. 320 pages)|Optional: 64 MB (approx. 4,800 pages) with optional SAF memory
Max Auto Dials:
2,000 Quick/Speed Dial numbers
Group Dials:
100 Group Dial numbers