MP C401 Color Laser Multifunction Printer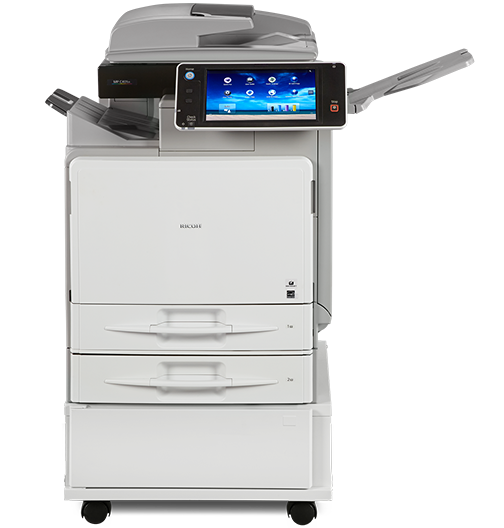 Multifunction power plus brilliant color
Prints up to 42 ppm, copy, scan, fax
1200x1200 dpi max print resolution
Paper capacity up to 2,300 pages
Standard 100-sheet bypass tray for envelopes and heavier stocks
|
Brochure
|
Drivers
|
Request a Quote
Multifunction power plus brilliant color
Realize your team's full potential with the power of color. The Savin MP C401 Color Laser Multifunction Printer (MFP) simplifies everyday tasks by combining fast color output, advanced scanning and optional faxing to help you share and deliver information. Output brilliant color prints at 42 pages per minute (ppm) on a wide range of media types to keep your projects moving at full speed, and do it in colorful fashion.
Print and scan more in less time
Need to capture and share documents quickly? Quickly turn hard copies into digital files and expedite multi-page scans of one- and two-sided originals via the 50-Sheet Automatic Reversing Document Feeder . Speed through print jobs while reducing overall paper use with automatic duplexing. Draw from the 650-sheet standard paper capacity, including a 100-sheet bypass tray that can accommodate envelopes and heavier paper stocks.
Increase supply without increasing footprint
Have a big job? Expand your paper capacity to 2,300 sheets by adding up to three optional 550-sheet-paper trays, for fewer workflow interruptions - without adding to the MFP's footprint. You'll reduce trips to replenish paper, and can set each paper source to supply different paper types and sizes to accommodate all of your commonly used stocks.
Stay organized on the fly
Use the 500-sheet exit tray to keep your output well-organized and easily accessible. Want to keep specific output like faxes or special print tasks separate? Add the one-bin tray as a separate destination for those jobs, making it simple to retrieve the right documents when you need them.
Mobile connectivity keeps you engaged on the go
Accomplish more from afar with the multifunction MP C401's embedded web browser option. With it, save to and share information with the Ricoh Integrated Cloud Environment, directly from the multifunction device control panel. Also, take advantage of incredible mobile convenience with the Ricoh Smart Device Connector app, which lets you print from, or scan to, your smartphone or mobile device - without special drivers.
Do more, use less
Tackle your document tasks without compromising your eco-friendly commitment. Program the MP C401 all-in-one printer to automatically shut down, or power up, to conserve energy. Reduce paper use with standard duplexing, as well as reminders from the embedded Eco-Friendly Indicator Screen. You can also set quotas for individuals or groups to reduce unnecessary printing. Plus, the energy-efficient MP C401 printer has an EPEAT®* Gold rating, is ENERGY STAR® certified , and features a low Typical Electricity Consumption value. And whenever you need it, our consumable and product recycling programs make it easy to recycle.
Need more information?
Learn more about the MP C401 Color Laser Multifunction Printer and how it may fit your business.
General Specifications
Configuration:
Desktop
Scanning Elements:
Full Color One Dimensional Solid Scanning via CCD
Printing Process:
Dry Electrostatic Transfer with Dual Component Magnetic Brush Development; 4-Drum Method
Control Panel:
10.1" Smart Operation Panel
Color/B&W:
Color
Output Speed Copy/Print:
42 ppm
First Page Out Time:
6.7 seconds (B&W);|8.3 seconds (Color)
Warm Up Time:
45 seconds with Standard Operation Panel|55 seconds with Smart Operation Panel
Recovery from Sleep Mode:
4.6 seconds
Resolution:
600 dpi
System Memory:
2 GB RAM + 320 GB Hard Disk Drive
Maximum Copy Quantity:
Up to 999 copies
Duplexing:
Automatic (Standard)
Document Feeder Type:
Automatic Reversing Document Feeder (ARDF)|Original Capacity: 50 sheets|Paper Size: 5.5" x 8.5" to 8.5" x 14" (A5 - A4)|Custom: Up to 49.6" (1260 mm); Simplex only for Banners|Paper Weight (simplex): 14 to 34 lb. Bond (52 - 128 g/m2)|Paper Weight (duplex): 17 to 28 lb Bond (60 - 105 g/m2)
Automatic Reversing Document Feeder ARDF:
Standard
Document Feeder Paper Weight:
Paper Weight (simplex): 14 to 34 lb. Bond (52 Ð 128 g/m2)|Paper Weight (duplex): 17 to 28 lb Bond (60 - 105 g/m2)
Document Feeder Capacity:
Standard: 1 x 550 sheets + 100-Sheet Bypass Tray|Maximum: 2,300 sheets
Preset Reduction and Enlargement Ratios:
155%, 129%, 93%, 78%, 65%
Zoom Range:
25% to 400% in 1% increments (Platen)|25% to 200% in 1% increments (ARDF)
Exposure Glass Size:
8.5" x 11" (216 x 297 mm)
Maximum Original Size:
8.5" x 11" (216 x 297 mm)
Supported Paper Sizes:
Standard Paper Tray: 5.5" x 8.5" to 8.5" x 11" (A6 Ð A4)Bypass Tray: 2.76" x 5.0" to 8.5" x 23.6" (70 x 127 mm to 216 x 600 mm)
Supported Paper Weights:
Standard Tray: 14 Ð 58 lb. Bond/120 lb. Index (52 Ð 220 g/m2)|Bypass Tray: 14 Ð 68 lb. Bond/140 lb. Index (52 Ð 256 g/m2)|Duplex Unit 16 Ð 43 lb. Bond/90 lb. Index (60 Ð 163 g/m2)
Supported Paper Types:
Plain Paper, Special Paper, Thick Paper, Thin Paper, Coated, High-Gloss Coated, Water-Resistant Paper, Labels, Envelopes, Letterhead, Color Paper, Preprinted, OHP*
Standard Paper Capacity:
Standard: 1 x 550 sheets + 100-Sheet Bypass Tray
Maximum Paper Capacity:
Maximum: 2,300 sheets
Standard Output Capacity:
500 sheets
Maximum Output Capacity:
Maximum: 2,300 sheets
Maximum Monthly Volume:
20000
Power Source:
120 - 127V/60Hz/12A
Power Consumption:
Less than 1.6 KW (Full System)
Dimensions (WxDxH):
21.7" x 22.4" x 28" (550 x 570 x 710 mm) (including ARDF and Operation Panel)
Weight:
<176.3 lbs (80kg)
Footnotes:
*Bypass Tray Only
Printer Specifications
Processor Speed:
Intel Celeron U3405 (1GHz)
Hard Disk Drive:
320 GB
Interfaces:
1000Base-T/100Base-TX/10Base-T Ethernet, USB2.0 Type A (2 Ports), USB2.0 Type B & SD Slot on Operation Panel
Network Protocol:
TCP/IP (IPv4, IPv6), Bonjour
Supported Operating Systems:
Windows XP/Vista/7/8/Server 2003/R2/ Systems Server 2008/R2/Server 2012/R2, Mac OSX10.6 or later, Citrix MetaFrame/Presentation Server/XenApp 5.0, 6.0, 6.5, UNIX Filter for Sun Solaris, HP-UX, SCO OpenServer, RedHat Linux, IBM AIX, SAP R/3
Device Management Utilities:
Device Manager NX Lite and Accounting, Device Manager NX Pro and Enterprise, Web SmartDeviceMonitor, Web Image Monitor, @Remote Enterprise Pro
Printer Languages:
Standard PCL5c, PCL6, PS3, XPS and Universal Driver (via download)
Font Support:
Fonts for PCL: 45 Intellifonts, 13 International Fonts|Fonts for PS3: 136 Roman
Printer Resolution:
600 x 600 dpi (PCL5c, XPS);|1200 x 1200 dpi (PCL6, PS3)
Other Print Features:
Black Over Print, Classification Code, CLP Simulation, PDF Direct Print, Sample/Hold/Stored and Locked Print, WSD Printer
Security Features:
DataOverwriteSecurity System (DOSS), Classification Codes, 802.1.x Wired Authentication, DataOverwriteSecurity Unit (DOSS), Encryption (Address Book, Authentication Password, HDD, PDF, SSH, SSL Communication, S/MIME, IPsec Communication), IP Filtering, Locked Print, Network Protocol On/Off, Quota Setting/Account Limits, SNMP v3 Support, User Authentication (Windows/LDAP with Kerberos; Basic and User Codes), Wireless Protected Setup
Footnotes:
*Bypass Tray only.|**Typical Electricity Consumption by ENERGY STAR¨ Program.
Scanner Specifications
Scanning Speed B&W/Full Color:
35 ipm (B&W and F/C @ 200/300 dpi via ARDF)
Scanning Resolution:
100/200/300/400/600 dpi (200 dpi default)
Scan Area:
Main Scan: 8.5" (216 mm) Sub Scan: 11.7" (297 mm)
Standard Interfaces:
1000Base-T/100Base-TX/10Base-T Ethernet, USB2.0 Type A (2 Ports), USB2.0 Type B & SD Slot on Operation Panel
Optional Interfaces:
IEEE 802.11a/g/n Wireless
File Formats:
Single/Multi Page TIFF, PDF and PDF/A, High Compression PDF, Single Page JPEG
Scan Modes:
BW Text/Line Art, Text, Text/Photo, Photo, Grayscale; Color Text/Photo, Gloss Photo
Scan to Modes:
Scan-to Modes Scan-to-Email (with LDAP support);|Supported Scan-to-Folder (SMB/FTP);|Scan-to-URL; Network TWAIN Scanning;|Scan-to-Media (USB/SD); WSD Scanner
DOSS Specifications
Capacity:
76 GB (shared with other functions)
Maximum Stored Capacity:
3,000 documents
Maximum Page Capacity:
2,000 pages (per document)|9,000 pages (all stored documents)
Fax Specifications
Standard/Optional Fax:
Optional
Fax Type:
ITU-T (CCIT) G3
Circuit:
PSTN
Fax Resolution:
200 x 100 dpi, 200 x 200 dpi, 400 x 400 dpi (with optional SAF memory)
Compression Method:
MH, MR, MMR, JBIG
Fax Scanning Speed:
Up to 33 spm (Letter/A4)
Fax Modem Speed:
33.6K - 2,400 bps w/Auto Fallback
Fax Transmission Speed:
G3: Approx. 2 seconds/page (w/JBIG compression)|G3: Approx. 3 seconds/page (w/MMR compression)
SAF Memory:
4MB (approx. 320 pages);|Maximum 28MB (approx. 2,240 pages)
Memory:
4 MB (approx. 320 pages)
Max Auto Dials:
2000
Group Dials:
100 Group Dials (500 locations each)
Additional Modes:
Internet Fax (T.37), IP Fax (T.38), LAN Fax, Fax Forward to E-mail/Folder, LDAP Support
Fax Features:
Detection of Misplaced Documents, Double Check Destination, Fax Output Timer