MP C307 Color Laser Multifunction Printer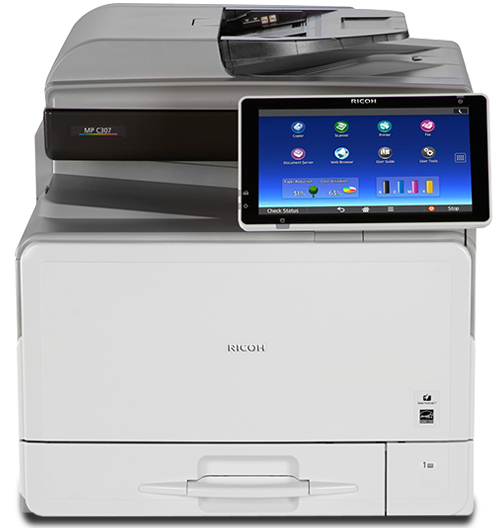 Accelerate workgroup productivity and lower costs
Prints up to 31 ppm, copy, scan, fax
1200x1200 dpi max print resolution
Paper capacity up to 1,350 pages
Support mobile printing with AirPrint® and Mopria™
|
Brochure
|
Drivers
|
Request a Quote
Accelerate workgroup productivity and lower costs
Improve your productivity by keeping more jobs in-house with the SAVIN MP C307 Color Laser Multifunction Printer. With all-in-one print, copy, scan, fax, local storage and cloud capabilities, the MP C307 becomes your workgroup's information management hub — where print and digital documents come together to help streamline collaboration and more.
Impress with brilliant color
Produce crisp, clear text and rich images with brilliant color in 1200 x 1200 dpi resolution. Advanced print quality features allow you to deliver professional-quality materials to satisfy customers and boost your brand image. Black Over Print helps to eliminate image defects from photos and other scanned documents. Adjustable color settings help to bring forth the most vivid colors in your output.
Process big files in a flash
Thanks to a powerful Intel 1.46 GHz processor, you can send large, graphics-intensive files to your MP C307 without fears of interrupting workflows or delaying pending jobs. Plus, with standard 2 GB RAM to process multiple jobs at once, you can speed through even the most hectic printing schedules.
Work more efficiently
Keep up to 3,000 commonly requested documents on the MP C307's standard 320 GB document server (hard drive), so you can print at a moment's notice. Separate print, copy or fax output for faster, easier document retrieval. And get more work done rather than stopping to remove paper from the output tray by increasing the standard 100-sheet output capacity to 200 sheets with an optional 100-Sheet One Bin Tray. For reliable high-resolution scanning up to 80 images per minute (ipm), PageKeeper models include a multi-feed detection sensor, which stops a scanning job if more than one sheet is fed through the single-pass document feeder.
Embrace mobile printing and the cloud
When your devices are connected to the same network as the MP C307, you can print directly from your device by using AirPrint® for iOS and Mopria™ for Android. Or download the Smart Device Connector App to initiate print, copy, scan and fax jobs from your device. Also, print from and scan directly to cloud storage. Users can connect via NFC or QR code to the MP C307.
Experience a better way to work
With the same gestures you use on your personal devices, you can find important information and move between jobs quickly on the latest generation 10.1" Smart Operation Panel. Preview and configure detailed layout options to simplify document creation. Choose from multiple user interfaces and customize the look and layout to meet your preferences. Also, choose three shortcuts that will stay at the top left of the panel. And extend your panel with Savin apps for smarter automation, information security and more.
Cost-efficient ownership, low environmental impact
Reduce your environmental impact with the MP C307. It's EPEAT® Gold rated and ENERGY STAR® certified, and offers a low Typical Electricity Consumption of just 1.2 KWh/week. And with an 8.2-second recovery from Sleep Mode, the MP C307 helps your office save on energy costs without slowing down. Reduce costs further by using less paper with standard two-sided printing. Conveniently recycle toner cartridges through the Cartridge Return Program.
Safeguard your information
Restrict access to the MP C307 and, via user authentication, safeguard your proprietary documents from leaking due to unauthorized user access or network threats. Mark documents to be scheduled, locked or held for printing. Control user access with passwords, QR codes and an optional NFC card reader. Data Overwrite Security can encrypt data and erase latent images from the MP C307Õs local storage. Also, easily create and send encrypted PDFs.
Maximize your investment
Plug the MP C307 into your technology infrastructure with the confidence of knowing that we offer a full array of enterprise apps and business services to help you become more productive and efficient. As your business needs change or grow, you can enjoy a consistent user experience on all MP C307 devices and other similar Savin devices, so you can move with seamless productivity among multiple MFPs, offices and workgroups.
Need more information?
Learn more about the SAVIN MP C307 Color Multifunction Printer and how it may fit your business.
General Specifications
Configuration:
Desktop
Scanning Elements:
One-dimensional solid scanning through CCD; CIS sensor; scans both sides of a page in a single pass
Printing Process:
Dry electrostatic transfer system with dual component development; 4-drum method
Control Panel:
10.1" Smart Operation Panel
Color/B&W:
Color
Output Speed Copy/Print:
31 ppm
First Page Out Time:
Color: less than 11 seconds|Black and White: less than 7.2 seconds
Recovery from Sleep Mode:
8.2 seconds
Resolution:
600 x 600 dpi (Print: 1,200 x 1,200 dpi)
System Memory:
2 GB
Maximum Copy Quantity:
Up to 999 copies
Duplexing:
Automatic (Standard)
Document Feeder Type:
Single Pass Document Feeder (SPDF) (Standard)
Preset Reduction and Enlargement Ratios:
65%, 78%, 93%, 100%, 129%, 155%
Zoom Range:
25% to 400% in 1% increments
Exposure Adjustment:
Manual and automatic
Exposure Glass Size:
Up to 8.5" x 14"
Maximum Original Size:
8.5" x 14" (216 x 356 mm)
Supported Paper Sizes:
Standard Tray: 5.5" x 8.5" to 8.5" x 11"|Optional Trays: 5.5" x 8.5" to 8.5" x 14"|Bypass Tray: 3.0" x 5.4" to 8.5" x 23.6"|Duplex Unit: 5.5" x 8.5" to 8.5" x 14"
Supported Paper Weights:
Standard Trays: 16 - 43 lb. Bond (60 - 163 g/m2)|Optional Trays: 16 - 43 lb. Bond (60 - 163 g/m2)|Bypass Tray: 16 - 58 lb. Bond (60 - 220 g/m2)|Duplex Unit: 16 - 43 lb. Bond (60 - 163 g/m2)
Supported Paper Types:
Plain, Recycled, Colored, Letterhead, Preprinted, Bond, Card Stock, Special, Coated, Waterproof, Back Copied, Thick*, OHP (Transparency)*, Envelopes*, Label Stock*
Standard Paper Capacity:
250 sheets + 100-Sheet Bypass Tray
Maximum Paper Capacity:
1350
Standard Output Capacity:
Standard: 100 sheets,|Optional: 200 sheets (total) with One Bin Tray
Maximum Output Capacity:
1350
Maximum Monthly Volume:
5000
Power Source:
120~ 127V, 60Hz, 10A
Typical Electricity Consumption TEC:
0.404 kWh/week|TEC value is measured based on the ENERGY STAR Ver.3.0 test method.
Power Consumption:
1.3KW or less; Sleep Mode: .81W
Energy Star:
Certified
EPEAT Status:
Gold
Dimensions (WxDxH):
19.6" x 23" x 20.1" (498 mm x 585 mm x 510 mm)
Weight:
Less than 101.4 lbs. (46 kg)
Standard Features:
Document Server, Javaª Poster Copy, ID Card Copy, Auto Tray Switch, Auto Start, Auto Off Timer, Energy Saver Timer, Color Balance Adjustment, Color Balance Program, Auto Color Calibration, Combine Copy, Electronic Sort, Photo Mode, Series Copy, Job Programs, User Codes (1,000), Simplified Display, Login/Logout Button, Eco-friendly Indicator
Printer Specifications
Processor Speed:
1.46 GHz Intel
Hard Disk Drive:
320GB HDD
Interfaces:
Standard: Ethernet (10BASE-T/100BASE-TX/1000BASE-T), USB 2.0 (Type A), SD Slot|Optional: Wireless LAN IEEE 802.11a/b/g/n and IEEE 1284/ECP, USB 2.0 Type B
Network Protocol:
TCP/IP (IPv4, IPv6)
Supported Operating Systems:
Windows Vista/7/8/8.1/10/Server 2008/Server 2008R2/Server 2012/Server 2012R2; UNIX Filters for Sun Solaris 9/10; HP-UX 11.x/11iv2/11iv3; Red Hat¨ Linux Enterprise V4, V5, V6; SCO OpenServer 5.0.7/6.0; IBM AIX Version 5L, 5.3, 6.1, 7.1; SAP R/3, device type: barcode and OCR package; Mac OSX 10.8 or later, Citrix¨ XenApp 6, 5+, Xen Desktop 7.0+; IBM iSeries/AS/400 Ñ using OS/400 host print transform
Device Management Utilities:
@Remote, Device Manager NX, Web Image Monitor
Printer Languages:
Standard: PCL5c/6, PostScript, PDF Direct|Optional: XPS Direct Print, Adobe¨ PostScript¨ 3ª PDF Direct
Printer Resolution:
1200 x 1200 dpi
Security Features:
Network User Authentication, IP Address Filtering, HDD Data Overwrite, HDD Encryption, Copy Guard Security, Secure Print, Encrypted Secure Print, Encrypted PDF Mode, Digitally Signed PDF, IP Sec, SSL/TLS, SNMPv3, SMTP over SSL, Security for IEEE 802.11i/w, IPv6, Transport Layer Security
Scanner Specifications
Scanning Speed B&W/Full Color:
80 ipm @ 300 dpi Full-Color and B&W Duplex
Scanning Resolution:
100, 200, 300, 400, 600 dpi
Scan Area:
Main: 8.5" (216 mm); Sub: 14.0" (356 mm)
Standard Interfaces:
Ethernet (10BASE-T/100BASE-TX/1000BASE-T), USB 2.0 (Type A), SD Slot
Optional Interfaces:
Wireless LAN IEEE 802.11a/b/g/n and IEEE 1284/ECP, USB 2.0 Type B
File Formats:
Single/Multi Page TIFF, Single/Multi Page PDF, Single/Multi Page High Compression PDF, Single/Multi Page PDF/A and Single Page JPEG
Scan Modes:
B&W: Text, Text/Line Art, Text/Photo, Photo, Grayscale|Full-Color: Text/Photo, Glossy Photo, Standard Auto Color Select
Memory Capacity:
2 GB
Scnning Features:
WS-Scanner, Scan to Email/SMB/ FTP/URL, Scanned File Naming, Scan File Type Selection, LDAP Support, Preview Before Transmission, PDF Encryption, Drop Out Color Send, TWAIN Scan, Universal Send, PDF/Digitally Signed PDF/PDF/A, Distributed Scan Management, PageKeeper
Fax Specifications
Standard/Optional Fax:
Standard
Fax Type:
ITU-T (CCITT) G3
Fax Option Type:
M28
Circuit:
PSTN, PBX
Compatibility:
ITU-T (CCITT) G3
Fax Resolution:
200 x 100 dpi, 200 x 200 dpi
Compression Method:
B&W: TIFF (MH, MR, MMR, JBIG2), Grayscale; Full-Color: JPEG
Fax Scanning Speed:
30 pages per minute
Fax Modem Speed:
33.6K - 2,400 bps with Auto Shift Down
Fax Transmission Speed:
Approx. 2 seconds/page (200 x 100 dpi, JBIG)
Memory:
4 MB (approx. 320 pages)
Group Dials:
100 groups (max. 500 numbers per group)
Fax Features:
Detection of Misplaced Documents, Double Check Destination Address, Direct SMTP, Serial Broadcasting, Fax Forward to Email/Folder, Internet Fax (T.37), IP Fax (T.38), LAN Fax, Remote Fax (optional), Paperless Fax, LDAP Support, Universal Send