MP 6503 Black and White Laser Multifunction Printer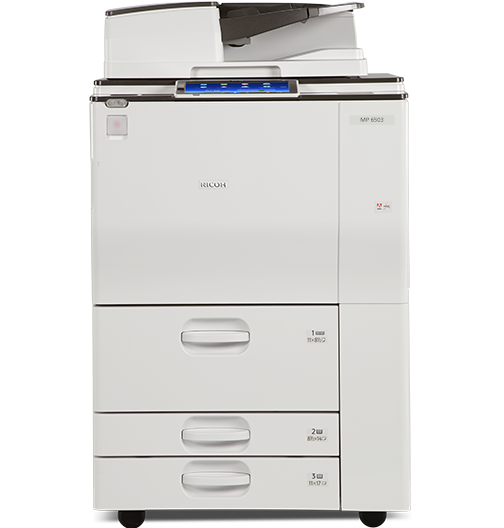 Create smarter workflows to simplify everyday tasks
Prints up to 65 ppm, copy, scan, fax (optional)
1200x1200 dpi max print resolution
Paper capacity up to 8,300 pages
Customize workflows in moments using the 10.1" Smart Operation Panel
|
Brochure
|
Drivers
|
Request a Quote
Create smarter workflows to simplify everyday tasks
Place the compact and affordable Savin MP 6503 Black and White Laser Multifunction Printer (MFP) in monochrome printing environments to churn out more types of jobs in multiple formats —without compromising quality or your budget. Take advantage of our revolutionary Workstyle Innovation Technology to streamline processes, access cloud information, stay connected from anywhere and be more productive.
Do everything with speed and ease
With its innovative motion detection sensor, the MP 6503 wakes from sleep mode automatically as you approach, so it's ready for your next job with little delay. Print up to 65 pages per minute (ppm), with resolutions up to 1200 x 1200 dpi, and a maximum paper capacity of 8,300 sheets. Scan full-color originals and share them instantly with numerous scan-to capabilities. You can also send and receive faxes without paper.
Control tasks with crystal clarity
Tailor the MP 6503 to work the way you do. For example, use your smartphone or tablet and print or scan by connecting directly to the 10.1" Wide Super VGA Smart Operation Panel touchscreen. An embedded web browser also makes it easy to access the internet and take advantage of powerful scanning and cloud services, including Ricoh DocumentMall and Syncplicity Enterprise File Sync & Share.
Get personal to get the job done
Customize the touchscreen to make it your own. Navigate the grid-style Smart Apps user interface with ease and create your own one-touch workflows and shortcuts. Or, select the Quick User interface to handle your most common tasks — including basic print, copy, fax and scan functions— as well as other single-function features like ID Card Copy and Scan-to Folder.
Work at your pace, every place
Download the RICOH Smart Device Connector app on your smartphone or tablet, and complete tasks without utilities, drivers or even a network. Use it to send files to the MFP for printing or scan documents right to your device. Share digital files to contacts in your personal address book. You can also avoid carrying paperwork by storing files on a USB/SD memory card and plugging it into the MFP.
Give power to the people
Have users enter a passcode or billing code to access MFP functions and release print jobs. Pair the MFP with Ricoh Device Manager NX Accounting, Ricoh Streamline NX or other accounting software for chargebacks. Take advantage of encryption and overwrite capabilities to protect data. You can also use the optional dual interface ports to assign a secondary network for guests and other users — helping to protect information shared internally.
Use less energy
Show how environmentally responsible you can be. Take advantage of default duplex printing to save on paper. Schedule it to automatically shut down when you know no one is in the office, and track everything with the Eco-Friendly Indicator.
Control the action remotely
Use Ricoh Device Manager NX to monitor the MFP from a web-based interface, and @Remote to collect device data and automate service calls. Use Ricoh Device Software Manager to install and automatically update print drivers. Set print quotas to curb excessive printing. If you need additional help, our support team can configure your device remotely to help you resolve any issues.
Finish strong
Add inline finishing and find out how easy it is to stack, staple, saddle stitch, hole punch and separate print/copy/fax output.
Need more information?
Learn how the Savin MP 6503 Black and White Laser Multifunction Printer and how it may fit your business.
General Specifications
Configuration:
Console
Control Panel:
10.1" Smart Operation Panel
Color/B&W:
Black & White
Output Speed Copy/Print:
65 ppm
First Page Out Time:
3.2 seconds
Warm Up Time:
20 seconds
Recovery from Sleep Mode:
20 seconds
Resolution:
True 600 x 600 dpi
System Memory:
2 GB
Duplexing:
Automatic (Standard)
Document Feeder Type:
Single Pass Duplex Feeder (SPDF)
Document Feeder Original Size:
5.5" x 8.5" - 11" x 17" (A5 - A3)
Document Feeder Paper Weight:
Simplex: 11 lb. Ð 34 lb. Bond (40 Ð 128 g/m2)|Duplex: 14 lb. Ð 34 lb. Bond (52 Ð 128 g/m2)
Document Feeder Capacity:
220 sheets (based on 21 lb. Bond Ð 81.4 g/m2)
Zoom Range:
25% - 400% in 1% increments
Original Type:
Sheets / Books
Maximum Original Size:
Up to 11" x 17"
Supported Paper Sizes:
5.5" x 8.5" Ð 11" x 17"
Supported Paper Weights:
Trays 1 Ð 3: 52 Ð 256 g/m2 (14 lb. Bond Ð 68 lb. Bond)|Bypass Tray: 52 Ð 300 g/m2 (14 lb. Bond Ð 111 lb. Cover)|Duplex Unit: 64 Ð 256 g/m2(17 lb. Bond Ð 95 lb. Cover)
Standard Paper Capacity:
Standard: Tray 1: 1,550 sheets x 2 (tandem) = 3,100 (Letter);|Trays 2 & 3: 550 sheets each (user adjustable)|Bypass: 100 sheets|Total Standard: 4,300
Maximum Paper Capacity:
8,300 sheets
Maximum Output Capacity:
8,300 sheets
Maximum Monthly Volume:
150000
Power Source:
120-127V/60Hz/20A (Requires dedicated 20A outlet)
Typical Electricity Consumption TEC:
1.316 kWh/week|TEC value is measured based on the ENERGY STAR Ver.3.0 test method.
Dimensions (WxDxH):
27.2" x 31.6" x 45.7" (690 x 803 x 1161 mm)
Weight:
441 lbs. (200 kg)
Printer Specifications
Processor Speed:
Intel¨ Atom Process BayTrail-I 1.75 GHz
Hard Disk Drive:
320 GB
Interfaces:
Standard:10Base-T/100Base-TX/1000Base-T Ethernet, SD Card Slot (1 Slot/Support SDHC Memory Card), USB Host (Type A: 1Port/Support USB Flash Memory)|Optional: IEEE 1284, Wireless LAN (IEEE802.11 a/b/g/n), USB Device (Type B: 1 Port)
Network Protocol:
TCP/IP (IPv4/IPv6),
Supported Operating Systems:
Windows Vista/7/8/8.1/10Server 2003/2003 R2/2008/2008 R2/2012/2012 R2|Unix: Sun Solaris, HP-UX, SCO OpenServer, Red Hat Linux, IBM AIX Citrix Presentation Server4.5/Citrix XenApp5.0|Mac OS X v.10.7 or later; SAP R/3; IBM iSeries/AS/400-using OS/400 Host Print Transform
Printer Languages:
Standard: PCL5e, PCL6, PDF Direct Print|Optional: Adobe PostScript3, IPDS, XPS
Font Support:
Standard: PCL: 45 scalable, 6 bitmapped, 13 international|Option: PS3: 136 Roman; IPDS: 108 Roman
Printer Resolution:
Up to 1200 x 1200 dpi
Mobile Printing Support:
RICOH Smart Device Connector App
Security Features:
User Authentication, Encryption
Scanner Specifications
Scanning Speed B&W/Full Color:
Color and B/W 200 dpi (LT): 120 ipm (Simplex)/220 ipm (Duplex)|B/W 300 dpi (LT): 120 ipm (Simplex)/220 ipm (Duplex)|Color 300 dpi (LT): 120 ipm (Simplex)/ 210ipm (Duplex)
Scanning Resolution:
100 dpi Ð 600 dpi (100 Ð 1200 dpi with TWAIN); Default: 200 dpi
Scan Area:
5.5" x 8.5" Ð 11" x 17" (SPDF)
Standard Interfaces:
Standard: 10Base-T/100Base-TX/1000Base-T Ethernet|Optional: IEEE 802.11a/b/g/n Wireless LAN
Protocols:
TCP/IP (IPv4/IPv6)
File Formats:
Single Page: TIFF, JPEG, PDF, High Compression PDF, Digital Signature PDF, PDF/A|Multi Page: TIFF, PDF, High Compression PDF, Digital Signature PDF, PDF/A
Scan to Modes:
Scan-to-Email, Scan-to-Folder, Scan-to-Media (USB/SD Card)
DOSS Specifications
Capacity:
Memory (RAM) 2 GB|HDD 320 GB
Maximum Stored Capacity:
3000
Fax Specifications
Standard/Optional Fax:
Optional
Fax Type:
ITU-T (CCIT) G3, Additional G3 (Optional)
Circuit:
PSTN, PBX
Fax Resolution:
200 x 100 dpi (Standard Mode); 200 x 200 dpi (Detail Mode); 400 x 400 dpi (Super Fine Mode; available with optional SAF memory)
Compression Method:
MH, MR, MMR, JBIG
Fax Modem Speed:
33.6 Kbps with auto fallback
Fax Transmission Speed:
Approximately 2 seconds/page (with JBIG);|Approximately 3 seconds/page (with MMR)
SAF Memory:
Standard: 4 MB (Approximately 320 pages);|Maximum: 64 MB (approximately 4,800 pages) with memory option
Memory:
Standard: 4 MB (Approximately 320 pages)|Maximum: 64 MB (approximately 4,800 pages) with memory option
Max Auto Dials:
2,000 Dials
Group Dials:
100 Group Dials
Fax Features:
Internet Fax by e-mail (T.37), IP Fax (T.38), LAN Fax, Fax Forward to E-mail/Folder, LDAP support
Optional Features:
G3 Interface Unit Type M25 (provides one additional G3 line; up to two lines may be added for a maximum of three lines); Memory Unit Type M25 (64 MB for fax option), Fax Connection Unit Type M25