MP 501SPFTL Black and White Laser Multifunction Printer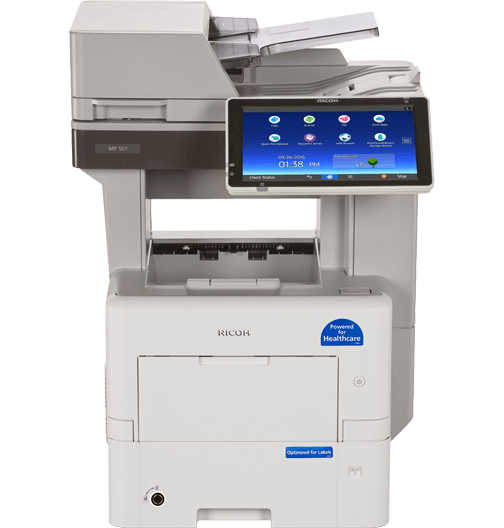 Send regulated and standard jobs to one device
Prints up to 52 ppm, copy, scan, fax
1200x1200 dpi max print resolution
Paper capacity up to 2,600 pages
Optimized for healthcare with Teflon-enhanced locking tray, security firmware
|
Brochure
|
Drivers
|
Request a Quote
Send regulated and standard jobs to one device
The SAVIN MP 501SPFTL Black and White Laser Multifunction Printer (MFP) helps to simplify your HIPAA compliance with regulated media such as pre-printed prescription forms. Now, send all print, copy and fax jobs to one device without needing to change trays or use a separate device for regulated media jobs. The built-in, Teflon-enhanced Locking Paper Tray helps you reliably print on wristband and adhesive-backed label media as narrow as 4.25".
Stay firm about document security
Send jobs for both regulated and non-regulated media on the MP 501SPFTL. Now, use one MFP for all workloads. If paper runs out of a paper tray while processing a job with non-regulated media, the MP 501SPFTL will not automatically switch to the secure locking tray and expose regulated media to unauthorized users. Stop unauthorized use of regulated media by potential thieves requesting jobs via the local hard drive or a USB drive. Enforce user access policies with PIN codes or an optional ID card reader.
Easily manage user authentication
Require users to log in with a pass code or billing code on the MP 501SPFTL, or ask them to swipe an ID card by adding an optional NFC card reader. Further protect your regulated media with Locked Print, which keeps your job in queue until you arrive at the MFP to release it. Now, track all usage of the MP 501SPFTL. Also, manage usage with print quotas — and keep your printing costs aligned with your financial goals set with optional accounting apps such as Device Manager NX Accounting.
One-touch simplicity
Enjoy a true tablet-like experience on the MP 501SPFTL's standard 10.1" Smart Operation Panel (SOP). Add shortcuts and download widgets or apps from the SAVIN Application Site for the SOP's home screen. Now, move from job to job quickly with familiar tap, flick, pinch and swipe-scrolling motions to navigate tasks and find information fast. Use the convenient embedded web browser to preview, print and digitize online documents.
Share information quickly
Make the MP 501SPFTL into your office's modern information hub, where you can effortlessly manage and share digital and print documents to collaborate with ease. Quickly access your digital files whether they are stored on the MP 501SPFTL's document server, the cloud or your mobile device. Download the Smart Device Connector app to print directly to your MFP or share print information via multiple scan-to options, including scan-to-email.
Make a big impact with a small footprint
Keep pace with growing workloads without compromising space or your budget. Place the compact MP 501SPFTL beneath a shelf or in other tight spaces, and conduct both everyday tasks and jobs with regulated media in Mac, Windows and host print environments. Add up to four additional paper sources to expand your paper capacity to up to 2,600 sheets. Thrive in open or shared-use areas with even heavier workloads.
Maximize uptime and conserve energy
Save on energy and costs with the MP 501SPFTL. Use less paper thanks to standard duplex printing. Further reduce your resource usage with support for high-yield consumables, which help you to minimize the maintenance hassles of continuously replenishing supplies.
Need more information?
Learn more about the SAVIN MP 501SPFTL Black and White Laser Multifunction Printer and how it may fit your business.
General Specifications
Configuration:
Desktop
Printing Process:
B&W laser electro-photographic printing
Toner Type:
Dry, mono component
Control Panel:
10.1" Smart Operation Panel
Color/B&W:
Black & White
Output Speed Copy/Print:
52 ppm
First Page Out Time:
6 seconds or less
Warm Up Time:
24 seconds
Recovery from Sleep Mode:
Less than 10 seconds
Resolution:
600 x 600 dpi
System Memory:
2 GB RAM + 320 GB Hard Disk Drive
Maximum Copy Quantity:
Up to 999
Document Feeder Type:
Automatic Reversing Document Feeder
Document Feeder Original Size:
8.5" x 14" (216 x 356 mm)
Document Feeder Paper Weight:
13-20 lb. Bond/44 lb. Index (50-80 g/m2)
Document Feeder Capacity:
75
Preset Reduction and Enlargement Ratios:
65%, 78%, 93%, 100%, 129%, 155%
Zoom Range:
25% to 400% in 1% increments
Exposure Glass Size:
Up to 8.5" x 14"
Original Type:
Sheets / Books
Original Siza:
4.13" x 5.83" - 8.5" x 14"
Maximum Original Size:
8.5" x 14" (216 x 356 mm)
Supported Paper Sizes:
Paper Tray: 4.13" x 5.83" - 8.5" x 11"|Bypass Tray: 2.76" x 5.83" - 8.5" x 14"|Optional Standard Trays: 4.13" x 5.83" - 8.5" x 14"
Supported Paper Weights:
Standard Tray and when Duplexing: 17-32 lb. Bond/ 66 lb. Index (64-120 g/m2)|Bypass Tray: 16-59 lb. Bond/ 122 lb. Index (60-220 g/m2)
Supported Paper Types:
Plain, Thin, Middle, Middle Thick, Thick, Recycled, Colored, Special, Letterhead, Preprinted, Bond, OHP (Transparency)*, Label, Envelopes**
Standard Paper Capacity:
1 x 500-Sheet Tray + 100-Sheet Bypass Tray
Maximum Paper Capacity:
2,600 sheets
Standard Output Capacity:
500 sheets (LT)
Maximum Output Capacity:
2,600 sheets
Maximum Monthly Volume:
16600
Duty Cycle:
250,000 prints
Power Source:
120V, 60Hz, 15A
Typical Electricity Consumption TEC:
3.0 KWh/week
Power Consumption:
Operating: 740W|Sleep Mode: 1.1W
Energy Star:
Certified
EPEAT Status:
Silver
Dimensions (WxDxH):
18.7" x 19.84" x 25.39" (475 x 504 x 645 mm) (mainframe)
Weight:
61.6 lbs. (28 kg)
Standard Features:
Auto Paper Selection, Auto Start, Auto Tray Switch, Combine Copy, Directional Magnification, Duplex, Electronic Sort, ID Card Copy, Image Density Adjustment, Image Quality Mode, Interrupt Copy, Memory Copy, Series Copy, User Program, Import/Export of Preference Settings, Centralized Address Book Management
Footnotes:
*From Bypass Tray only.|**From Bypass Tray and Optional Paper Trays
Printer Specifications
Processor Speed:
1.46 GHz
Interfaces:
Standard: Gigabit Ethernet (1000/100/10BASE-T), USB 2.0 Type A x 2, SD Card Slot x 2|Optional: Wireless LAN IEEE802.11a/b/g/n, USB 2.0 Type B, IEEE1284, NIC 2 Port (Print Server)
Network Protocol:
TCP/IP (IPv4, IPv6), SMTP (sending email), SMB/FTP (scan to folder), Web services on devices for scanning
Supported Operating Systems:
Windows¨ Vista/7/8/8.1/10/Server2003/ Server 2003R2 /Server 2008/ Server 2008R2 /Server 2012/ Server 2012 R2, CPS/XenApp PCL/PS only; Mac OS X (10.7 or later) PS only; UNIX Sun Solaris 9/10, HP-UX 11.x, 11i v2, 11i v3, Red Hat Linux Enterprise V4/V5/V6, SCO OpenServer 5.0.7/6.0, IBM AIX V5L/V5.3/V6.1/V7.1; SAP R/3
Device Management Utilities:
Device Software Manager, Web Image Monitor, Streamline NX, GlobalScan NX, Scan CX, Enhanced Locked Print NX, FlexRelease NX, Card Authentication Package, Remote Communication Gate Type S, Remote Communication Gate Type A, @Remote Connector NX, Device Manager NX Lite/Accounting/Pro/Enterprise, Printer Driver Packager NX
Printer Languages:
Standard: PCL5e/6, Genuine Adobe¨ PostScript¨3/PDF Direct Print|Optional: XPS
Font Support:
PCL: 45 fonts + 6 Bitmapped fonts + 13 International fonts|PostScript3: 136 fonts
Printer Resolution:
Up to 1200 x 1200 dpi
Mobile Printing Support:
RICOH Smart Device Connector, RICOH App for Google Cloud Print, Airprint
Printer Features:
Eco-Friendly Indicator, PDF Direct Print, Mail to Print, Classification Code, Bonjour Support, Windows Active Directory Support, DDNS Support, PCL Resident Font Adoption, Tray Parameter Change from Web Image Monitor, 1200 dpi Support, Universal Driver, XPS Support, WS Printer, Wireless LAN Interface Option, Media Direct Print (Print from USB/SD), Banner Page Print, Auto Job Promotion, Poster Print, WPS Support, Sample/Locked/Hold/Scheduled/Stored Print/Store and Print
Security Features:
Address Book Encryption, Authentication, Password Encryption, HDD Data Encryption& Overwrite, IP Address Filtering, IP Sec Communications, Kerberos Support, Locked Print, Network Protocol ON/OFF, Quota Setting/Account Limit, Scan-to-Web Mail (SMTP over SSL), Secure Socket Layer (SSL), Secure Shell Encryption (SSH), S/MIME, Transport Layer Security (TSL), User Authentication (Windows, LDAP, Basic, User Code, 802.1x Wired), Unauthorized Copy Prevention (Print), Wireless LAN WEP/WPA
Scanner Specifications
Scanning Speed B&W/Full Color:
B/W: Up to 62 ipm Simplex/Up to 27 ipm Duplex (Letter, A4)|Color: Up to 42 ipm Simplex/Up to 18 ipm Duplex (Letter, A4)
Scanning Resolution:
Color & B/W: Up to 600 dpi
Protocols:
TCP/IP, SMB, SMTP, FTP, WSD Scanner
File Formats:
Single and Multi-Page TIFF/PDF, Single/Multi-Page High Compression PDF, Single/Multi-Page PDF/A - and Single-Page JPEG
Scan Modes:
B/W: Text, Text/Line Art, Text/Photo, Photo,Grayscale|Color: Text/Photo, Glossy Photo, Auto Color Select
Scan to Modes:
Scan to USB/SD, WS Scanner, Scan to Email/SMB/FTP/URL, LDAP Support, Preview, PDF Encryption, Drop Out Color Send, TWAIN Scan, Universal Send (Simultaneous Fax and Scan), Scan to Digitally Signed PDF, Searchable PDF and PDF/A, Distributed Scan Management, 25 User Programs, Divide & Send, Image Rotation, SADF/Batch Mode, Mixed Size Originals, Resend
DOSS Specifications
Maximum Stored Capacity:
3000 documents
Maximum Page Capacity:
1000 pages
Password Protected Foolder Management:
Up to 200 folders
Fax Specifications
Standard/Optional Fax:
Standard
Circuit:
PSTN, PBX
Compatibility:
ITU-T (CCITT) G3
Fax Resolution:
200 x 200/100 dpi
Compression Method:
B/W: TIFF (MH, MR, MMR, JGIB2), Grayscale|Color: JPEG
Fax Scanning Speed LEF:
Up to 62 ipm (B&W, Letter, SEF @ 300 dpi)
Fax Modem Speed:
33.6 Kbps with auto fallback
Fax Transmission Speed:
G3: 3 seconds per page (MMR Compression)|G3: 2 seconds per page (JBIG Compression)
SAF Memory:
4 MB (Approx. 320 pages)
Max Auto Dials:
2000
Group Dials:
100 (max. 500 numbers per group)
Fax Features:
One Hour Backup, Detection of Misplaced Document, Double-check Destination Address, IP Fax (T.38), Internet Fax (T.37), Forward to Email/Folder, Paperless Fax, LAN Fax, LDAP Support, Universal Send (Simultaneous Fax and Scan), Remote Fax, Fax Output Timer