MP 305SPF Black and White Laser Multifunction Printer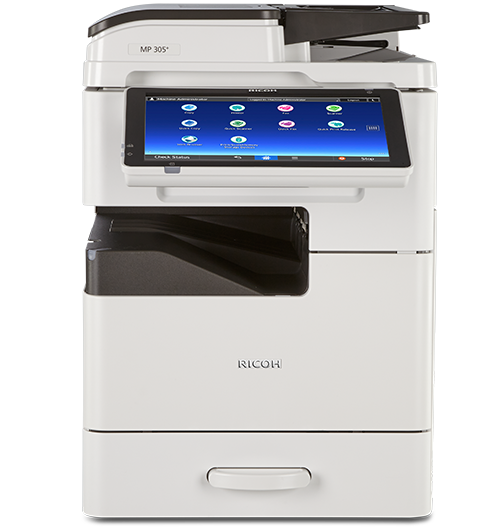 Bring your biggest and best ideas closer
Prints up to 30 ppm, copy, scan, fax
600x600 dpi max print resolution
Paper capacity of 760 pages
Use the Smart Operation Panel digital touch screen to customize workflows
|
Brochure
|
Request a Quote
Bring your biggest and best ideas closer
You can do it all with the Savin MP 305SPF. Use this compact, affordable MFP to print, copy, scan and fax in small offices, construction trailers, libraries, kiosks, nursing stations and other locations where space is at a premium. You can even share information in larger documents, up to 11" x 17", without investing in and searching for specialized devices. Simply load oversized paper stock through the bypass tray of this desktop printer.
See how customization is a huge advantage
Take advantage of the all-digital 10.1" wide Smart Operation Panel to move from one job to the next effortlessly. You can use the same flick-and-pinch and swipe scrolling you use on your smartphones and tablets to begin one-touch workflows (such as ID Card Copy), check the latest system settings and access advanced controls. Designed to help you simplify complex tasks, this intelligent device also lets you access cloud applications and connect with mobile users.
Work the way you want
Share information your way with tailored workflows you can design yourself. Skip cumbersome manual entry steps by creating workflows on the home screen. Simply tap the shortcut icon to access frequently used tasks, such as scanning to a network folder, with a single touch to help streamline your business processes. You can even use the document server to store up to 3,000 frequently used documents right at the device to eliminate repetitive tasks.
Print from anywhere
Use the MP 305SPF with the Ricoh Smart Device Connector app to stay productive from anywhere. Grab information from any cloud application and send it to the MFP from your personal mobile device for fast, convenient and secure mobile printing. Or, scan and save information to a USB or SD card and plug it directly into the device for easy printing.
Work smarter right out of the box
Preconfigured with standard features like a powerful hard disk drive and oversized touch screen panel, the MP 305SPF is designed to simplify the way you work via automated workflows. Use optional Optical Character Recognition (OCR) scanning to make images and files searchable so you can find and retrieve them faster. In addition, you can scan two-sided documents, set duplex printing as a default and add plug-and-play software to expedite your scanning workflows.
Help protect your personal information
Hold every user accountable. Add user authentication via an optional NFC card reader or with passcode logins, so you can monitor every user and project. Attach billing codes and track tasks and document costs accurately for specific clients, jobs or workgroups. Take advantage of encryption and the data overwrite capability to help protect information and images.
Save space, save energy
Get your messages across loud and clear without exerting much energy — or noise. In fact, the MP 305SPF is designed specifically to minimize operating noise in smaller areas. Take advantage of EPEAT® Silver* rating and ENERGY STAR™ certification to reduce Typical Electricity Consumption to 0.41 kWh/week, reducing your costs. Schedule even greater savings by programming the MFP to power off when you're out of the office. And recycle your used toner and other supplies with our consumable and product recycling programs.
Need more information?
Learn more about the Savin MP 305SPF Black and White Laser Multifunction Printer and how it may fit your business.
General Specifications
Configuration:
Desktop
Scanning Elements:
One-dimensional solid scanning through CIS
Printing Process:
Dry two-component magnetic brush development system
Toner Type:
Dry, Dual Component
Control Panel:
10.1" Smart Operation Panel
Color/B&W:
Black & White
Output Speed Copy/Print:
Up to 30 ppm (Letter)
First Page Out Time:
4.9 seconds or less
Warm Up Time:
Less than 23 seconds (from main switch)
Recovery from Sleep Mode:
Less than 12 seconds
Resolution:
600 x 600 dpi
System Memory:
2 GB RAM
Duplexing:
Automatic (Standard)
Document Feeder Type:
Automatic Reversing Document Feeder (ARDF)
Document Feeder Original Size:
8.5" x 14" (216 x 356 mm)
Document Feeder Paper Weight:
16 Ð 28 lb. Bond (60 Ð 105 g/m2)
Document Feeder Capacity:
50 sheets
Preset Reduction and Enlargement Ratios:
25%, 50%, 65%, 73%, 78%, 85%, 93%, 100%, 121%, 129%, 155%, 200%, 400%
Zoom Range:
25% to 400% in 1% increments
Exposure Adjustment:
Manual and automatic
Exposure Glass Size:
Up to 8.5" x 11"
Original Type:
Sheets / Books
Original Siza:
4" x 6" to 8.5" x 11" (A6 Ð A4)
Maximum Original Size:
Up to 11" x 17"
Supported Paper Sizes:
Standard Tray: 4" x 6" to 8.5" x 11" (A6 - A4)|Bypass Tray: 4" x 6" to 11" x 17" (A6 - A3)|Duplex Unit: 5.5" x 8.5" to 11" x 17" (A5 - A3)
Supported Paper Weights:
Standard Tray and Duplex Unit: 16 - 28 lb. Bond (60 - 105gm2)|Bypass Tray: 14 - 43 lb. Bond (52 - 163 gm2)
Supported Paper Types:
Plain, Recycled, Colored, Letterhead, Preprinted, Bond, Card Stock, Pre-punched, Special, Back Copied, OHP (Transparency)*, Envelopes*, Label Stock*
Standard Paper Capacity:
Standard: 250 sheets + 10-Sheet Bypass Tray|Optional: 500 sheets x 1 Tray
Maximum Paper Capacity:
850 sheets
Standard Output Capacity:
100 sheets
Maximum Output Capacity:
850 sheets
Maximum Monthly Volume:
7500
Power Source:
120-127V, 60Hz
Typical Electricity Consumption TEC:
0.41 kWh/week|TEC value is measured based on the ENERGY STAR Ver.3.0 test method.
Power Consumption:
Less than 1.18 kW (max.)|Sleep Mode: 0.78 W
Energy Star:
Certified
EPEAT Status:
Silver
Dimensions (WxDxH):
13.78" x 19.41" x 19.88" (350 x 493 x 505mm) - includes ARDF
Weight:
70.55 lbs./ 32 kg
Standard Features:
ID Card Copy, Poster Copy, Photo/Text/Pale/ Generation Copy Modes, Auto Paper Selection, Auto Tray Switch, Book/Series/Combine Copy, Shift/Erase/Margin Adjustment, Cover Sheet/Chapter/Slip Sheets, Image Rotation, Electronic Sort, Image Creation, Stamps/Numbering, Job Programs (25), User Codes (8 digits, 1,000 Personal Codes), Interrupt Copy, Auto Start, Job Preset, Sample Copy, Auto Off Timer, Energy Saver/Panel Off/System Reset Timer, Import/Export of Preference Settings, Login/Logout Button, Simplified Display, Centralized Address Book Management, Tilt Operation Panel, Document Server, Remote Operation Panel, External USB Keyboard Support
Printer Specifications
Processor Speed:
RM7035C - 533L MHz
Hard Disk Drive:
320 GB HDD
Interfaces:
Ethernet (RJ-45 network port: 10Base-T/100Base-TX/1000Base-T), USB 2.0 Type A x 2, SD
Network Protocol:
TCP/IP (IPv4, IPv6)
Supported Operating Systems:
Windows Vista/7/8/8.1/Server 2003/Server 2003 R2/Server 2008/Server 2008 R2/Server 2012/Server 2012 R2; UNIX for Sun Solaris/HP-UX/SCO OpenServer/Red Hat Linux; IBM AIX; Citrix Presentation Server 4.5/Citrix XenApp 5.0; Mac OS X v10.7 or later; SAP R/3; NDPS Gateway; IBM iSeries/AS400 using OS/400 Host Print Transform
Device Management Utilities:
Device Software Manager, Web Image Monitor, @Remote, Device Manager NX
Printer Languages:
Standard: PCL5e/6, Genuine Adobe¨ PostScript¨3ª/PDF|Option: XPS Direct
Font Support:
PCL: Scalable 45 fonts + 6 Bit Mapped+ 13 international PostScript3: 136 Roman Fonts
Printer Resolution:
600 x 600 dpi
Mobile Printing Support:
RICOH Smart Device Connector app
Printer Features:
Poster Print, Sample/Locked/Hold/Scheduled/ Stored Print, Store and Print, PDF Direct Print, Mail to Print, Classification Code, Bonjour Support, Windows Active Directory Support, DDNS Support, PCL Resident Font Adoption, Tray Parameter Change, Universal Driver, XPS Support, WS Printer, Media Direct Print (Print from USB/SD), Banner Page Print, Auto Job Promotion
Security Features:
HDD Data Overwrite Security, Network User Authentication (Windows/LDAP/Basic/User Code/802.1x Wired), Encryption (Address Book/Password/SSL/S/MIME/IPSec/HDD/SMTP over SSL/TLS/Transport Layer Security/SSH), IP Address Filtering, Copy Guard Security, Secure Print, Encrypted Secure Print, Encrypted PDF Mode, Digitally Signed PDF, Quota Setting
Footnotes:
Some security features may require additional options
Scanner Specifications
Scanning Speed B&W/Full Color:
30 ipm @ 300 dpi Full Color or B/W (LT)
Scanning Resolution:
100 to 600 dpi
Grayscale:
256 levels
Scan Area:
Main: 11.69" (297 mm)|Sub: 8.5" (book)/49.6" (ARDF (216/1260 mm)
Standard Interfaces:
Ethernet (RJ-45 network port: 10Base-T/100Base-TX/1000Base-T), USB 2.0 Type A x 2, , SD
File Formats:
Single/Multi Page TIFF, Single/Multi Page PDF, Single/Multi Page High Compression PDF and Single/Multi Page PDF/A; Single Page JPEG
Scan Modes:
B/W: Text, Text/Line Art, Text/Photo, Photo, Grayscale Full-Color: Text/Photo, Glossy Photo, Auto Color Select
Scan to Modes:
Scan-to-USB/SD, Scan-to-Email (POP, SMTP); Scan-to Folder (SMB/FTP/URL); Scan-to-Digitally Signed PDF/Searchable PDF/PDF/A w/OCR Option, Network TWAIN Scanning; WS-Scanner
Scnning Features:
Auto Density Selection, Image Rotation, SADF/Batch Mode, Mixed Size Mode, Reduce and Enlarge, Split Scan from Booklet, LDAP Support, Preview Before Transmission, PDF Encryption, Drop Out Color Send, Universal Send (Simultaneous Fax & Scan), Distributed Scan Management
DOSS Specifications
Maximum Stored Capacity:
3000
Maximum Page Capacity:
1000
Maximum No. of Folders:
200
Fax Specifications
Standard/Optional Fax:
Standard
Fax Type:
ITU-T (CCITT) G3
Circuit:
PSTN, PBX
Fax Resolution:
200 x 100 dpi, 200 x 200 dpi
Compression Method:
B/W: TIFF (MH, MR, MMR, JBIG2), Grayscale Full-Color: JPEG
Fax Scanning Speed:
Approximately 23 pages/minute (LT)
Fax Modem Speed:
33.6K - 2,400 bps with Automatic Fallback
Fax Transmission Speed:
Approx. 2 seconds/page (JBIG)
Memory:
4 MB (approx. 320 pages)
Memory Backup:
1 hour
Max Auto Dials:
2,000 numbers
Group Dials:
100 groups (max. 500 numbers per group)
User Function Key:
3 keys
Fax Features:
Detection of Misplaced Documents, Double Check Destination Address, Direct SMTP, Fax Forward to Email/Folder, Internet Fax (T.37), IP Fax (T.38), LAN Fax, Paperless Fax, LDAP Support, Universal Send (Simultaneous Fax & Scan), Remote Fax, Fax Output Timer, Smoothing, User Codes (1,000), Energy Saver, Image Rotation