MP 3055 Black and White Laser Multifunction Printer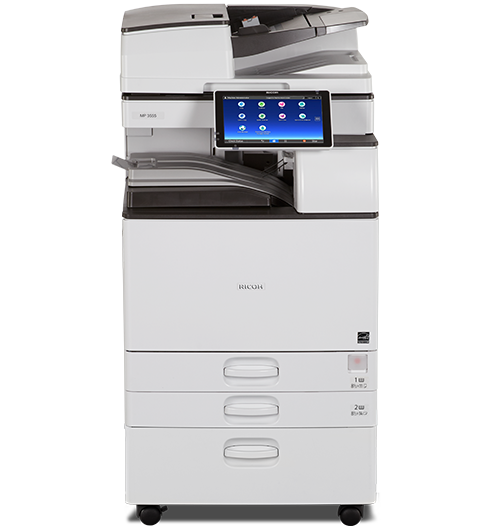 Bring big ideas to the small office
Prints up to 30 ppm, copy, scan, optional fax
1200 x 1200 dpi max print resolution
Paper capacity up to 4,700 pages
Swiftly feed originals with either the ARDF version or faster SPDF version
|
Brochure
|
Drivers
|
Request a Quote
Bring big ideas to the small office
Simplify multi-tasking in small and medium-sized offices, so you can reach any audience at any time. Use the MP 3055 Black and White Laser Multifunction Printer (MFP) to move information with speed, convenience and reliability. Print and copy black-and-white output at up to 30 pages per minute (ppm). Or, transform paper into digital files and share them instantly via multiple scan-to or paperless faxing options.
Feed more productive workflows
Use the Automatic Reversing Document Feeder version to copy, scan and fax multi-page documents with ease. Or, choose the high-performance Single Pass Document Feeder (SPDF) version to automate the scanning of two-sided original documents for even faster workflow.
Give it your best finishing touch
Choose between multiple internal and external finishing options to present professional-looking presentations, proposals and booklets. With the optional 1,000-Sheet Hybrid Finisher, you can collate output with or without staples. Let the finisher automate which method you use based on the number of pages.
Faster workflows in a pinch
Navigate between tasks and jobs quickly on the 10.1" Smart Operation Panel. The touchscreen controls simplify the way you work via more automation and customization. Create automated shortcuts. Access settings and information easily. Use the embedded web browser to search websites and cloud-based storage applications, such as Dropbox™ or Google Drive™, and print what you find instantly.
Ease your workload
Download workflow apps, such as Shared Print Folder or Scan to Me, from the Application Site and put them on the Smart Operation Panel Home Screen for easy one-touch activation. Choose between detailed or simplified user interfaces to find important settings and information via intuitive navigation.
Work faster, automatically
Choose from multiple paper sources, including optional Large Capacity Trays to boost paper capacity to 4,700 sheets and extend print runs. Automate everyday tasks by adding optional workflow software, such as GlobalScan™ NX or Streamline NX®. Store up to 3,000 files on the embedded Document Server. With Optical Character Recognition (OCR), you can place metadata on scans and find them quickly using keywords.
Bring your office anywhere
Access critical information from anywhere. With the Smart Device Connector app you can use your iOS® or Android® smartphone or tablet to share information and print on demand. Connect to the MFP via Near Field Communication (NFC) tag to authenticate. Use the optional dual network interface port to print from a secondary network.
Be protective of whatÕs yours
Track users and jobs with User Authentication. Set print quotas for individuals and workgroups to curb excessive printing. Use optional Device Manager NX Accounting to issue chargebacks. Use Locked Print to help ensure only authorized users can retrieve printed documents at the device.
Save big in your small space
The MP 3055 is ENERGY STAR® certified. It meets EPEAT® Gold criteria and offers a low Typical Electricity Consumption value. Plus, you can save paper with default duplex printing and save energy by scheduling the device to power off when the office is empty.
Need more information?
Learn more about the Savin MP 3055 Black and White Laser Multifunction Printer and how it may fit your business.
General Specifications
Configuration:
Console
Scanning Elements:
One-Dimensional Solid Scanning Through CCD
Printing Process:
Single Laser Beam Scanning & Electrophotographic Printing
Toner Type:
Dry, Dual Component
Control Panel:
10.1" Smart Operation Panel
Color/B&W:
Black & White
Output Speed Copy/Print:
30 ppm
First Page Out Time:
4.6 Seconds
Warm Up Time:
Less than 24 seconds
Recovery from Sleep Mode:
7.9 seconds
Resolution:
600 x 600 dpi
System Memory:
2 GB RAM + 320 GB HDD (Shared)
Maximum Copy Quantity:
Up to 999
Document Feeder Type:
Automatic Reversing Document Feeder (ARDF) version or Single Pass Document Feeder (SPDF) version
Document Feeder Original Size:
5.5" x 8.5" - 11" x 17" (A5 - A3)
Document Feeder Paper Weight:
Simplex: 11 - 34 lb. Bond (40 - 128 g/m2)|Duplex: 14 - 34 lb. Bond (52 - 128 g/m2)
Document Feeder Capacity:
ARDF: 100 sheets, SPDF: 220 sheets
Preset Reduction and Enlargement Ratios:
Ratios 25%, 50%, 65%, 73%, 78%, 85%, 93%, 100%, 121%, 129%, 155%, 200%, 400%
Zoom Range:
25% to 400% in 1% increments
Original Type:
Book/Sheet/Object
Maximum Original Size:
Up to 11" x 17"
Supported Paper Sizes:
Tray 1 & 2: 5.5" x 8.5" - 11" x 17" (A6 - A3)|Bypass Tray: 5.5" x 8.5" - 12" x 18" (A6 - A3)
Supported Paper Weights:
Tray 1 & 2: 16 - 80 lb. Bond (60 - 300 g/m2)|Bypass: 14 - 80 lb. Bond (52 - 300 g/m2)|Duplex: 14 - 68 lb. Bond (52 - 256 g/m2)
Supported Paper Types:
Plain, Recycled, Colored, Special, Letterhead, Preprinted, Pre-punched, Bond, Cardstock, Envelope, OHP*, Label*
Standard Paper Capacity:
1,200 sheets (550 sheets x 2 trays, and 100-Sheet Bypass Tray)
Maximum Paper Capacity:
4,700 sheets (w/Tandem LCT + Side LCT)
Standard Output Capacity:
500 sheets
Maximum Output Capacity:
4,700 sheets (w/Tandem LCT + Side LCT)
Maximum Monthly Volume:
20000
Power Source:
120V/60Hz/12A
Typical Electricity Consumption TEC:
0.383 kWh/week|TEC value is measured based on the ENERGY STAR Ver.3.0 test method.
Dimensions (WxDxH):
23.1" x 26.9" x 35.9" (587 x 684 x 913mm) w/ARDF|23.1" x 26.9" x 37.9" (587 x 684 x 913mm) w/SPDF
Weight:
156.5 lbs. (71) kg w/ARDF|168.6 lbs. (76.5 kg) w/SPDF
Standard Features:
Auto Paper Select, Auto Tray Switch, Auto Image Density, Auto Text & Photo Separation, Auto Start, Auto Off Timer, Booklet/Magazine Copy, Shift/Erase/Margin Adjustment, Combine (Layout), Cover/Chapter/Slip Sheets Insertion, Image Rotation, Document Server (3,000 File Capacity) with Folder Management and Password Protection, Web Browser, Duplex, Electronic/Rotate Sorting, 8 Job Presets, 25 Job Programs, Negative/Positive, Sample Copy, Series Copy, Simplified Display, 1,000 User Codes, Stamps/Numbering, Interrupt Copy, Login/Logout Button, System Reset Timer, Import/Export of Preference Settings, Eco-Friendly Indicator, Centralized Address Book Management
Printer Specifications
Processor Speed:
Intel¨ Atom Processor 1.46 GHz
Interfaces:
Standard on Device: 10Base-T/100Base-TX/1000Base-T Ethernet, USB Host Type A I/F (2 ports on back of device)|Standard on Operation Panel: USB Host Type A: 1 Port/Supports USB Flash Memory, USB Host Type A: 1 Port/Supports Optional Keyboard, etc., USB Host Type Mini B and SD Card Slot Optional: IEEE 1284/ECP
Network Protocol:
TCP/IP (IPv4, IPv6)
Supported Operating Systems:
Windows Vista/7/8/8.1/10, Server 2008/2008R2/2012/2012R2; Unix Filters for Sun Solaris 9/10, HP-UX 11.x/11i v2/11i v3, SCO OpenServer 5.0.7/6.0, Red Hat Linux Enterprise V4/V5/V6, IBM AIX 5L/V5.3/V6.1/V7.1, Mac OS X 10.7 or later, SAP R/3, IBM iSeries AS/400¨ using OS/400 Host Print Transform, Citrix Xen App 6.5 or later
Device Management Utilities:
Web Image Monitor, Embedded @Remote, @Remote Office Appliance, @Remote Connector NX, @Remote Enterprise Pro, Device Manager NX Lite and Accounting, Device Manager NX Pro and Enterprise, Printer Driver Packager NX
Printer Languages:
Standard: Postscript emulation, PCL5e/PCL6|Optional: Adobe PostScript 3¨, XPS
Printer Resolution:
Up to 1200 x 1200 dpi
Printer Features:
Sample/Locked/Hold/Scheduled/Stored/Store and Print, PDF Direct Print, Mail to Print, Classification Code, Bonjour Support, Windows Active Directory Support, DDNS Support, PCL Resident Font Adoption, Tray Parameter Change from Web Image Monitor, 1200 dpi Support, Universal Driver, XPS Support, WS Printer, Media Direct Print (Print from USB/SD), Banner Page Print, Auto Job Promotion, Poster Print, WPS Support, Send to Document Server, Layout (N-up), Watermark, Slip Sheet, Rotate, Do Not Print Blank Pages, Dithering, Toner Saving, Black Over Print, User ID/Code/Authentication, Edge to Edge Print
Footnotes:
*Bypass Tray only|**Typical electricity consumption by ENERGY STAR program
Scanner Specifications
Scanning Speed B&W/Full Color:
ARDF at 200/300 dpi: 79 ipm (Letter)|ARDF at 200/300 dpi: 80 ipm (A4)|SPDF at 200/300 dpi: Simplex - 110 ipm/Duplex - 180 ipm (A4)
Scanning Resolution:
Color & B/W: Up to 600 dpi|TWAIN: Up to 1200 dpi
Scan Area:
Up to 11" x 17"
Protocols:
TCP/IP, SMB, SMTP, POP, LDAP, FTP, IMAP4
File Formats:
Single and Multi-Page TIFF/PDF, High Compression PDF, PDF/A and Single-Page JPEG
Scnning Features:
Embedded Scan-to Email/Folder/SMB/FTP/URL/PDF/A/Digitally Signed PDF, TWAIN and Color Scanning, Auto Size Detection, Auto Density Selection, Image Rotation, SADF/Batch Mode, Mixed Size Mode, Reduce and Enlarge, Split Scan from Booklet Type Original, WS Scanner, LDAP Support, Preview Before Transmission, PDF Encryption, Drop Out Color Send, Distributed Scan Management
Fax Specifications
Standard/Optional Fax:
Optional
Fax Option Type:
M29
Circuit:
PSTN, PBX
Compatibility:
ITU-T (CCITT) G3
Fax Resolution:
200 x 200/100 dpi|400 x 400 dpi (optional)
Compression Method:
MH, MR, MMR, JBIG
Fax Scanning Speed LEF:
Up to 68 spm (Letter/A4)
Fax Modem Speed:
33.6 Kbps with Auto Fallback
Fax Transmission Speed:
G3: 3 seconds per page (MMR Compression)|G3: 2 seconds per page (JBIG Compression)
SAF Memory:
4 MB standard/64 MB maximum|320 pages/4,800 pages
Max Auto Dials:
2000
Group Dials:
100 (max. 500 numbers per group)
Fax Features:
One Hour Backup, LAN-Fax Capability, Internet Faxing (T.37), IP Faxing (T.38), Fax Forwarding to E-Mail/Folder, Paperless Fax (HDD), Detection of Misplaced Document, Double-check of Destination Address, Direct SMTP, LDAP Support, Universal Send (Simultaneous Fax and Scan), Fax Line Assignment, Fax Output Timer
Optional Features:
Remote Fax, Simultaneous Operation of up to 3 lines (G3 x 3)