IM C3000 Color Laser Multifunction Printer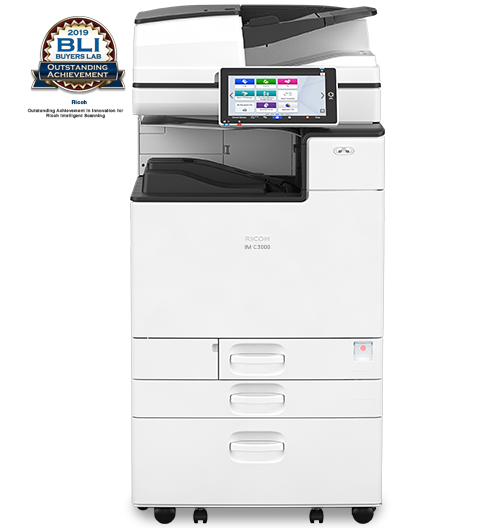 Meet every demand with speed and scalable intelligence
Prints up to 30 ppm, copy, scan, optional fax
1200 x 1200 dpi max print resolution
Paper capacity up to 4,700 pages
Add software and applications as necessary to meet emerging needs
|
Brochure
|
Drivers
|
Request a Quote
Meet every demand with speed and scalable intelligence
Show just how smart you are Ñ and how productive you can be Ñ with the RICOH IM C3000 Color Laser Multifunction Printer (MFP). Capitalize on the scalable intelligence of RICOH Always Current Technology (ACT) platform to expand the capabilities of the device, so it grows as your business does. Use it to showcase and share more ideas via advanced print, copy, scan and optional fax capabilities.
Personalize the way you work
With RICOH Always Current Technology, the MFP delivers on-demand access to the latest business-enhancing technologies. Download software, cloud services and third-party apps, so users can work faster, smarter and more securely. Simply add new capabilities as they become available to keep your device up to date and to optimize workflows. Best of all, you can do it without a technician.
Create and finish with a flourish
Print affordable, professional-grade color output at up to 30 pages per minute (ppm). Use the optional Fiery® E-25C Color Controller for more precise reproductions. Simplify paper handling with multiple internal and external finishing options for stapled, stapleless and booklet document sets. Opt for the internal Multi-Folding Unit to print menus, brochures and other handouts in-house.
Go digital to move ideas faster
Use the Single-Pass Document Feeder (SPDF) to scan two-sided documents at a lightning-fast 240 images per minute (ipm) Ñ and share them instantly with multiple Scan-to capabilities. Use the optional Double Feed Detection Unit to catch double feeds when scanning contracts and other vital documents. An optional Small Paper Feeding Unit can be used to scan tickets, checks and other small documents.
Put faster workflows within reach
Use the precise touch response of the redesigned, Android-based 10.1" Smart Operation Panel to check settings, change screens and access apps instantly. Minimize scrolling with Full View mode to see key copier functions on one screen. Preview documents for accuracy and add shortcuts to reduce touchpoints. Use the web browser to access optional cloud services, including RICOH Content Manager. Experience Ricoh's intuitive, user-friendly Smart Operation Panel with the Smart Operation Panel Simulator.
Get faster, smarter support
Reduce service calls with automated upgrades and RICOH Intelligent Support.* With RemoteConnect Support, technicians can access the MFP's Smart Operation Panel remotely to expedite service. IT managers can use the Remote Panel Operation Tool in-house to address fleet issues. Users can even learn how to replace toner from a helpful video on the Home Screen, or view other How-to-Videos via a convenient app.
*When enabled, internet connection required.
Keep information flowing everywhere
Stay productive wherever you are. Download the RICOH Smart Device Connector app to print from your smartphone or tablet. For digital documents, simply grab information stored in cloud storage, your address book or other sources to share files on the go. You can even send files to Ricoh projectors and interactive flat panel displays for large-group presentations.
Hold yourself, and others, accountable
The Ricoh-only operating system offers protection from OS-specific threats. With user authentication, users can log in to the device via passcodes or optional card readers to release prints. An embedded Near Field Communications (NFC) tag lets users authenticate and print from an Android® mobile device. Track activity and issue chargebacks with optional RICOH Device Manager NX Accounting .
Make a bigger impact with a smaller footprint
You'll notice the sleek new look first. Its impact lasts even longer. Built to minimize noise and vibrations, the RICOH IM C3000 relies on motion sensor technology to power up the Smart Operation Panel within one second. It offers a low Typical Electricity Consumption of 0.349 kWh/week, is ENERGY STAR™ certified and meets EPEAT® Gold criteria. And, it offers default duplex printing to cut paper usage.
Need more information?
Learn more about the RICOH IM C3000 Color Laser Multifunction Printer and how it may fit your business.
General Specifications
Configuration:
Console
Printing Process:
4-Drum Method
Control Panel:
10.1" Smart Operation Panel
Color/B&W:
Color
Output Speed Copy/Print:
30 ppm B&W & FC (LTR)
First Page Out Time:
4.5 seconds B&W|6.9 seconds Color
Warm Up Time:
21 seconds
Resolution:
600 dpi
System Memory:
2 GB RAM/320 GB HDD Standard & 4 GB RAM/320 GB HDD Option
Maximum Copy Quantity:
Up to 999 copies
Duplexing:
Automatic (Standard)
Document Feeder Type:
Single Pass Document Feeder (SPDF)
Single Pass Document Feeder SPDF:
Original Capacity: 220 sheets
Original Size: 5.5" x 8.5" - 11" x 17" (A5-A3)
Paper Weight: Simplex: 11 - 34 lb. Bond (40 - 128 g/m2)
Duplex: 14 -34 lb. Bond (52 - 128 g/m2)
Zoom Range:
25% - 400% in 1% increments
Supported Paper Sizes:
1st Paper Tray: 8.5" x 11" (A4)
2nd Paper Tray: 5.5" x 8.5" - 12" x 18" (SRA3, A3-A6, B4-B6), Envelopes
Bypass: Up to 12" x 18", Envelopes
Custom Sizes: Width: 3.5" - 12.6" (90 - 320 mm), Length: 5.8" - 49.6" (148 - 1260 mm)
Supported Paper Weights:
Standard Trays: 16 - 80 lb. Bond/166 lb. Index (60 - 300 g/m2)
Bypass Tray: 14 - 80 lb. Bond/166 lb. Index (52 - 300 g/m2)
Duplex Unit: 14 -68 lb. Bond/142 lb. Index (52 - 256 g/m2)
Supported Paper Types:
Plain, Recycled, Special, Colored, Letterhead, Cardstock, Pre-printed, Bond, Coated, Envelope, Label, OHP, Gloss
Standard Paper Capacity:
1,200 sheets (2 x 550 sheets + 100-Sheet Bypass Tray)
Maximum Paper Capacity:
4,700 sheets (w/Tandem LCT + Side LCT)
Standard Output Capacity:
500 sheets 8.5" x 11" (A4) or smaller; 250 sheets (B4) or larger
Maximum Output Capacity:
4,700 sheets (w/Tandem LCT + Side LCT)
Maximum Monthly Volume:
20000
Power Source:
120V - 127V, 60Hz
Typical Electricity Consumption TEC:
0.349 kWh/week|TEC value is measured based on the ENERGY STAR Ver.3.0 test method.
Power Consumption:
Less than 1,584 W; Sleep Mode: 0.53W
EPEAT Status:
Gold
Dimensions (WxDxH):
23.0" x 27.0" x 37.9" (587 mm x 685 mm x 963 mm)
Weight:
219.1 lbs/99.3 kg
Printer Specifications
Processor Speed:
Intel Apollo Lake 1.3 GHz
Interfaces:
Standard: Ethernet 10 base-T/100 base-TX/1000 base-T, USB Host I/F Type A, USB Device I/F Type B
Option: Wireless LAN (IEEE 802.11a/b/g/n), Additional NIC (2nd port)
Network Protocol:
TCP/IP (IPv4, IPv6)
Supported Operating Systems:
Windows® V7/8.1/10/Server 2008/Server 2008R2/ Server2012/ Server2012R2/Server 2016; Unix: Sun Solaris, HP-UX, SCO OpenServer, RedHat Linux, IBM AIX, Mac OS X v.10.11 or later, SAP R/3, SAP S/4, IBM iSeries AS/400-using OS/400 Host Print Transform
Device Management Utilities:
Device Manager NX Series, Web Image Monitor, @Remote
Printer Languages:
Standard: PCL5c, PCL6, PostScript®3™ Emulation, PDF Direct Print Emulation
Optional: Genuine Adobe® PostScript®3™, Adobe® PDF Direct Print
Font Support:
Standard: PCL: 45 Roman fonts + 13 International fonts
PostScript®3™ Emulation: 80 Roman fonts + 13 International fonts
Optional: Genuine Adobe® PostScript®3™: 136 Roman fonts
Printer Resolution:
Up to 1200 x 1200 dpi
Mobile Printing Support:
Apple AirPrintª, Mopria, Google Cloud Print, NFC, Ricoh Smart Device Connector
Security Features:
DataOverwriteSecurity System (DOSS), HDD Encryption, User Codes, SNMP v3 Support, Encryption, Locked Print, User Authentication, 802.1x Wired Authentication, Quota Setting/Account Limit, Digitally Signed PDF, and more
Scanner Specifications
Scanning Speed B&W/Full Color:
120 ipm (simplex)/240 ipm (duplex)
Scanning Resolution:
Up to 1200 dpi
Scan Area:
11.7" x 17" (297 mm - 432 mm)
File Formats:
Single Page: TIFF, JPEG, PDF, PDF/A, High Compression PDF, encryption PDF, OCR*
Multi Page: TIFF, PDF (Default), PDF/A, High Compression PDF, encryption PDF, OCR*
Scan Modes:
E-mail, Folder, USB, SD Card
Footnotes:
*Requires optional OCR Unit Type M13
DOSS Specifications
Maximum Stored Capacity:
3000
Maximum Page Capacity:
2000
Maximum No. of Folders:
200
Fax Specifications
Standard/Optional Fax:
Optional
Fax Type:
ITU-T (CCITT) G3
Circuit:
PSTN, PBX
Fax Resolution:
Standard: 8 x 3.85 line/mm, 200 x 100 dpiOptional: 16 x 15.4 line/mm, 400 x 400 dpi
Compression Method:
MH, MR, MMR, JBIG
Fax Scanning Speed:
81 spm (A4/LT LEF Image Rotation)
Fax Modem Speed:
33.6 Kbps
Fax Transmission Speed:
2 seconds (200 x 100 dpi, JBIG, ITUT #1 chart TTI off, memory transmission)
Memory:
Standard: 4 MB (approx. 320 pages)
Optional: 60 MB (approx. 4,800 pages) with optional SAF memory
Max Auto Dials:
2,000 Quick/Speed Dial numbers
Group Dials:
100 Group Dial numbers