D3210BK with Business Controller Interactive Whiteboard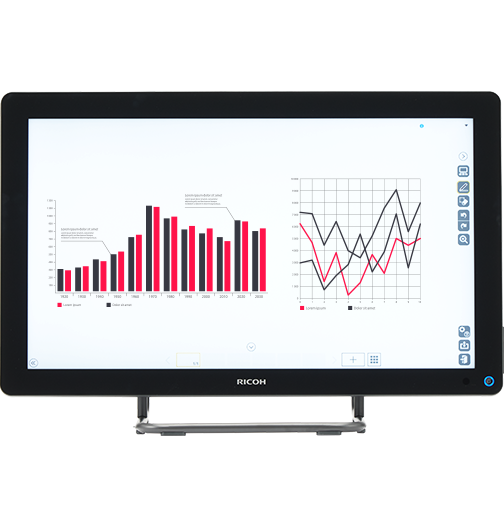 Collaborate securely in small groups
Work on a 32" LED touchscreen panel
Impress with 1920 x 1080 HD resolution
Connect to laptops and mobile devices
Use the business controller to heighten data security and collaboration
|
Brochure
|
Request a Quote
Collaborate securely in small groups
Place the easy-to-transport 32-inch RICOH Interactive Whiteboard (IWB) D3210BK with Business Controller on any surface for quick, impromptu meetings. When laid flat, participants across the table can add details and annotations without having to leave their seat. Use an optional desktop stand. Or, for more permanent placement, simply mount the device on a wall horizontally or vertically.
Present with clarity
Enjoy vibrant, crisp 1920 x 1080 HD resolution graphics and video in more than 16.7 million colors on an LED-backlit, glare-free touchscreen Ñ even in dimly lit or sun-filled locations. Use it as a display only, or add notes and other details in real time using its touch interaction capabilities. Observe visual cues from your audience with optional RICOH UCS videoconferencing software.
Interact with fewer risks
Share information with audiences virtually risk-free behind your firewall. The IFPD prevents users from installing new software, so you can avoid viruses, malware, ransomware and other cyber threats. Only administrators can access configuration settings, which further protects you and your work from hackers and other risks.
Protect yourself and your ideas
Maintain control of your presentation even after the meeting ends. Add password protection to PDF files for safe distribution off the network. Save presentations to local files, and limit access only to those with an approved passcode. After a specified time frame, the code expires and the files are deleted entirely. Unsaved presentations left on the IFPD disappear automatically after you log off.
Add participants across the network
Simplify real-time communications on the network. Add the optional collaborative license to interact in real time with up to 19 other Ricoh IFPDs. Each licensed IFPD can connect with up to 50 endpoints, including smartphones and tablets. Share presentations immediately and receive feedback directly from your audience. Conduct large conference calls with minimal planning and no travel costs.
Add value, avoid hassles
Connect to the IWB D3210BK via VGA, HDMI or DisplayPort without IT support. A Quick Start feature gets your meeting underway in seconds. When presenting, you can interact with the IFPD with the same familiar gestures you use on today's popular mobile devices. For expert guidance on resolving issues or operating the IFPD, technical support is only a phone call away.
Need more information?
Learn more about the RICOH D3210BK Interactive Whiteboard with Business Controller and how it may fit your business.