The Benefits Of Outsourcing Information Technology Needs
Let's face it—it's almost impossible to conduct business anymore, at least in any significant way, without the need to regularly address "IT" or information technology issues. There are a couple of ways you can address your IT needs—you can establish your own in-house IT department or you can outsource the work to a third party. In this blog, we look at the advantages of using an outside vendor for IT requirements.
What Types of IT Services Can Be Reasonably Outsourced?
You can typically look to external sources to handle a wide range of IT needs:
Network security–If you have any type of network, you need to know that it's secure, that critical company data won't be compromised.
Network setup and maintenance—Of course, someone will also need to set up and maintain the network.
IT troubleshooting—You're going to encounter issues with individual computers, printers, cloud-based applications, software and other technologies. You need someone who can quickly diagnose the problem and implement an effective solution. It's important to understand, though, that a managed IT services provider is not a repair-person, who will only come out when something's not working. Ideally, your third party IT provider will regularly monitor and maintain systems to minimize potential problems.
System and file backup—You need a reliable and accessible way to store important company data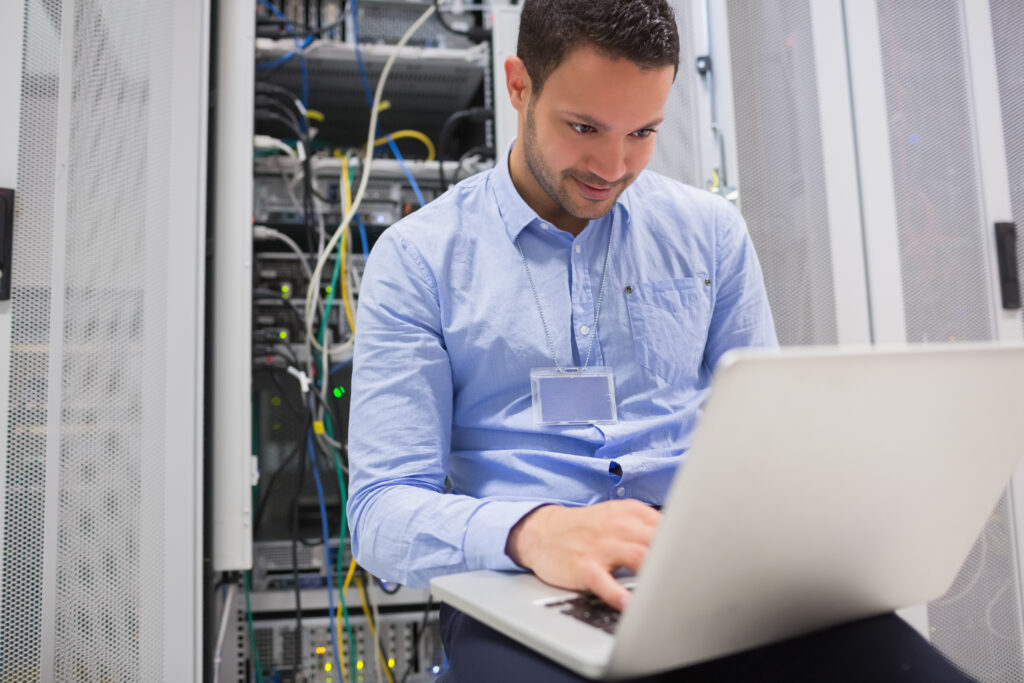 The Benefits of Third-Party Managed IT Services
One of the obvious situations where outsourced IT services make sense is when your company is too small for its own IT team. Even if you have in-house information technology professionals, you can benefit from procuring services from a third party IT provider. Your in-house team can focus on the day-to-day issues that arise, while an outside vendor can handle such things as software updates, regulatory compliance, security patches and warnings, and file/system protection.
Using an outside vendor to administer your information technology offers many potential benefits:
Substantial cost savings—When you outsource, you avoid all the costs that come with employees. You won't have to pay the huge salaries that IT professionals typically command and you won't be responsible for taxes or benefits. In addition, you won't need to cover the costs of ensuring that your IT people are trained and current on all systems and technologies.
More comprehensive knowledge base—When you use a third party, you'll have access to the skills, experience and knowledge of their entire staff. Imagine trying to replicate that in-house. Just as in other fields, IT professionals have specialized knowledge. Building your own IT department would likely require that you hire a number of people to meet all your IT needs.
Greater cost predictability—With outsourced IT services, you typically pay a flat fee per month for designated services. When you use your own staff members or use a "repair/fix" model, costs can be all over the board.
Immediate access to knowledgeable and trained technicians—With the right third party vendor, you'll have immediate access to someone who understands your systems, and can quickly and accurately diagnose and resolve your problems. You won't have to incur training costs, both in time and money, to ensure that the people working on your systems have the expertise to address all concerns.
More potential access to innovation and technological advancement—With a single IT specialist or even a small team, focused exclusively on your needs, there can be little time or opportunity to learn about new technologies that can benefit your business. Most third-party IT service providers are actively monitoring changes in technology, making certain their technicians are up-to-date. It's in their best interests to keep you apprised of developments that can benefit your business.
Greater assurance of the skill of those working on your systems—How much do you really know about how your IT systems work? Probably not much—you just want to know that they'll do what you need them to do when you need them to do it. That can make the hiring process highly risky—how will you know that an IT employee lacks the necessary qualifications until something goes wrong? With a third-party IT vendor, you can have more confidence that the people doing the hiring know how to find the best talent—after all, it's their business.
Immediate service—When you're using your own IT department, your team will necessarily have to prioritize IT issues, because of limited staffing. When you outsource your IT needs, you can generally expect that the vendor will send technicians to you as soon as possible.
Enhanced productivity—When you defer IT issues to an outside entity, you can then focus all your internal efforts on other day-to-day issues. Your team can concentrate on productivity and profitability and let the third-party technicians make certain the technology does its job.
A better customer experience—One of the most common causes of customer dissatisfaction—technology problems. With the pre-emptive maintenance and immediate implementation you can expect from managed IT services, you'll have less risk of systems breakdowns, and shorter down times when problems arise. That makes for happier customers.
Reduced risk of data compromise or system breakdowns—With a third party IT provider, you'll have someone regularly monitoring all your systems, ensuring that your security is effective, and that your hardware/software is up-to-date and functioning. That can virtually eliminate the potential for hacking or cyber-attacks on your data or systems.
Contact Northeastern Office Equipment
At Northeastern Office Equipment, we offer comprehensive IT management services. To learn more about the ways we can help, call our offices at 631-845-9500 or 212-714-3508 to speak with a knowledgeable representative. You can also take advantage of our online instant- process for assistance with any office equipment need.
Ask About Our Price Match Guarantee
Independent and Family Owned for More than 50 Years
We Offer Union Representation, If Required