PJ WX2240 Portable/Desk Edge Projector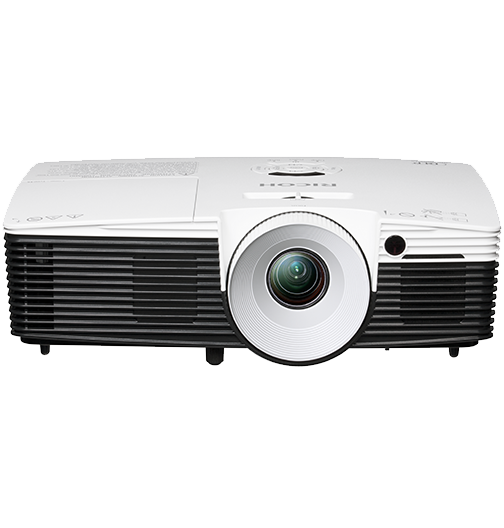 Project confidence in stunning detail
WXGA Resolution (1280x800 dpi)
Brightness rating of 3100 lumens
Screen size up to 300"
Affordable wide-format projection plus audio in/out
|
Brochure
|
Request a Quote
Project confidence in stunning detail
Let the RICOH PJ WX2240 Portable Projector do the talking. Take advantage of Digital Light Processing (DLP) projection technology with a high-contrast ratio of 10,000:1 - with less lag - so videos project beautifully. Capitalize on projection brightness capabilities of up to 3,100 lumens (WXGA) to transform any medium-size space into a conference room - even if it has dim lighting.
Sync your media and your message
Custom tailor your presentation to suit your message, environment and audience. For images and general presentations, enjoy an aspect ratio of 16:10 and choose from the SVGA resolution (800 x 600 dpi) or XGA (1024 x 768 dpi). Achieve even higher detail with WXGA resolution (1280 x 800 dpi) to showcase mixed content like spreadsheets and photos in a widescreen format - and with exceptional clarity for digital video.
Add audio to your presentations
Want to include audio? The PJ WX2240 makes it easy to be heard. Present clear audio at higher volumes via the built-in speaker. When audio is critical, PJ WX2240 has a low operating noise level of less than 34 dB, so it won't compete with your content. Plus, use the convenient remote control to adjust volume and other controls from anywhere in the room, any time.
A lightweight projector with heavyweight performance
With a weight of less than 6 lbs., the lightweight and portable PJ WX2240 mobile projector gives you almost complete freedom of movement. Ideal for a medium-size conference room or meeting space, you can easily take this lightweight projector from one presentation to the next. Selecting a projection surface is easy, since you can adjust the display size from 30" to 300" wide and easily fine-tune a projection with a convenient system-top focus lever.
Make presentations come alive with 3D projection
Fully engage your audience with native support for frame sequential 3D projection format. From CAD drawings to business proposals to educational videos and more, you can bring your information to full, three-dimensional life.
Display big ideas with bright lights
Rely on projector bulbs engineered for endurance and performance. With a 6,000-hour lamp life in Eco-Mode, you can count on consistent clarity, brightness, and reduced maintenance costs.
Need More Information?
Learn more about the RICOH PJ WX2240 Portable Projector and how it may fit your business.