Simple Software Solutions
Are you looking for the right tools to fully integrate your devices in the effective management and administration of your business? Would you like to take advantage of mobile applications to perform document management and other tasks? Are you afraid, though, that you'll have to make significant investments in IT to accomplish your goals? With the user-friendly device setup and management software solutions available from Northeastern Office Equipment, you'll be able to streamline operations, track activity and reduce costs.
The Northeastern Difference
At Northeastern Office Equipment, we have effectively served businesses and business owners in the New York Metropolitan area and across the nation for more than half a century. We believe that anyone can sell a product, but it is service that matters at the end of the day. With a full-time dispatcher, we'll always have a real person to take your call—no worries about voicemails or those annoying phone trees. We have a parts manager on the premises during all hours of operation, so that you can get answers to your questions. We keep more than a million dollars in inventory, so we'll typically have the part you need.
Our experienced technicians bring an average of 15 years experience to every customer–some have been with us for nearly 30 years. We also have our own fleet and make our own deliveries, so that you won't have to rely on a third party delivery service. Our technicians always carry inventory, so that there's no need to return to our warehouse for a needed part.
We understand that every business is different, with individualized needs. As a boutique office supply and equipment company, we can tailor our solution to meet your specific needs. If necessary, we can function as a surrogate "back office," making necessary phone calls or handling other details to resolve your office supply and equipment needs.
Call us at (631) 845-9500 or use our quote form below to help you identify the appropriate product for your needs.
Same-Day Service | 4 Hour Response Time on Service Calls
We offer comprehensive office equipment solutions to a wide range of customers, from small to large businesses and professionals to schools and state, local and federal governments: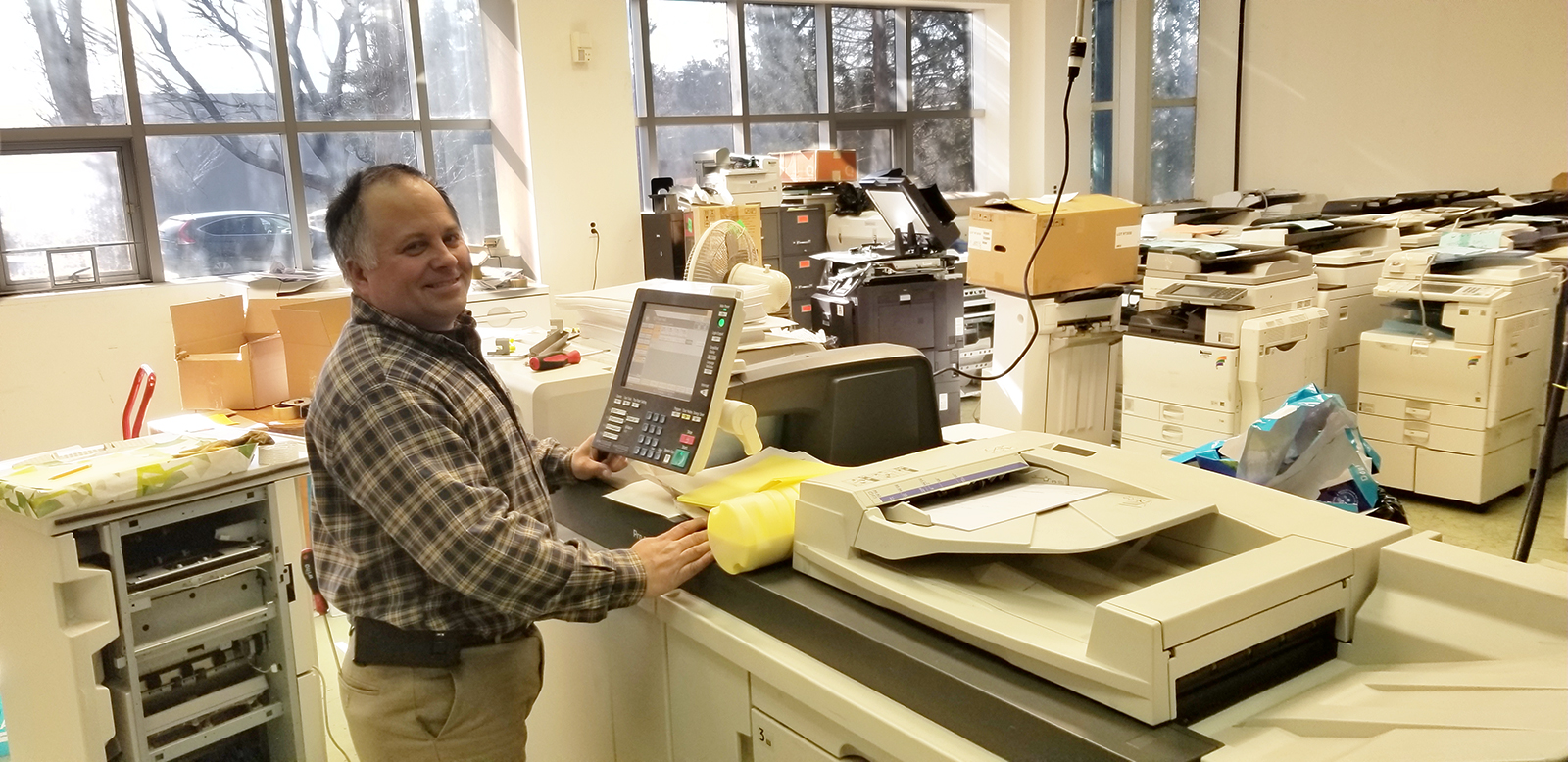 Device Setup and Management Solutions | Driver Utilities and Firmware Upgrades
We offer a number of simple software solutions to assist you with device setup and management, including:
Device management software to simplify printer monitoring and management
Printer driver software that allows you to minimize the time it takes your employees to setup a printer (with less involvement from IT personnel)
Software that allows you to access a web-based console and perform administrative tasks through a smartphone or tablet
Call us at (631) 845-9500 or use our quote form below to help you identify the appropriate product for your needs.

Authorized Dealer― Metro New York