PJ X5461 Standard Projector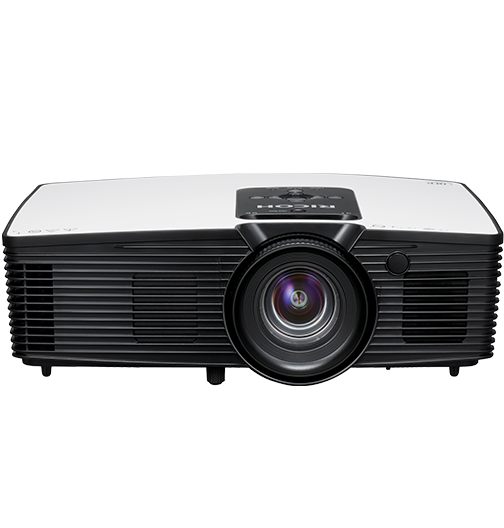 Step up to higher imaging standards for less
XGA Resolution (1024x768 dpi)
Brightness rating of 4000 lumens
Screen size up to 300"
Contrast ratio of 8000:1
|
Brochure
|
Request a Quote
Step up to higher imaging standards for less
Keep your audience focused with the RICOH PJ X5461 standard-throw projector. Up to 4,000 lumens let you project bright images and sharp text to add impact and clarity to your presentations. Plus, you can display up to 300-inch wide diagonal images, so you can easily read the finer details from a distance.
Stay flexible when itÕs time to teach or present
The compact PJ X5461 lets you quickly adapt to last-minute changes. Need to move to a larger room to accommodate more people? Just grab your projector and go Ñ itÕs lightweight and easy to transport. Plus, the PJ X5461 works well for a variety of spaces, including small classrooms and conference rooms with up to 50 people.
Captivate your audience with a broad range of media
With an additional HDMI port that supports Mobile High-Definition Link (MHL), you can display documents and images stored on smart devices Ñ with easy access that makes preparation quick and convenient. Plus, Keystone Correction Image Adjustment (KCIA) lets you project perfect squares and rectangles with clean, crisp lines.
Reach higher with a low-cost projector
Immerse audiences in your presentations and inspire collaboration in training sessions without breaking the bank. The affordable PJ X5461 offers the professional-quality 1024 x 768 dpi output you need to keep viewers interested.
Set a professional tone and get more buy-in
Be ready to go when audience members take their seats Ñ every time. With the ability to set up fast and bring images on screen quickly, you can avoid giving viewers time to distract themselves. Plus, on-screen prompts and a convenient remote control help you stay on task and keep your audience focused on your message.
Save more with an eco-friendly projector
The PJ X5461 offers Eco Mode Ñ an eco-friendly feature that lets you add up to 1,000 hours of additional lamp life to help you save on bulb-replacement costs.
Need more information?
Learn more about the RICOH PJ X5461 Standard Projector and how it may fit your business.