PJ X5460 Standard Projector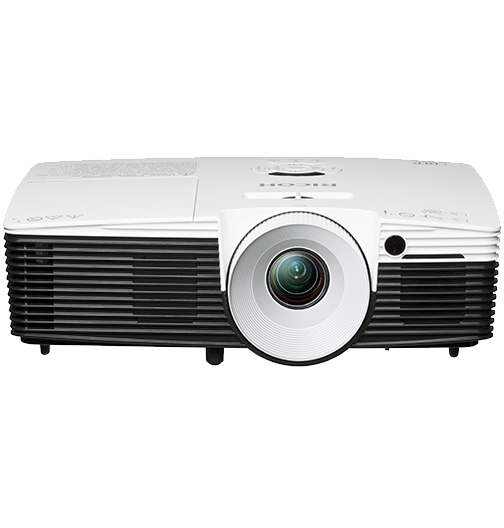 Pair your words with crisp, clear images
XGA Resolution (1024x768 dpi)
Brightness rating of 4100 lumens
Screen size up to 300"
3D ready with HDMI connectivity
|
Brochure
|
Request a Quote
Pair your words with crisp, clear images
When you're presenting to groups of up to 30, the information on the screen needs to be clear for people in both the front and back rows. Switch on Ricoh's PJ X5460 standard projector, and you'll see industry-leading brightness — displayed in up to 301 diagonal inches.
Monitor and manage remotely with networked projectors
Setting up and testing projectors right before your presentation takes time you may not have. Instead, check out the PJ X5460 anytime by connecting it to your network. You'll discover any issues and confirm the time remaining on the lamp. If the lamp wasn't turned off after a meeting, you can switch it off remotely.
An office projector that works on any wall surface
Surprise! The wall you need to use for your presentation is green. Good thing the PJ X5460 has automatic wall color correction. And, you won't have to worry about image distortion because the automatic keystone correction takes care of that.
Present with confidence thanks to long lamp life
You can put off adding a budget line item for lamps when you know you have 3,000 hours to work with — or 4,000 hours in eco-mode, because the energy-saving projector automatically adjusts lamp brightness to conserve energy.
Spice up your presentation with a 3D projector
Sometimes 3D projection is the perfect way to get your message across. The projector's ready to bring dinosaurs, engineering/design models and other images to life. Just purchase the optional 3D glasses.
Need More Information?
Learn more about the RICOH PJ X5460 Standard Projector and how it may fit your business.