PJ WX6181N High End Projector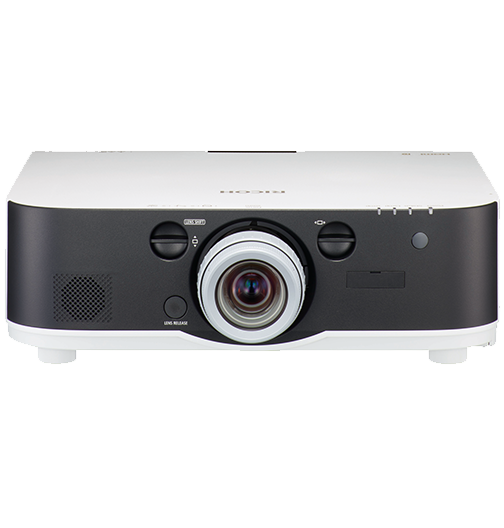 Make every projection larger than life
WXGA Resolution (1280x800 dpi)
Brightness rating of 6700 lumens
Screen size up to 500"
Large-venue projection with 6 optional interchangeable lenses
|
Brochure
|
Request a Quote
Make every projection larger than life
You have your audience's attention, so use the RICOH PJ WX6181N High End Projector to keep it. Take advantage of 3LCD technology to transform and share your information with vibrant colors and vivid images in a large-screen format. With native resolution up to 1280 x 800 dpi (WXGA), you can project impressive presentations with incredible clarity that can be seen clearly by any audience
Make your message fit the room
Choose from six interchangeable lenses to captivate audiences in almost any type of room without compromising image quality. Place the PJ WX6181N only a few feet from the screen in smaller conference rooms for displays as small as 40 inches, or project your ideas up to 500 inches diagonally in lecture halls, churches and other large venues. You can even produce powerful digital signage on beams, pillars, columns and other non-standard surfaces.
Show everybody how bright you are
You crafted your message with precision. With 6700 lumens of brightness, you can keep it from losing its impact. Every visual - whether displayed in a small windowless office or sun-drenched auditorium - will remain vibrant without being washed out by ambient lighting.
Use less energy to showcase your ideas
You won't notice a difference in quality when you take advantage of our energy-saving features. Use the Eco Mode to adjust lamp brightness depending on the darkness and complexity of your images, reducing energy usage while extending lamp life to up to 4,000 hours.
Reach more people in more places
Don't limit your audience to only those in the room. Use the Advanced Network Utility to connect one computer to multiple projectors on the same network and present in a wide range of locations. Your audience doesn't even have to be assembled at the same time. Give attendees a password so they can access key images and details directly from your presentation when they need them in the future.
Focus on what's most important
Keep distractions to a minimum. With Keystone Correction Image Adjustment, the projector automatically balances visuals and makes subtle adjustments for optimal quality. An edge-blending tool automates adjustments on overlapped projections so everything looks seamless and consistent. Your audience won't notice a thing - not even ancillary noise. The projector hums along softly at only 31 dB and shuts down quickly and quietly.
Need more information?
Learn more about the RICOH PJ WX6181N High End Projector and how it may fit your business.